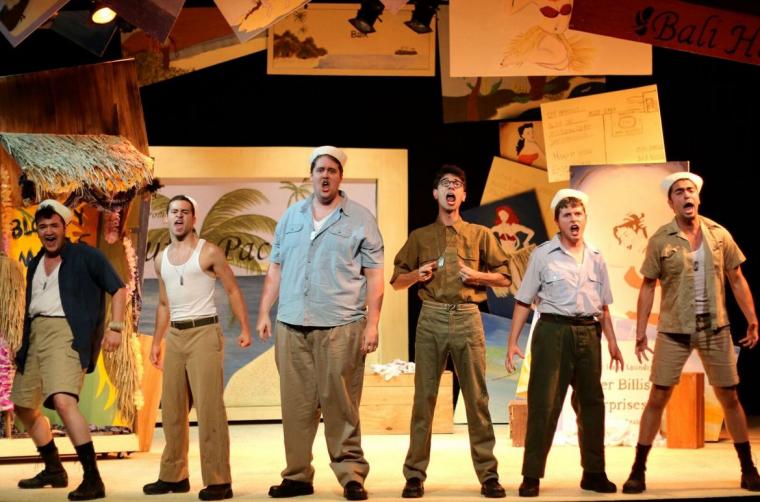 An island can conjure different images – a great vacation get-away, a place of isolation, a place with a different culture and different rules – and on July 8, the Clinton Area Showboat Theatre opened South Pacific, Rogers and Hammerstein's 1949 musical about love, World War II, and overcoming fears on two South Seas islands. One is teeming with military personal and native islanders. The other, Bali Ha'i, is mysterious, inhabited by only islanders, and out of reach by all but a few. Humans are thrown together by war in this paradise of danger, beauty and difference, and the Showboat cast gave this classic a fresh feeling, with iconic songs such as "Some Enchanted Evening," "I'm in Love with a Wonderful Guy," "I'm Gonna Wash That Man Right Outta my Hair," and "There is Nothing Like a Dame" still holding up.
Before the production started, there was an old-fashioned radio news report delivered in voice-over that I think was giving some background information about the Japanese occupation of the islands, but the audience was talking so collectively loudly that I couldn't hear what was said. Too bad, given that a young person sitting behind me announced to his mother at intermission that he had no idea what was going on. (Maybe that news report could have helped impart some background information.) Director Matthew Teague Miller, however, addressed his enthusiastic audience before the show and dedicated the performance to the two WWII vets in the attendance, which was a nice touch.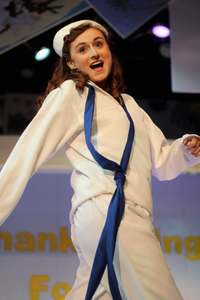 Giant-size vintage postcards festooned the stage with watercolor images of beach scenes and women in grass skirts and swimsuits, and on the backside of one of the cards, when turned around, a thatch-roofed souvenir shop was revealed. I thought scenic designer Steven P. House would repeat that clever feat with the remaining cards for other scenes sets in the commander's office, planter's home, and island of Bali Ha'i, but the cards instead remained only as backdrop.
Miller's strong cast was full of energy and feeling. As Nellie Forbush, Lizzy Stone was just the right mixture of Arkansas sweetness and naïveté, holding her own on 11 musical numbers and convincing as Nellie's feelings wavered for the older French expatriate Emile de Becque. As Emile, Greg Harrell's baritone voice when singing "Some Enchanted Evening" resonated through the 217-seat theatre – no mic needed! But while I don't know if I was just distracted by Emile's ill-fitting white suit that made me think of David Byrne, I felt a lack of warmth in his character. Harrell has a charming smile. He needed to show it more.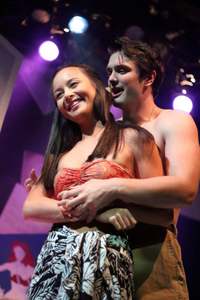 Cash Maciel caught my attention when he played Vinnie in Showboat's The Odd Couple in June. He continued to impress me as the scheming Seabee Luther Billis. With great comedic timing and a real sense of character, Maciel embraced the role with gusto and to the clear delight of the audience, who roared with laughter at his antics. For her part, Cindy Ramos, as Luther's comic foil Bloody Mary, had no trouble delivering her hilarious lines with expressions to match. Ramos' singing wasn't perfect, but she sung with sincerity. And Jon Loya, as Lt. Joseph Cable, is unsparing in his role, especially when singing "You've Got to be Carefully Taught," which explained how bigotry is learned, and when expressing his conflicted love for the delicate Liat (Gillian Hahn), who looks like a beautiful, fragile doll.
Choreographer Holly Moss makes great use of a small stage on the exuberant numbers "There is Nothing Like a Dame," "I'm Gonna Wash That Man Right Outta my Hair," and "Thanksgiving Follies," with the supporting cast showing off their dancing and gymnastic skills. Showing off their French skills, meanwhile, were 10-year-old Ella Hurst and eight-year-old Nathan Frye as the two darling, scene-stealing children who are the cause of Nellie's reluctance to pursue her heart's desire.
South Pacific was adapted by book writers Hammerstein and Joshua Logan from James A. Michener's Pulitzer-Prize-winning novel Tales of the South Pacific, with its plot taken from several short stories in that 1947 work. In part, it was an attempt to send a message about racism. And after 1,925 performances in its initial Broadway run and almost constant revivals over the years, the show still continues to send that message, and seems just as relevant today as it did 67 years ago.
South Pacific runs at the Clinton Area Showboat Theatre (303 Riverview Drive, Clinton) through July 17, and more information and tickets are available by calling (563)242-6760 or visiting ClintonShowboat.org.