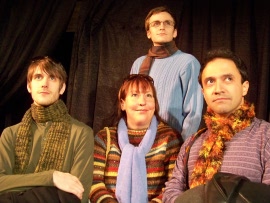 If you attend The Green Room's current production of Angels in America: Perestroika, I assume you know that you'll be entering playwright Tony Kushner's work halfway through, as part one of this two-part saga, Millennium Approaches, debuted at the Rock Island venue on Halloween. The back page of Perestroika's program provides a very bare-bones summary (or refresher) on what previously occurred in Kushner's epic exploration of the 1980s, but, I'll venture, your enjoyment of this second outing will be significantly enhanced by familiarity with the show - and not just familiarity with the Green Room's first installment.
I had a mostly sensational time at Perestroika; with its strong performances, Derek Bertelsen's frequently imaginative direction, and the dazzling wit and grace of the script, it would be difficult not to. At Friday's opening-night performance, however, I found myself continually distracted, because I couldn't fathom how the production might play for those who aren't already acquainted with Kushner's achievement. Like Millennium Approaches, Perestroika is an enormous, intimidating dramatic challenge, and The Green Room's participants deserve major props for pulling it off. It's also, to my mind, a far greater challenge than Millennium Approaches - definitely a greater one technically - and if you're not well-versed in Perestroika before viewing this version of it, I think much of the play's impact will be lost.
By necessity, Bertelsen had to opt for a relatively stark presentation of Angels' halves, employing only a few tables and chairs, and minimal lighting and sound effects. Yet in Millennium Approaches, the visual restrictions weren't debilitating; it was easy to imagine characters conversing in such generic settings as an apartment or a hospital or a park. Many scenes in Perestroika, though, are dependent on specific locales and visual cues, and simply don't work when you're not given them. A scene of Tracy Pelzer-Timm's Valium addict at Manhattan's Mormon Visitor's Center is especially confusing, because she keeps referring to the diorama of life-sized Mormon settlers she's staring at, yet in this production, there is no diorama - she's staring at nothing, which just makes Harper seem more troubled than she actually is. (And when Sheri Hess pops up as a diorama figure come to life, the sequence grows more confounding.)
Bertelsen handles several of Perestroika's trickier elements with ingenuity - a live cat is played here by a white rectangular block - and again proves expert at choreographic chaos, with characters interacting in two separate narrative planes; the sequence that finds the AIDS-stricken Prior (James Bleecker) simultaneously conversing with best friend Belize (Jason Platt) and, in flashback, a heavenly messenger (Hess) is positively masterful. But like that diorama, there's a lot missing from this Perestroika, including another oft-referenced visual - Central Park's statue of the angel Bethesda - and the full-throttle wrestling match between Prior and his messenger, which begins here as amusingly stationary, but makes less and less sense as it progresses. (One of Kushner's most hysterical gags, the messenger's "I have pulled a muscle in my thigh," now makes no sense at all, as she never moves.)
And while some bits suffer because there's not enough being seen or going on, others are weakened because far too much is happening. During Prior's climactic (and thematically essential) declaration to the heavenly council, not only does the character have to contend with the fidgety bustle of those he's addressing, but Bryan J. Tank's melancholic piano score being played backstage - a lovely piece of music that, nevertheless, unduly sentimentalizes the moment, and audibly overshadows Bleecker's line deliveries.
All this probably makes me sound unhappy with the production, but I'm actually not at all; Kushner's script is just so stunning, and The Green Room's interpretation of it so routinely excellent, that its flaws are more noticeable than they would be in a work of lesser quality. (There's so much that's wonderful taking place over its 190 minutes that you can easily breeze past its hiccups.) Much of the staging here marks a noticeable improvement over similar scenes in Millennium Approaches - Bertelsen's employment of vertical compositions, in particular, appears to have been more carefully thought-out this time around - and there certainly was no shortage of magical acting moments: Hess' angel, a wholly convincing otherworldly being, earning huge laughs with casually tossed-off quips ("The stiffening of your penis is of no consequence"); Tyson Danner's remote, self-obsessed Louis hitting notes of grubby despair; Jackie Madunic's Hannah offering sage observations with perky, no-nonsense ease; Pelzer-Timm, with her astonishing overflow of hair (what a prop!), embracing madness as a natural state in a world gone mad.
Steven Quartell expands and deepens his portrayal of Joe Pitt to such a degree that even if you admired his work in Millennium Approaches, you might find him downright revelatory here; freed from his self-imposed closeting, Joe embraces his newfound freedom (for good and ill) in Perestroika, and Quartell enacts the role with smashingly fearless effectiveness. In his beautiful character turn, Platt radiates a serenity and self-acceptance it takes a lifetime to acquire - blessedly free of inner turmoil, Platt's Belize is the heart of the piece - and Bleecker, with perfect nuance, allows Prior's suffering and (miniature) triumphs to resonate through the subtlest of shifts in inflection and gesture; he's devastatingly fine.
As for Pat Flaherty, in his role as the loathsome (yet spectacularly entertaining) Roy Cohn, space won't allow for a full description of his greatness. Nor, in all likelihood, would an entire 1,000-word essay on the subject. Taken together, his performances in Angels in America's two parts constitute one of the absolute grandest gifts an area actor has presented to audiences, at least in the two-decades-plus that I've been attending local theatre. Regardless of your familiarity with Kushner's material, Perestroika is not to be missed, if for no other reason - and there are plenty of others - than Flaherty's haggard, haunting, truly genius accomplishment. The Green Room's Angels in America has proved more than worthy of applause and grateful "thank-you"s. Flaherty's Roy Cohn has proven worthy of canonization.
For more information, visit TheGreenRoomTheatre.com.