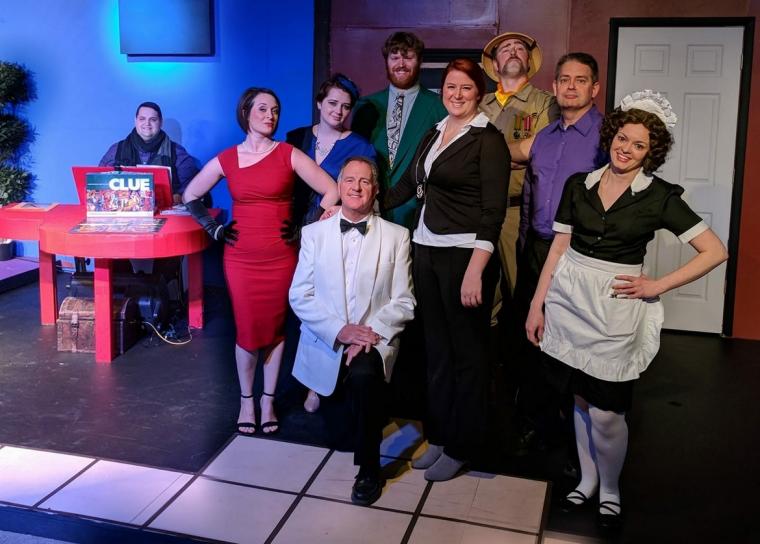 An early-spring snowstorm blankets the entire QC region with more than nine inches of heavy snow on Saturday, March 24. Grocery-store shelves are barren. Cars immobilized. Plows work the streets, barricading residential driveways. Even Brad Paisley cancels his show at the TaxSlayer Center. And yet every local theatre that had scheduled a performance on this blustery evening is open because, after all, the show must go on! But would audiences really venture out in this latest Snowpocalypse to support live theatre? I didn't have a clue. Thank goodness the Black Box Theatre did.
Clue: The Musical is the latest production to open in this wonderfully intimate venue in downtown Moline, and speaking candidly, I was blown away by the packed house as audience members loudly chattered away before the opening curtain. It was as if they all had been cooped up in their homes for the last 24 hours, but needed to venture out just to see a classic board game brought to life via a Broadway-esque style musical.
Clue asks its patrons – just as Clue asks its players – to become detectives and solve the murder of Mr. Boddy (see what they did there?) by identifying which outlandish character killed him, with what unique weapon, in which room of a mysterious mansion. (I.e.: "Miss Scarlet did it with a candlestick in the billiard room.") Black Box co-owner David M. Miller, meanwhile, has been a very busy guy. Not only did he design the set, lighting, and props for the show, but he also was the gamemaster, having directed this wonderfully quirky, high-energy retro romp. Miller's approach was clearly to keep the production and its characters colorful, fun, and just wacky enough to be lovable while eliminating the fourth wall and helping the audience to directly participate in a classic whodunnit.
As Mr. Boddy, Mark McGinn seems to relish this omnipotent character who knows he will be the victim even while facilitating the story. He reminded me of Fantasy Island's Mr. Rourke, right down to the white suit coat, and appeared to be really enjoying himself, as illustrated by the twinkle in his eye and sardonic asides to the audience. As for Clue's outlandish suspects … . Well, the cast reads like a who's who of local musical theatre. Ian Sodawasser ignites some of the biggest laughs in his portrayal of the overly greedy Mr. Green, with a few of his quick-witted throwaway lines the best of the evening. The always wonderful Sara Tubbs turns up some serious heat as the sultry Miss Scarlet. And I was really impressed by Kathryn Jecklin as the voluptuous Mrs. Peacock, with her full-throated belting of the song "Once a Widow" a blast that darn near rattled my fillings.
It's always wonderful to see Joe Urbaitis, and his depiction of Professor Plum is a nefarious, highly-educated take on the periwinkle egghead. As one of the more caricatured characters, Nathan Bates' Colonel Mustard is the model of a modern major Colonel, his rigid march and haughty bravado delivering laughs on nearly every entrance and line. Last, but never least, among the suspects is Abbey Donohoe as the bawdy, underpaid maid Mrs. White. Donohoe is in full-metal Cockney mode here, her glances and monologues laced with naughty innuendo.
Not appearing until Act II is Meg Price as the Detective. As she's new to local stages, this was my first time seeing Price perform, and her businesslike, CSI approach to the character was a nice respite from the looniness that preceded her. Also, a huge shout-out goes to pianist Kyle Schneider as the sole member of the pit orchestra who is on stage for the entire performance, and who, himself, throws a wrench or two into the show's plot.
Clue: The Musical is a wonderful night of musical theatre and quite different from most other productions, as the ability to engage and play along – considering or eliminating clues and the more than 200 possible solutions – is a real mind game that kept me completely engaged. Plus, audience members are chosen to select three cards early in the show predicting who did it, with which weapon, and in what room, and in Saturday's nearly sold-out house, only one audience member guessed correctly.
I wish it was me who solved the murder. But I'm satisfied with my solution just the same: With Miller directing a killer cast, the Black Box Theatre's Clue: The Musical absolutely slayed us.
Clue: The Musical runs at the Black Box Theatre (1623 Fifth Avenue, Moline) through March 31, and more information and tickets are available by calling (563)284-2350 or visiting TheBlackBoxTheatre.com.