I distinctly remember, in 1998, watching a PBS documentary prior to the 52nd Tony Awards ceremony, one in which I was enraptured by a segment featuring a nominated play. Captivating me with its quick-paced, witty, and sharp-tongued dialogue, the play was author Yasmina Reza's Art, and the clip featured the original Broadway cast of Alan Alda, Victor Garber, and Alfred Molina, making my desire to see it all the deeper. The show's premise, though, seemed almost stupid, involving the purchase of a white painting for $200,000. "How could anyone create a play around that concept," I thought, "and make it remotely interesting?"
I didn't get my chance to find out the answer until Friday night's performance of Art, presented by the Curtainbox Theatre Company. Directed by David Furness, it did not feature Alda, Garber, and Molina, but did, however, feature actors who made it easy not to miss those well-known performers: Reader employee Mike Schulz (as Serge), Adam Michael Lewis (as Marc), and Aaron Randolph III (as Yvan). The script also proved to be far more brilliant than I'd ever imagined.
Part of what makes Reza's Art so interesting is, yes, that white painting (which Serge insists includes off-white lines creating a range of colors beyond white). Yet even more intriguing is the play's study of male friendships, and how pride is often the biggest barrier between men. Not that there aren't other barriers: Marc and Serge are such cold, condescending creatures that it's difficult to know why or even how they're friends, but Art also leaves you wondering how they could not be close to each other, considering that - with the exception of Yvan - few other people would be able to stand them.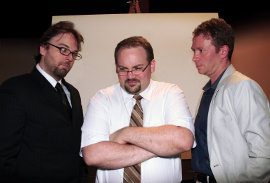 At face value, Schulz's Serge is humorless; while he laughs with his friends, it lacks a true connective joy to it, making it a patronizing laughter. He wears a smug, self-important, and haughty mask in his personal interactions, but his monologues, spoken directly to the audience, include a bit of vulnerability and humor that rounds out his character. Schulz manages to bring subtle dimension to a figure who doesn't readily reveal himself as anything other than superior. (His Serge is a man with whom I would not be best friends, but would count as a friend if only because his disdainful nature is so amusing, and because you sense there's something beyond the surface that's worth knowing.)
Lewis impressed me from the get-go. I've consistently enjoyed his brand of humor on stage, which is usually on the silly side. Here, though, he subdues that silliness to portray the judgmental, tactlessly honest Marc. He does not abandon his humor, though; his Marc is easier to stomach than is Schulz's Serge because he is funny when he finds things to be funny. However, there's also an underlying and subtly distinguishable pain in his portrayal, a clue that there's something bothering Marc beyond Serge's payment of $200,000 for a white canvas. While it's part of the subtext of the script, it is Lewis' ability to include it in his performance that's remarkable.
Randolph, meanwhile, is a stark contrast to both Schulz and Lewis. There's a slightly bumbling, altogether acquiescent nature to his Yvan, who is the jester of the show - the comic relief within the comedy. And yet Randolph makes his character's funniest moments seem unintentional. He isn't trying to be funny, he just is, which makes his performance realistic, rather than exaggerated for the sake of laughs.
It took me 12 years to finally see Art. Having seen it, it may be one of the few plays I see more than once during its run. (A reading of the script alone would be worth attending - it's that ingenious.) And thanks to the Curtainbox Theatre Company's continued, bar-raising standards, I'm left asking: "Alan, Victor, and Alfred who?"

For more information and tickets, call (563)322-8504 or visit TheCurtainbox.com.

Thom White covers entertainment news for WQAD Quad Cities News 8.