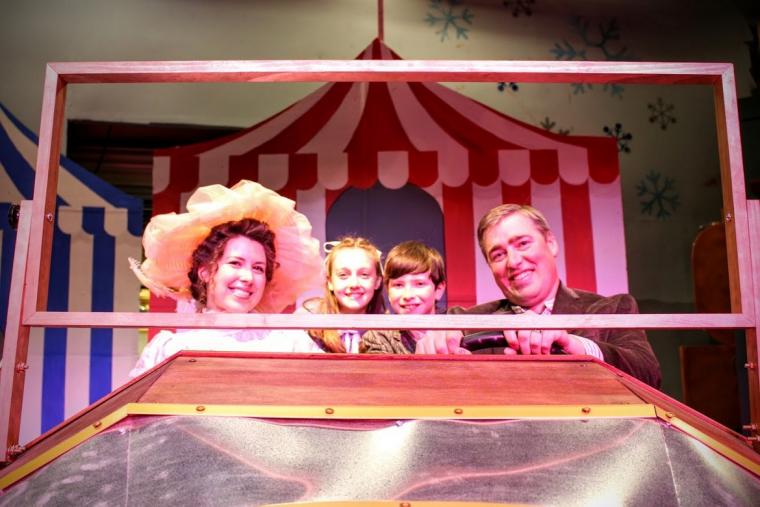 Within this review, be prepared to read the gushings of a 33-year-old man re-living a childhood story he has not experienced in probably 15 years. In re-living it, after a decade-plus of growing, there's also some disappointment in struggling to really understand the message, or point, of Chitty Chitty Bang Bang, which may be why it was so difficult for me to initially recall the story at all (aside from there being a flying car). Quad City Music Guild, however, made this fantasy-filled and very magical show come to life in a way that made my inner 10-year-old leap with joy.
I had the pleasure of seeing the June 12 performance with my three children aged eight, seven, and four, and throughout the production, the looks of shock and excitement on their faces certainly matched mine. Director Kevin Pieper did a lot of great things with this musical based on the 1968 movie, beginning with ensuring that the entire cast was excellent. Nathan Bates was a particular standout as Caractacus Potts, an inventor willing to do anything for his two children, including building a floating, flying, polite, and responsive car named Chitty Chitty Bang Bang. Bates' deep, rich voice had a warmth that was soothing to hear throughout the show, especially in the sentimental lullaby "Hushabye Mountain." Potts' children were played impressively by Molly Ahern and Gage McCalester, and as a fan of a good English accent, I tip my hat to these two, whose accents were spot-on even when singing.
The show also has a lot of high-energy musical numbers and outstanding choreography. One of the best things about Guild is that its productions employ live orchestras, and music director Marcia Renaud made this one sound even better than those in past productions I've seen. From the very first whimsical wind chime, I was never pulled out of the story due to a sour note or off timing, which was a treat. The choreography and music made "Me Ol' Bamboo" a particularly fun, upbeat number that really reminded me of the film. In it, Potts accidentally finds his way into a song-and-dance routine that we watch him stumble his way through, and the choreography by Susie Adams here was very reminiscent of that in the movie, which I appreciated. On that same note, toward the end of the show, there's a song in which Joanna Mills' character Truly Scrumptious (yes, you read that right) performs as a doll on a music box, and between Mills' dead-on performance and Adams' choreography (which was very similar, if not identical, to the film's), I was instantly brought right back to my childhood.
Guild veteran Harold Truitt does excellent character work as Grandpa Potts, a general who loves to tell and re-tell stories. Shane Pruitt and Jenny Winn are the Baron and Baroness – spoiled rulers who love to collect toys – and share lots of very funny moments together, including a couple of more adult jokes that went way over children's heads. (At least my children's.) During the show, the Baron and Baroness enlist two spies (T.J. Green and James Alt) to steal Potts' car for their collection, and Green, a Guild newbie, makes a fantastic first impression. He and Alt ham it up and make a good comedy pairing with great timing, even if the thick Russian accents they employed were sometimes too thick to make out what was being said.
Chitty Chitty Bang Bang comes complete with over-the-top characters, wonderful musical numbers, spectacular dancing, and humor designed for both children and adults. Will you leave with a clear message of what this show is trying to say? Probably not. Will you leave with some deep questions to ponder on the drive home? No. But that doesn't make the show any less magical for kids, or for the nostalgic, and this presentation's real magic occurs when Mr. Potts reveals Chitty Chitty Bang Bang for the first time, and what was once a beat-up pile of junk is revealed to be a magical working car.
Music Guild's production staff put together a fully functional vehicle complete with wings, working headlights, and a vintage car horn, and when Chitty's wheels started to move across the stage as the cast sang the title song, the audience began to applaud, and this particular viewer had to swallow a lump in his throat. My reaction was one of nostalgia more than anything, but to see my kids light up at the excitement of such a cool visual – with one of my own childhood memories being brought to life on stage – made for a truly, unexpectedly, and quite remarkably scrumptious Sunday afternoon.
Chitty Chitty Bang Bang runs at the Prospect Park Auditorium (1584 34th Avenue, Moline) through June 19, and more information and tickets are available by calling (309)762-6610 or visiting QCMusicGuild.com.