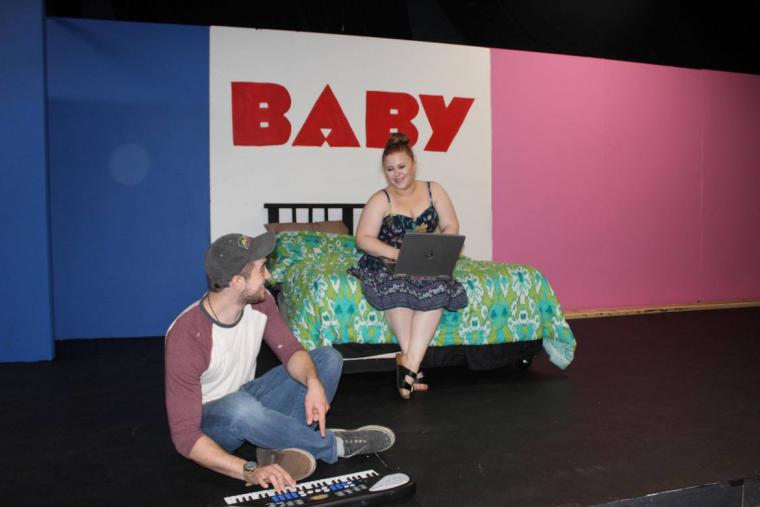 Every summer, the Quad Cities is blessed with an extensive live-theatre scene, and the months are crowded with show after show. Many of them are epic or extravagant productions such as Mame, The Marriage of Figaro, Beauty & the Beast, The Bridges of Madison Country, The Book of Mormon, Jesus Christ Superstar … and those are just examples from the first half of June.
But then there are the smaller, more intimate ones. Presentations of works that you've maybe never heard of. Things that sound interesting but are overshadowed by bigger, more well-known titles. Shows such as the Black Box Theatre's musical offering Baby – which may well prove to be the sweetest, most heartfelt, and most authentic musical you'll see all season long.
What's that? You've never heard of Baby? Well, if you've been pregnant, have thought about getting pregnant, accidentally got pregnant, or wish you could get pregnant – or if you're simply empathetic toward anyone who answered "yes" to the above – then you can definitely connect with Baby's premise.
Written by Sybille Pearson with music and lyrics by David Shire and Richard Maltby, Jr., Baby follows the journeys of three couples whose lives are changed when pregnancy knocks on their doors. We are first introduced to Lizzie and Danny (Kelci Eaton and Chase Austin), a classic free-spirited college couple who find themselves unexpectedly expecting. Next up are Pam and Nick (Joanna Mills and Ian Sodawasser), a young married couple who want nothing more than to start a family. And finally, Arlene and Alan (Emmalee Hilburn and Kirsten V. Myers) take the stage as middle-aged empty-nesters who suddenly learn their field is still fertile. All six performers are outstanding in their roles, and the chemistry and energy between them is irresistible.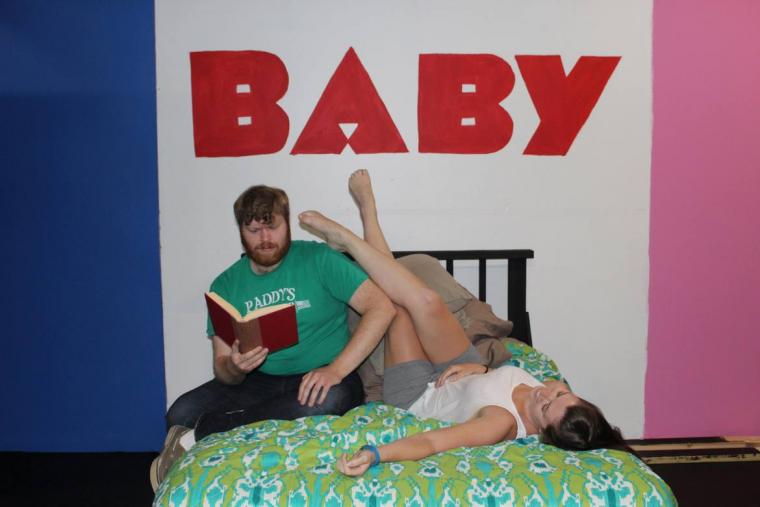 Eaton and Austin are absolutely wonderful as they learn about, and then playfully accept, the news, and shine together early in the show with their high-energy duet "What Could Be Better?" Hilburn and Myers' 40-somethings poignantly struggle over what they want at this point in their lives, which brings up several underlying issues in their marriage. Both actors' performances are effortless and natural, and their duet "The Plaza Song," about where and how conception may have occurred, is priceless. And as the couple who is most excited about becoming pregnant, Mills and Sodawasser share natural comedy rapport that made me cheer for them throughout the show, and their song "Romance," which is all about the mechanics infertile couples go through to try to become pregnant, is a humorous gem.
Directed by David M. Miller, Baby is a blast of hormonal ups and downs that actually takes the audience through an emotional roller coaster, as the show aptly illustrates the impact pregnancy can have on relationships, the struggles of infertility, and the devastation of losing a baby. Miller has somehow figured out how to make his cast project a real sense of comfort, and even casualness, in their performances while at the same time keeping the energy high and the pacing brisk. I sometimes take a moment to look through the audience to see what kind of physical response patrons are exhibiting, and it was telling that couples were arm in arm, holding hands, and leaning into each other throughout the June 8 production. Their emotional connection to the performers and the story was heartfelt and clear.
Rounding out Baby's ensemble cast are Julie Hummel, Joseph C. Wren, Brant Peitersen, and Sara Laufer, the latter two of whom hilariously open the show with Laufer's elegant, dancing egg being chased by Peitersen's spastic sperm. (As the couples' contact-lens-wearing doctor, Peitersen again proves why he is one the QCA's best comedic actors.)
Baby's pit ensemble is also exceptional and thoroughly balanced with the cast. It's refreshing to see a production in which the actors do not need microphones and are not drowned out by an over-amplified score, so props to music director Kyle Schneider and his team of talented musicians.
I thoroughly enjoyed Baby's fresh and funny take on pregnancy from conception to birth. From its simple, colorful, and extremely efficient set (designed by Miller and painted by Sara Wegener) to its fun and wonderfully staged dance sequences (choreographed by Mills), the Black Box Theatre's latest is a small triumph in a summer of mega-musicals. Metaphorically, it's true that there is a lot of live theatre crowding the room this summer. But trust me: It may be a smaller, lesser-known show, but nobody should put this Baby in the corner.
Baby runs at the Black Box Theatre (1623 Fifth Avenue, Moline) through June 23, and more information and tickets are available by calling (563)284-2350 or visiting TheBlackBoxTheatre.com.