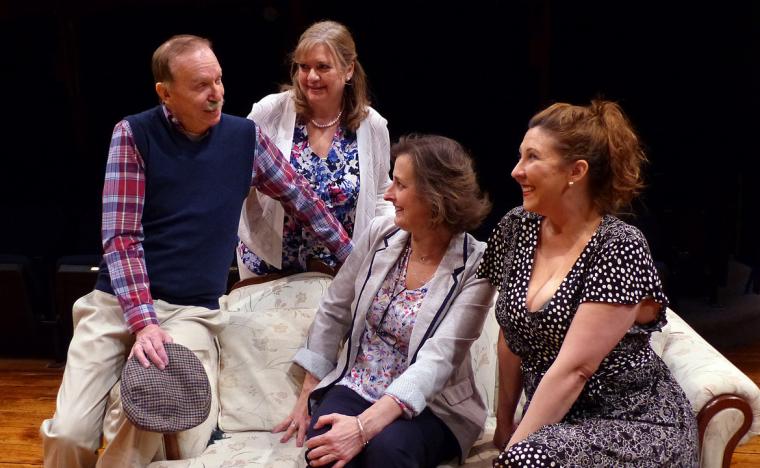 Does sex sell? That question is dissected by every Marketing 101 class every semester on virtually every college campus. Professors will have students review magazine ads, Web-site pop-ups, and television commercials. They study the branding of perfume, women's-underwear slogans, and the sensuality of eating a luscious cheeseburger. I think most can agree that sex does sell. And if theatre is any indication, the older the targeted market, the better it sells! Just check out the Richmond Hill Barn Theatre's Sex Please, We're 60, and you'll know exactly what I mean.
Written by Michael and Susan Parker, the setting is a B&B owned by the quirky Mrs. Stancliff (Michaela Giebel-Moore). This inn seems to have a rather intelligent clientele of menopausal women who return year after year. But why? It may be due to Mrs. Stancliff's neighbor Bud Davis (Harold Truitt), a 70-ish Casanova – nicknamed "Bud the Stud" – with the libido of a Kardashian and a conviction that women continue to return due to his lovemaking prowess.
Henry (Patrick Kelley) is another of the B&B's neighbors. A nerdy, retired chemist, he has proposed engagement to Mrs. Stancliff every day for 20 years only to have her tell him each time they "shouldn't rush into this." Henry decides to put his professional skills to good use and develops "a little blue pill" called Venusia that's designed to increase the sex drives of those experiencing menopause. When three separate women, who just happen to be experiencing their midlife change, arrive as guests of the inn – well, Bud is well on his way to becoming a "one-man geriatric sexual revolution." Is he up to the challenge, or will he be re-branded "Bud the Dud"?
As Bud, Truitt is at the center of the Sex Please universe. The actor's ability to play Bud as overly excited could have been a little creepy, but his take on the role almost has the sense of a naïve child at the heart of the character, making "Studly Budly" much more likable. Plus, Truitt knows how to play the physical absurdity just right. Meanwhile, Kelley's portrayal of the guileless Henry is reminiscent of the Muppets' very own Dr. Bunsen Honeydew. With his shiny bald pate and horn-rimmed glasses, Kelly's sweet desperation to become engaged is a laugh-out-loud take on an innocent and sweet character.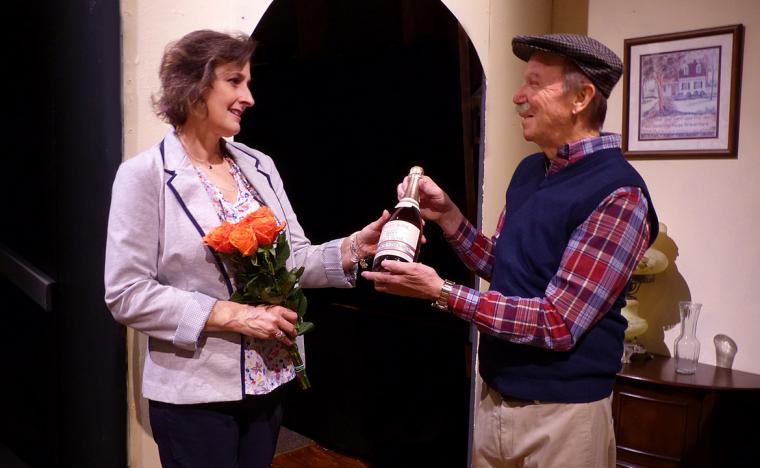 The three female guests Victoria, Hillary, and Charmaine are respectively played by Suzanne Rakestraw, Terri Nelson, and Jessica Moore. Rakestraw's romance-less romance novelist is quite endearing, and she drew one of the biggest howls from the April 14 crowd when Victoria and Bud wound up in a rather compromising position. Nelson's take on Hillary is straightforward as she agrees to be Henry's test subject for his libido enhancer. This performer, too, has an ill-timed scene on the floor with Truitt that darn-near brought audience members roaring out of their seats. And as Charmaine, Moore drips with a sweet Southern syrup that makes her a highly charged sensual belle who's literally busting out of her leopard print.
It was troubling, early in the production, to see Giebel-Moore carrying her script onstage and clearly using it at times to read lines. However, on closer inspection of the program, she was a late fill-in for another cast member who left the production due to a death in the family. With that knowledge, my paradigm shifted, and I began to appreciate the amount of commitment (not to mention anxiety) it must have taken to get Mrs. Stancliff's character ready for an audience. It is impressive to note that Giebel Moore's portrayal was adorable and pure, and I give her kudos for taking on that kind of pressure and lifting up a damn fine performance.
I have never been a fan of the American sex-farce genre that frequently springs up on the dinner-theatre circuit and on community stages. This production, however, may have changed my view, as this has got to be one of the funniest and best-staged farces I've seen in a long while. Under the capable eye of director Eugenia Giebel, Richmond Hill's latest rises to the occasion and gets all the farcical aspects just right.
From the opening music to the very last bow, Saturday night's performance of Sex Please, We're 60 must have been a delight for the cast, because the audience responded to nearly every line and every slapstick situation, guffawing from start to finish. Not only does sex sell, but it may very well sell out! Reserve your tickets quickly, and remember: If your laughter lasts more than four hours, please seek medical attention.
Sex Please, We're 60 runs at the Richmond Hill Barn Theatre through April 22, and more information and tickets are available by calling (309)944-2244 r visiting RHPlayers.com.