Last winter, in conjunction with his impending Visiting Artist residency with Quad City Arts, I had the opportunity to interview Los Angeles-based actor/director/playwright Tom Dugan. He was heading to our area to perform Robert E. Lee: Shades of Gray - a self-written solo production in which he portrayed the Confederate general under the direction of Mel Johnson Jr. - and during our phone conversation, Dugan recalled the process by which much of the play was written: In the back of a van, surrounded by books, while touring On Golden Pond with Jack Klugman.
This winter, Dugan and Johnson are returning to the Quad Cities, and the Visiting Artist series, with Frederick Douglass: In the Shadow of Slavery, a one-man play focusing on the famed Civil War-era abolitionist. (The show will be performed at the Adler Theatre on February 9.) Though the men are switching theatrical duties this time around - Dugan directs, Johnson stars - Dugan is again the playwright, and during our recent phone interview, in the hopes of discovering how In the Shadow's writing process may have differed from Shades of Gray's, I reference the van story.
And right after I do, Dugan says, "I've got another one for ya.
"I had double back-fusion surgery," he explains, laughing, "where, basically, they have to take a chisel and break your back. Now, let me tell ya, I'm fine - I was throwing the football around and I went sleigh-riding yesterday, so the surgery was a big success. But it took a year to recuperate, I was in a hospital bed for months, and you'd better believe it - there I was, with my laptop, with all my books around me, writing.
"You know, it's the most difficult thing, to write, because you find something else to do all the time. But if you're in a van and you can't get out ... or you're in a hospital bed and you can't get out ... ."
Apparently, Dugan is becoming something of a master at making the most from uncomfortable situations. Shades of Gray, which premiered in 2004, has thus far been performed (with Dugan as Lee) in 10 cities nationwide, with a production at California's Torrance Cultural Arts Center scheduled for March 7.
As for In the Shadow of Slavery, its director/author says that when the show made its debut in Torrance in February 2007, programmers at the Cultural Arts Center were "more impressed with the premiere than I could have ever anticipated. They immediately hired me to do Lee, and then they hired me for a play that isn't even written yet."
"It's a wonderful piece," Johnson said of Frederick Douglass, adding with a laugh, "And it's taken every brain cell in my mind to memorize it."
It was also taxing for Dugan to write, requiring those 12 months of convalescence and then some.
"It took no less than a year to write and re-write," he says. "And it took about a year of research before I felt like I even had a right to write a word down on paper."
He Loved Everybody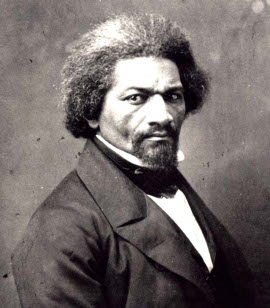 "My interest in the story," says Dugan of In the Shadow's origins, "began during my research for the Robert E. Lee show, and Frederick Douglass' story kept crossing over. I kept catching his story as I was following the line of Robert E. Lee's, and I became fascinated about seeing - and I'll just throw the phrase out there - the other side of the coin.
"And then after I finished with Lee," he says of his Shades of Gray script, "and had so much success with that, I thought, 'Jeez, maybe I could do this again.'"
For biographical information on Douglass - the orator and former slave who was America's ambassador to Haiti from 1889 to 1891 - Dugan turned to some 30 books on the abolitionist, finding the most beneficial ones to be, unsurprisingly, those that Douglass authored himself.
"He wrote three," says Dugan. "Or, you might say, he wrote one three times."
Douglass, famously, published three separate versions his autobiography (released in 1845, 1855, and 1881), revising the final version in a 1892 publication, and Dugan calls the collection "a great reference for me as a writer, because there's different stories told different ways. That's very valuable because you get different perspectives; you get a progression of his development. The second one, My Bondage & My Freedom, is, I think, the most valuable one. There's a clarity that wasn't in the first one, The Life of Frederick Douglass, and the final one, The Life & Times of Frederick Douglass."
The autobiographies, adds Dugan, were also responsible for giving him his eventual sense of Douglass' character. "He loved white people," he says. "He loved black people. He loved women. He loved everybody. The thing that is so compelling to me - and I think to audiences, and to his original audiences - is that even in anger, he spoke with love. Although he would be the forerunner of these people, I would most certainly put him in the category not of Malcolm X, but of Martin Luther King.
"There were times in Douglass' life when he encouraged [fellow abolitionist] John Brown, who was for violence," Dugan continues, "but ultimately, Douglass saw the value of success and progress through words, and understood that you have to work within the system."
"That's why we're talking about him today," Johnson said. "I mean, there were a great many black politicians or community folks that you just don't hear about, but he hung in there."
Inspiration, for Dugan, also came through biographical sources. "Another book that I thought was incredibly valuable," says Dugan, "and I would recommend it to anyone who's interested in the subject, is simply called Frederick Douglass, by William S. McFeely. In that book, I started to get a three-dimensional concept of the man.
"There were some things, controversial things, that Douglass did ... [and] the black community suggested that he should resign [as ambassador] in protest. And his point was, 'Well, that would be a very dramatic headline. But tomorrow, there's always another headline, and then I'd be out of the system, and what voice would I have then?'"
Referencing the elements of Douglass' character that, for many, might not jibe with the reverence accorded him - including his speaking out against the formation of all-black towns in the Midwest, which cost him many supporters - Dugan says that, as a playwright, "The worst thing you can possibly do, in my opinion, is write a play about a two-dimensional character. If he's right all the time, if he always says the correct thing, if he doesn't make any mistakes, I don't see the audience relating to him."
Dugan's preparatory book-reading process was not unlike the one he employed for Shades of Gray. Yet when it came to scholarly research, or the visitation of notable geographic sites, the process didn't resemble the one for Shades much at all.
"It was interesting - and it's sad - that when I did the Robert E. Lee play, I spoke to maybe a half a dozen historians," says Dugan. "And with the Frederick Douglass piece, it has been harder to locate historians. I'm not saying they're not out there. Maybe I haven't tried hard enough.
"But it was hard," he continues, "and you know, I couldn't visit Frederick Douglass' home where he was born, on the Tuckahoe River, because it was a shack - it's gone. In the Robert E. Lee play, I think I visited every place that I talked about. And in Douglass, it's not that simple."
Dugan eventually had enough sense of Douglass to begin writing his one-man show, and already had the right performer in mind for the role, although he admits, "I worked on it for a few months before I even mentioned it to Mel. I've actually started writing several plays that wound up just not going anywhere, and you know, you don't want to make any promises you can't keep."
A Very Charismatic Man
"We met doing a play here in downtown Los Angeles," says Dugan of Johnson, a friend of more than 20 years. "It was actually a musical about Einstein. I was playing Niels Bohr, and Mel was playing some African prince, and it was one of those disaster productions ... ."
He laughs. "I'll tell you what, those are the ones where you make your best friends. You need them. You need the support. So we really bonded in that show."
They collaborated again, years later, for Dugan's first one-man endeavor, a stage monologue called Oscar to Oscar. "It's an autobiographical comedy ... stories of all the crazy things that I've done to get attention in Hollywood," says Dugan, whose film credits include Ivan Reitman's Dave and Junior, and whose TV résumé features Curb Your Enthusiasm and Bones. "I snuck into the Academy Awards. I finagled my way into getting my name announced over the loudspeaker at the Academy Awards. I snuck my wife and agents into the Governor's Ball, and wound up sitting at Paul Newman's table ... ."
Dugan asked Johnson to direct the show, which, he says, "turned out to be a very big hit - we extended for months and months in Hollywood. And that led to the Robert E. Lee play."
As Dugan said in last year's interview, "Being a black actor, a black director, I wanted to know what his take on a story about Robert E. Lee might be." He asked Johnson if he'd direct Shades of Gray; Johnson accepted.
And during their collaboration on the project, says Johnson, "Tom came up and said that he was thinking about writing a show about Frederick Douglass. And I said, 'Oh? Are you going to do it in blackface?'" (Laughing, Johnson adds, "I tell you, with Tom? You never know!")
"So he said, 'Uh, no, I was thinking that this would be something you might like to do.' And I went, 'Oh, my goodness.' I'd never thought about doing a one-man show. [But] Frederick Douglass has always been a fascinating character to me. How he taught himself to read, and the fact that he wrote the book because people thought he was too well-spoken - that he had to prove he was a slave."
Not that the prospect of In the Shadow of Slavery wasn't nerve-racking, even for a stage veteran with an intimidating list of credits that includes original-cast Broadway productions of the Tony Award-winning On the Twentieth Century, The Rink, and Big Deal, and a performer who spent several months as Mufasa in Broadway's The Lion King.
"When I first thought about it," Johnson says, "I was going, 'Oh, my God.' I mean, it's just all me."
But after accepting the offer, and having a script to work with, the actor says that "once you get into the story, and once you're into the telling of the story, you're just in it, and it moves you along, and before you know it, the thing's over. And that's the way you want it to be, hallelujah. It's really exciting being out there, and I try not to think about the fact that it's just me out there, so getting immersed in that storytelling is the saving grace."
"On top of his being an extremely talented actor," says Dugan of Johnson, "and you really have to be a very special kind of actor in order to pull off a one-man show, he is a very charismatic man. And that fit so well with Douglass' character. The real Douglass. He was immensely charismatic."
The Actual Voices
"The setup," says Dugan of In the Shadow of Slavery, "is that there is a riot brewing in Haiti, in Port-au-Prince. And as he's telling the story of his life - and actually re-writing his autobiography yet again - the problems in Haiti are growing and growing, and the audience becomes aware of how angry the Haitians are at Douglass for some mistakes he may have made. Douglass comes to a harsh realization that he's kind of gone astray from his beliefs, and it becomes an extremely dangerous situation for him."
Yet while the life story of Frederick Douglass is, of course, inherently dramatic, Dugan understood that "when you do a one-man play, you've really got to pull out the bells and whistles, otherwise it's just a guy talking a lot."
Among the In the Shadow technical elements, Dugan said he's especially proud of the show's presentation of 19th Century spirituals - preserved in wax recordings and secured from the Library of Congress. Historians, says Dugan, had apparently located former slaves in the 1920s, "and they got them to sing as much of these songs as they could remember." The recordings heard in the production are subsequently "the actual voices, singing the actual plantation songs."
Until this winter's tour - which includes Dugan and Johnson traveling to Connecticut and Ohio following their Quad Cities residency - the show hadn't been performed since its debut in Torrance. ("Getting it back is almost like starting from scratch," says Johnson, "but the words come back a little easier this time.") And Dugan says that, since last February, minor adjustments have been continual. And probably inevitable.
"The script is always in development," says the playwright, underlining his statement with an anecdote from a performance of Shades of Gray at Washington & Lee University in Lexington, Virginia. ("Which, as you can imagine, is like the Mecca for Robert E. Lee," he adds.)
"We had been doing Robert E. Lee for, I guess, three-and-a-half years by the time we did it at Washington & Lee," says Dugan. "And as we were about to go on stage, the stage manager comes up to me. We had been to the gift shop, and she had a postcard of Traveler - the famous Robert E. Lee horse - in profile.
"And she pointed to a certain part of the picture," Dugan continues, laughing, "and we had been referring to Traveler as a 'she' all this time, and the profile proved without a shadow of a doubt that it was a 'he.' So yeah. Re-writes are always happening.
"We're trying to fortify the other characters," says Dugan of the tinkering process. "You know, you've got this one-man show, and if you're talking about other characters, the audience has to care about those other characters even though they don't see them."
Yet even with sublte script changes to be made, Dugan appears eager to get In the Shadow in front of audiences again.
"Here's my idea of the most valuable audience member," he says. "A young black kid who's sitting in the audience because it's Black History Month, and maybe somebody's taken him to the play. A kid who says, 'Okay - theatre. I don't really have any connection to theatre, and it's people talking about things I don't understand and can't relate to ... .'
"Now if he sees that this hero - this huge hero in the black community - had a temper, if he sees that this hero was often unavailable to his family, if he sees that this man was ambitious and sometimes lost sight of his ultimate goals, then he might be able to say, 'Well, wait a minute. I'm selfish sometimes. My father is sometimes not around when I need him to be. So that's a human being I can relate to. If Frederick Douglass was like that, and Frederick Douglass became what he became, maybe I can become something.'"
The Lessons That History Provides
Toward the end of our interview, I inquire whether Dugan has another potential Visiting Artist gig lined up for next year, half-jokingly suggesting that it would be fun to make our conversation an annual one. ("A trilogy!" he replies.) It turns out that he very well might.
Dugan is currently working on his next solo endeavor, the "isn't even written yet" play already commissioned by the Torrance Cultural Arts Center. "It's called Nazi Hunter," he says, "and it's the Simon Wiesenthal story."
In addition to writing the production, the author will play the title character, and, obviously cognizant of the parallels between his latest project and Shades of Gray and In the Shadow of Slavery, says, "I do choose these subject matters because I really do like to make an impact, and I really have grown to love the historic value - the lessons that history provides. And it'll be a fun ... .
"I mean, as an actor," he amends. "Obviously not in subject matter. But as an actor, it'll be a fun assignment because I'll have to shave my head and look like an 80-year-old man, and I'll have a thick Polish accent ... .
"My booking agent," laughs Dugan, "said, 'Oh, for cryin' out loud, Tom. The Civil War, slavery, the Holocaust ... lighten up!'"
A public performance of In the Shadow of Slavery will be presented at Davenport's Adler Theatre on Saturday, February 9, at 7 p.m. Admission is free, and more information on Tom Dugan's and Mel Johnson Jr.'s area residency is available at (http://www.quadcityarts.com).