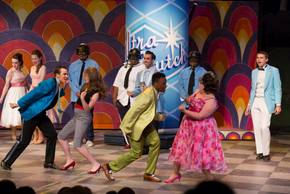 Good gawd is the Timber Lake Playhouse's Hairspray fun. I went into Saturday's matinée with eager anticipation and left with a sense of thrilled enjoyment, floating on a cloud of happiness. Director Lili-Anne Brown's production of this musical based on John Waters' 1988 film is not only a helluva good time for us, but a rockin' wild ride for Amelia Jo Parish's Tracy Turnblad, as Hairspray's lead goes from overweight sideliner to local-dance-show star to racial-integration crusader in 1960s Baltimore.
For a title chosen to kick off Timber Lake's "big"-themed summer (upcoming shows include The Big Meal, Big Fish, and Big River), I found myself most interested in the smaller things here. One of them was scenic designer Benjamin Lipinski's Rube Goldberg-esque contraption that Tracy's dad Wilbur (Cullen Rogers) uses to change his joke shop's "Open" sign to "Closed," which involves a toy truck rolling down a track. Choreographer Zachary L. Gray also added one of my favorite minor bits in the "Run & Tell That" number, in which the black kids give the whites a lesson in rhythm at the record store of Motormouth Maybelle (Jasondra Johnson, who later takes the audience to church with her vocals on "I Know Where I've Been"). The moment finds Tracy, her co-star Link (Samuel Leicht), and her best friend Penny (Rosie Upton) clapping on the first and third beats for a few measures, which the black kids notice ... right before they show the white kids how to clap, correctly, on the second and fourth beats instead.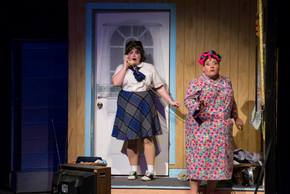 Then there's Upton's Penny. While the character herself isn't "small" in terms of Hairspray's plot, it was Upton's subtlety that endeared me to her awkward, optimistic outcast; even when playing up Penny's spastic nerdiness, the performer does so with charming sincerity. When Penny first sees Eli Emmit's Seaweed during a school dodgeball game and delivers a giggle that's a blend of infatuation and nervous giddiness, the moment is so fleeting that it could be missed, but also attests to Upton's ability to create character empathy in the tiniest of ways.
As for the biggest role (no pun intended), Parish's Tracy is charismatic, engaging, and beautifully voiced. Like most of the rest of the cast, Parish doesn't seem to draw from previous interpretations of her role, and instead relies on the script and her own smart choices to shape a unique Tracy. She's spunky, yes, but also avoids condescending to those unlike her who don't like her - except for Alexis Aker's snooty Amber Von Tussle. Aker pulls off some laugh-inducing, self-important zingers, such as using her time on The Corny Collins Show to elicit votes for Miss Teenage Hairspray by saying, "A vote for me from you ... is a vote for me." (Grant Alexander Brown's on-point showman Collins responds with a telling, hardly subtle "What an unexpected ad lib, Amber.")
Tommy Bullington, as Tracy's mother Edna, is a crowd-pleaser, and rightfully so. However, and this is really just nitpicky, I wanted a little more from him, as he seems to waffle between playing the part with sincerity (ignoring that the role is performed in drag) and with full acknowledgment that he's a man playing a woman. His "Timeless to Me" duet with Rogers is notably touching and genuine - though I thought the number screamed for a kiss at the end, and was distracted by thoughts about why one doesn't occur - and the performer certainly deserved the increased applause Saturday's audience gave him during the curtain call. I wish, though, that Bullington would either bring that earnestness to the rest of his performance or go really big, and play Edna with more of a nudge-nudge-wink-wink approach to the drag humor.
Paige ManWaring's Velma Von Tussle, Amber's mother and the producer of The Corny Collins Show, is similarly a bit off. She's very physical in the role, in terms of being comically melodramatic, but seems more of a fool than a domineering shrew; I kept thinking she was channeling Joann Havrilla's Prudence Pingleton from the 1988 film, minus the neurosis. ManWaring is funny, her characterization is consistent, and I loved her delivery of "(The Legend of) Miss Baltimore Crabs," but personally, I'd prefer a bitchier Velma.
Yet even with those minor complaints in mind, the Timber Lake Playhouse's Hairspray is still a great production in terms of entertainment value, with every one of Gray's ensemble dance numbers in a tie for my favorite one. ("The Nicest Kids in Town" must be the most cardiovascularly fit kids, too, given Gray's nonstop series of dance steps drawn from the 1960s and the original Waters film.) I had a fantastic time revisiting Waters' 1960s Baltimore and Tracy's crusading ways - so much of one that I'm considering a return visit before the end of the show's run.
Hairspray runs at the Timber Lake Playhouse (8215 Black Oak Road, Mt. Carroll) through June 14, and more information and tickets are available by calling (815)244-2035 or visiting TimberLakePlayhouse.org.