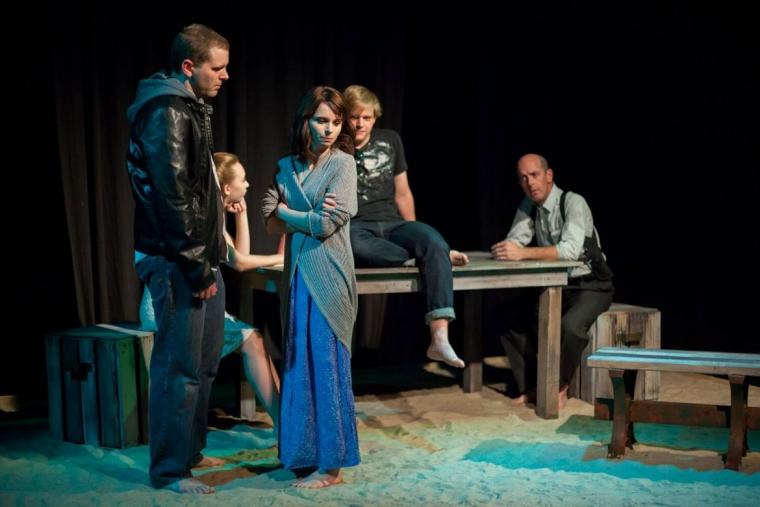 "Have you ever been stuck?"
On the night of August 25, this one spoken line stuck in my head like newly poured concrete – clammy and heavy while slowly thickening in my mind. I can only imagine that most of us have been stuck at some point, but this didn't refer to the everyday kind of stuck. It wasn't about something normal such as being trapped in traffic, or having writer's block, or doing the same workout over and over. No, this question asked in a play referred to an endless hamster wheel of shame and humiliation stigmatized by one poor life choice.
Broken is the latest production by the QC Theatre Workshop, and its plot targets a very difficult yet important topic in today's society: human trafficking. Written by local playwright Aaron Randolph III, the one-act drama centers around a teenage girl who defies her mother and goes to a party where she's pressured into drinking beer laced with a date-rape drug, and how that one decision sends her life, for years, into a hypnotic, out-of-control spiral.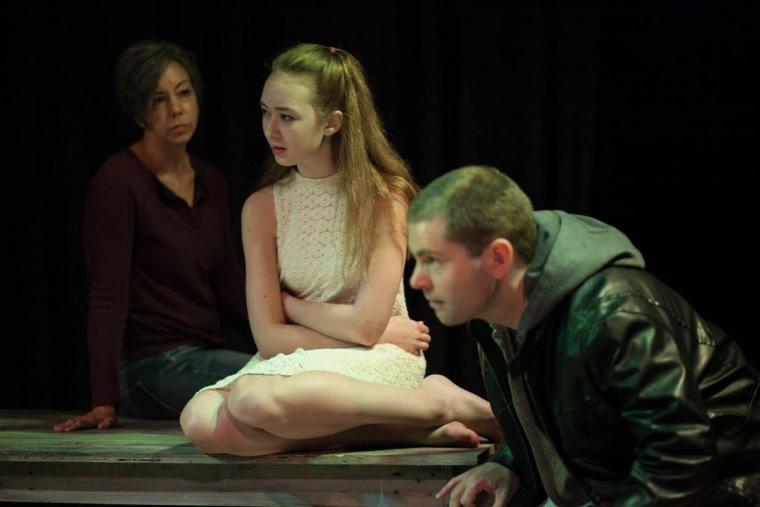 Directed by the QCTW's artistic director Tyson Danner, the heart of Broken's story concerns the character of Ally/Alyssa, who is simultaneously interpreted by two actors. Ally, the younger version, is played by high-school sophomore Laila Haley; the 20-something Alyssa is portrayed by Jessica Denney. And the young woman's life is literally changed in an instant when Ally's all-too-attentive date A.J. (Keenan Odenkirk) blackmails her with a damning video he took while she was under the influence. Ally must then choose to be disgraced in front of her mother and friends or step quietly into the world of prostitution, while Alyssa must live with the consequences of that decision.
Danner's adept staging utilizes a new layout for the Workshop's performance space employing a hexagon-shaped thrust stage covered in sand, signifying a safer place of beauty and peace extracted from Ally/Alyssa's artistic drawings of beaches. It also provides a contained, almost cage-like acting arena with no place for the characters to escape Randolph's intense and uncomfortable script, but one that does allow multiple scenes to overlap, beautifully, from distinct snapshots in Ally/Alyssa's life.
Denney's portrayal of Alyssa teeters on slowly sinking into an abyss while also showing a strength and defiance that may just be her salvation, and her performance proves that she's one of the finest actors in the region. As for Haley, she's a figure of innocence, yet one also layered with misery and a despair that still has my heart aching.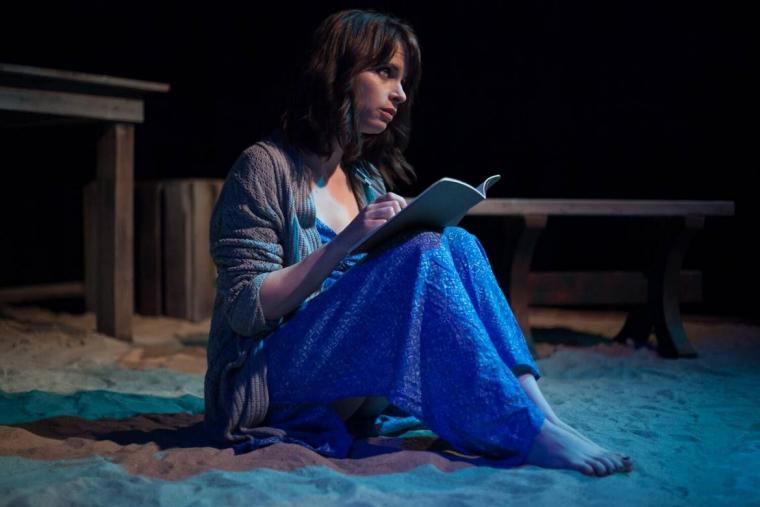 Randolph's script tells much of its story in flashback as Alyssa begins to reveal her life to a detective who's trying to help her break this hellish, seemingly infinite cycle. It was consequently so good to see Michael J. King in the role of that detective, with his classical-acting skills bringing heart and hope into a shadowy, immoral world. As Alyssa's older boyfriend Shaun, though, Thomas Alan Taylor left me struggling. Not because of a poor portrayal, but because I liked the character more than I should have – the sign of an actor who can take a fairly despicable character and make him complex enough to also be appealing. Kudos to Taylor for a carving a multi-faceted person from this turd of a soul.
As Ally's mom Sharon, Jennifer Popple's performance was extremely strong. Popple has a unique ability to use her eyes to share much of her character's spirit, and on Friday, her gaze could switch from doting in one moment to displaying, in the next, the hollowness that comes from the grief of losing a child's soul. Odenkirk's A.J., meanwhile, was a smarmy, bottom-feeding douche-bag that made me want to punch him in his smirking face, and the young actor's ability to illicit that sort of guttural response is nothing short of masterful.
Broken is a very tough play to watch. Yet it has sprinkles of lightness and humor that had the opening-night audience laughing out loud at several points throughout. And with Davenport, Iowa, mentioned as the main character's hometown, the local references were a nice touch, yet also a stark slap in the face that human trafficking can, and does, happen right here in the Quad Cities. After the cast members took their curtain call and exited the stage, it was interesting to see that the audience stayed seated, seemingly not knowing what to do or how to respond. I can only assume that others felt the same way I did: stuck.
Broken runs at the QC Theatre Workshop (1730 Wilkes Avenue, Davenport) through September 17, and more information and tickets are available by calling (563)823-8893 or visiting QCTheatreWorkshop.org.