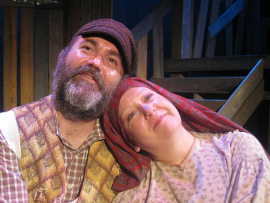 I'm willing to admit that I had significant reservations when I heard Marc Ciemiewicz would be playing Tevye in the Circa '21 Dinner Playhouse's Fiddler on the Roof. While I've enjoyed every performance I've seen from the actor, I wasn't sure he could pull off this particular part - and I confess this hoping that my praise is all the more significant: Ciemiewicz knocks the role out of the park. Sporting a beard and using a deep baritone voice to speak and sing, and significantly changing his physical demeanor, this person I normally adore for his cutesy charm and spunk completely disappears into the character of Tevye, all the while maintaining his adept comedic skill. I will never doubt Ciemiewicz's acting range again.
For me, though, the test of quality for any production of this classic musical-theatre story - that of a Jewish family facing changing traditions in 1905 Russia - is the scene titled "The Dream." I've enjoyed mediocre productions of Fiddler on the Roof, perhaps more than I should have, simply because this sequence was so well rendered in them, and here, director Jim Hesselman does not disappoint, presenting Tevye's (made up) dream with zombies, limb-extending prosthetics, and designer Steve Sorenson's foggy, green-lighting concept. I loved seeing a fresh take on this scene, which was filled with high energy, significant creepiness, and an atmosphere that feels bigger than the performance space and the number of actors inhabiting it. (I liked the sequence so much that I may try to slip into the theatre week after week just to watch it again and again.)
And fortunately, Hesselman's overall production matches the quality of "The Dream." His show provides a sense of the familiar appropriate to such an iconic piece of musical theatre, but there's also a newness to it, as Hesselman presents Fiddler in a way that feels like the musical hasn't been done before, with pacing that makes the (roughly) two-and-three-quarter-hours presentation not seem very long, but also not feel rushed. Hesselman's choreography is also enjoyable, with its effective simplicity boasting nods to the original's dance steps while remaining original, and the same is true of scenic designer Susan D. Holgersson's relatively simple series of ramps, stairs, and catwalks, which are built - given the askew boards throughout the structure - to look as though the town's residents put it up themselves without the aid of professional carpenters.
The cast, across the board, does an impeccable job re-creating familiar characters, but there are a few stand-outs besides Ciemiewicz, many of whom are local actors. With her no-nonsense ways that she still renders as humorous, Rachelle Walljasper couldn't possibly be a better Golde. Dee Canfield's grand gesticulation and over-dramatic facial expressions are well-suited for Yente, the town's matchmaker. Brad Hauskins portrays the town rabbi, and vanishes so completely into the character that I didn't even know this until intermission, when, as a Circa '21 Bootlegger, he served desserts in costume. Mitch Donahue's Fyedka, regarding the plight of the townfolk, walks a fine line between a stoic disposition and a sympathetic one. And Aidan Sank's Motel is so awkward and bumbling that it's easy to see why Tevye doesn't want him to marry his eldest daughter - although Sank, offering a heaping helping of endearing qualities, still had me rooting for their marriage.
If I may make another confession, Fiddler on the Roof - like Joseph & the Amazing Technicolor Dreamcoat and Annie - is on my list of musicals I don't care to see again, given how many stagings of them I've already seen. However, it would've been a travesty had I avoided Circa 21's production of this classic by playwright Joseph Stein, composer Jerry Block, and lyricist Sheldon Harnick. Hesselman's treatment makes this song-filled tale well worth seeing yet another time.
Fiddler on the Roof runs at the Circa '21 Dinner Playhouse (1828 Third Avenue, Rock Island) through July 19, and more information and tickets are available by calling (309)786-7733 extension 2 or visiting Circa21.com.