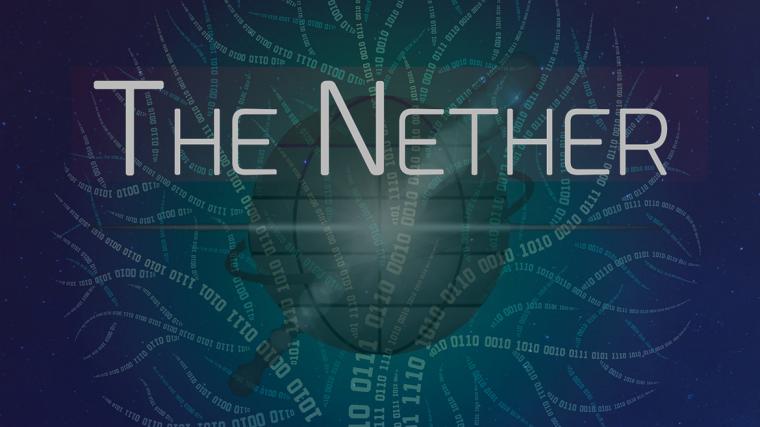 For some, it's true that their virtual lives have become almost as important as their real lives. For example, it's easy for me to get lost surfing the Web. I have blown through hours and probably days looking at social media, shopping, checking out the news, ordering tickets, or zoning out on whatever other shiny object in cyberspace attracts my attention. Maybe our virtual lives are just as important as our physical lives. To some, maybe, they're more important.
New Ground Theatre's first production of 2018, The Nether, explores the very question of which of these lives is more essential, and how accountable we should be in simulated environments. Author Jennifer Haley's play is set in the not-too-distant future and is a combination of science-fiction and a classic detective story. According to Haley, the Internet, now known as The Nether, has evolved and become a seemingly infinite network of virtual worlds where users log into terminals to live out any of their fantasies in 3D environments.
As the lights first come up, a member of the criminal investigative unit of the Nether, Detective Morris (Jamie Em Johnson), is interrogating Sims (Matt Moody) as someone she suspects to be operating a virtual world, known as The Hideaway, where pedophiles can act upon their deepest and most disturbing fantasies. The script bounces back and forth between Morris's interrogations, and features scenes of what has happened and who is responsible in The Hideaway's realm. Morris suspects Sims to be The Hideaway's Web master and chief pedophile, known in this virtual world as "Papa." At the February 3 performance, Moody played Sims with great force and passion that was matched by Johnson's intensity and drive, and both actors executed their interrogation scenes like professional chess players trying to achieve checkmate with the fewest moves.
Morris also interrogates Doyle (Kevin Keck), a science teacher and Hideaway customer, who has become so deeply absorbed into this murderously peaceful online world that he wants to abandon his physical form and live in this state of cyber-hell forever. Doyle is philosophical about why he wants to live as a frequent flying avatar abusing and murdering virtual children, and Keck plays him with appropriate agitation and angst, just as if he were having withdrawals from some type of chemical dependency.
Lena Slininger is Iris, a virtual adolescent girl in The Hideaway, whose sole online purpose is to meet and befriend the network-connected degenerates and allow them to do to her whatever their black hearts desire over and over and over again. Slininger portrays Iris as artificially cheerful yet profound, and was simultaneously endearing and unsettling.
The final character to enter is Woodnut (Jacob Pecaut), who appears to be a first-time customer but is actually an informant who befriends Iris wanting to learn the identity of Papa, and to discover if the Iris avatar is based on a real-life human child. Pecaut is aptly tentative in character, but I found his awkwardness a little over the top, making me unduly suspicious even through the play's conclusion.
The Nether's is an interesting script that forces the audience, along with the cast, to question what is ethical versus what society can and could accept. The troubling thing with Haley's writing is that it plays like an extended episode of Law & Order: SVU. The dialogue is not particularly clever or conversational, and comes off, at times, as long-winded and even preachy. Without disclosing any spoilers, I also found the very last scene to be unnecessary – an oddly attached bonus illustration that served no real purpose other than to more graphically repeat what had previously been disclosed. Despite my concerns with the script, though, kudos to director Jordan Smith, who has created a briskly paced production that competently connects the starkly drab world of Morris and her interrogations against the colorful and charming projections that represented The Hideway's perverse virtual setting. I also appreciated Jacque Cohoon's and Jared Smith's sound design, which used gripping instrumental-music selections between scenes helping to underscore the story's tone much like a movie soundtrack, adding a nice depth to the production.
New Ground's The Nether is definitely a show for adults and may very well leave all of its audience members asking themselves just how far we, as a society, should allow our virtual fetishes to be satisfied. On the other hand, it reminded me to put down my phone and iPad and live the rest of my weekend in the non-virtual world.
The Nether runs at the Village Theatre (2113 East 11th Street, Davenport) through February 11, and more information and tickets are available by calling (563)326-7529 or visiting New Ground Theatre's Facebook page.