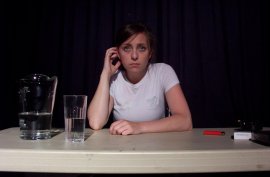 Neil LaBute's Bash - the debut presentation from the newly formed Phoenix Theatre Company - finds three of the author's short plays performed in succession, and in the middle of its first offering, actor Chris White rises from his chair, walks to its back, removes his suit coat, and then sits down again. In movie parlance, this is what would be known as Bash's "action scene."
Barring White's brief excursion, the most dramatic movements in this trio of performance pieces are the shifting of weight, the lifting of water glasses, and, in Jessica Sheridan's case, the lighting of three cigarettes - all executed from seated positions. In its nearly motionless way, though, Bash is positively riveting. With practically no buffers between the audience and the text - no actor interaction, no scenery or costume changes, no intermission - you seem to be given direct access to the characters' psyches here, and co-directors Tyson Danner and Rachel Mayer ensure that the production's initially banal, eventually horrific talk results in a night of theatre as disturbing and spellbinding as you could want.
Not all of you, however. Certainly not the two sixtysomething ladies seated next to me, who grumbled - in voces that weren't nearly sotto enough - about the mistake they'd made in purchasing tickets to Friday's show. Yet with a cast composed of White, Sheridan, Ben Simkins, and Abby Van Gerpen, it's hard to fathom what fan of stage acting would want to miss Bash. To be sure, LaBute's work is divisive, even alienating; if you're unwilling or unable to separate performance from subject matter, you could easily have a miserable time. If, however, you can appreciate the thrill that comes from watching actors triumph in exceptional material - the joy behind the suffering - you might find the experience closer to exhilarating.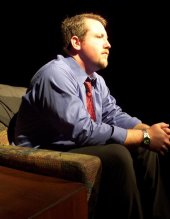 The evening opens with "Ighigenia in Orem," in which White's businessman, nursing a glass of water in his hotel room, speaks to an off-stage woman about the death of his five-month-old daughter. If you're at all familiar with LaBute's stage output - or his assaultive, pitch-black film comedies In the Company of Men and Your Friends & Neighbors - it won't shock you to learn that the character's tale eventually grows nightmarish, and then pathetic, and then, somehow, queasily comedic. (As all of Bash's tales do.) The playwright is ever-alert to the roles that coincidence, fate, and sick jokes play in our lives, and with his gifts for imbuing standard American vernacular with off-handed lyricism, "Iphigenia" stands as a hypnotic description of bad luck and far worse judgment.
Directed by Danner, it's a rather staggering piece (also a superb litmus test for how well you'll handle Bash's subsequent pieces), and White performs it with superlative skill. With disarming matter-of-factness, and without ever raising his voice above a normal conversational tone, the actor conveys worlds of confusion, wonder, and resignation, and does so without ever seeking the audience's absolution or understanding; this man just wants his story, at last, to be told. In what is, by far, the richest, most emotionally complex performance I've yet seen him give, White is revelatory here, just as Simkins is in Bash's second offering, "A Gaggle of Saints."
This two-character vignette casts him and Van Gerpen as the soon-to-be-engaged John and Sue, young lovers who take turns recounting their romantic history and events from their fourth-anniversary celebration - not all of which Sue is aware of. (In Danner's staging, the two are positioned beside one another, but don't acknowledge one another's presence.) A recent Rock Island High School graduate, Simkins already appears remarkably controlled and nuanced, as comfortable with John's tortured soul-searching as he is with his wonderfully throwaway laugh lines. It's a stunner of an area-theatre debut, and Van Gerpen partners him flawlessly, revealing fascinating hints to Sue's dark side while maintaining an air of breezy, untroubled contentment. This production desperately needs Van Gerpen; her radiance and effervescent charm frequently lift Bash out of the shadows and into the sunlight.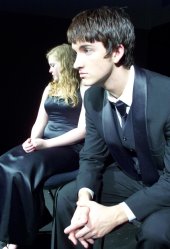 LaBute reserves his most devastating blow for the show's climactic playlet, in which Sheridan, nervously smoking in an interrogation room, offers a candid reflection on her character's recent trip to Arizona. As for the details, suffice it to say that director Mayer's piece is titled "Medea Redux," and that even if you've been hugely impressed by Sheridan (née Stratton) in such local productions as the Green Room's Doubt and the Harrison Hilltop Theatre's Almost, Maine, you have no idea what you're in for here. Hers is a savagely raw portrayal of emotional extremes; with a penetrating stare and reserves of untapped anger, Sheridan always seems to be one inch away from utter hysteria. Yet it's a portrayal that's also delivered with such understated delicacy and tact, and such artistic elation, that this borderline-monstrous reminiscence left me almost dizzy with pleasure. It's a pleasure that you - though, again, not all of you - will likely feel throughout the Phoenix's Bash, a true party for those who don't just marvel, but get downright drunk, on the art of stage acting.
For tickets and information, call (563)650-2396 or visit ThePhoenixTheatreCompany.com.