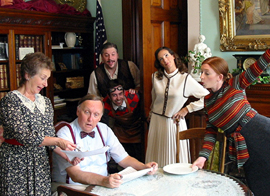 Thursday's opening-night presentation of You Can't Take It with You at the Clinton Area Showboat Theatre was polished, snappily paced, and almost universally well-performed. But attendance was hardly what it should have been for this venerated Kaufman & Hart comedy - I'd venture that less than two-thirds of the seats were filled - and truth be told, it's not hard to figure out why.
It's always difficult to get excited about a new production of this venerated Kaufman & Hart comedy, in part because the show doesn't want to excite; it wants to relax, and pacify, and leave audiences with the feeling that all is right with the world. (You Can't Take It with You is like the stage equivalent of a warm bath.) As theatrical modi operandi go, this one is pretty unimpeachable, and the playwrights' offering continues to do its job 70-plus years after its Broadway debut.
For some of us, however, the play has become so familiar through its frequent staging in schools, community and regional theatres, and 1938's Frank Capra movie that any surprises left in it have all but evaporated, and a theatrical production without surprise - even one that you enjoy - can easily grow monotonous.
Yet under the smart, generous direction of Jerry Winters, this take on the classic charmer is almost inarguably fine. If you haven't yet experienced Kaufman's & Hart's light-hearted tale of the eccentric Sycamore clan, you could hardly ask for a better introduction. (Based on the reactions on Thursday, a sizable percentage of the audience did seem composed of newbies; with each new comedic development, there were good-natured, anticipatory "Uh oh!"s.) And if you have seen the show once, twice, or a dozen times before, you'll be happy to learn that the Showboat ensemble walks that fine line between giving the audience the stereotypes they want and/or expect, and finding ways to make these familiar characters feel refreshingly new.
As the ingénue Alice, Kay Ann Allmand is never less than real, and has moments of almost magical affectlessness. (Explaining how she first fell in love with Joshua Estrada's Tony when staring at the back of his head at work, Allmand gushes, "I just liked it!" with heartbreakingly sweet, girlish delight.) Will Morgan, as the Russian dance instructor Kolenkhov, shakes with joyous, barely pent excitement, popping his voice a good half-octave higher than you expect him to. Patrick Stinson turns his fatuous Mr. Kirby into a remarkably nuanced figure, and his comic authority is inspiring; he barks, "I'm a very happy man" like the unhappiest man on earth. And the consistently marvelous Rob Engelson underplays Grandpa's wisecracks with disarming matter-of-factness; this Martin Vanderhof is nobody's cuddly old sage.
These are roles that less committed actors could easily sleepwalk through, yet the Showboat's ensemble is terrifically alert. Jalayne Riewerts, though forced into a really poor wig, brings a fizzy eccentricity to Penny, and is wonderfully matched by Mark X. Laskowski, who plays Paul Sycamore with hushed, selfless charm. Portraying Alice's fiancé, the appealingly boyish Estrada is as focused as ever, even though the character doesn't develop much past his dimples. (A few scenes find Estrada looking more uncomfortable than Tony perhaps ought to be, perhaps because of the strangely, uncharacteristically flashy vests he's been outfitted with.)
No matter where you look, you'll find performers putting a fresh spin on timeworn roles: Josh Wright and Jennifer Gilbert, making daffily enjoyable music-and-dance together; Steven Piechocki, wrapping an endearing Scottish brogue around delightful throwaway banter; Sandee Cunningham, her well-calibrated imperiousness creating a high-maintenance hoot. Plus Nicole Horton, Alison Nicole Luff, Simone Renault (great to see her on the Showboat stage again), Caleb Evers ... and the combination of all these talents actually proves more fascinating, and more heart-warming, than anything else about the show.
So far this season, we've been treated to inspired work from performers making their Clinton debuts, nearly all of whom previously worked for the Showboat's artistic director, Craig A. Miller, at Houston's Texas Repertory Theatre (where Miller is executive artistic director). Yet this production marks the first chance for a number of familiar Showboat faces - among them Engelson, Riewerts, Horton, Stinson, and Cunningham - to return this season, and it's a true kick watching the interaction between the much-adored Showboat veterans and the rather marvelous assemblage recruited from farther south.
It's understandable if your hesitancy about an umpteenth You Can't Take It with You outweighs your desire to see it. But with the Showboat's latest, the participants haven't merely formed a reliably entertaining evening of theatre, but an entire blended family, and that's an experience you'll most definitely take with you.
For tickets, call (563) 242-6760.