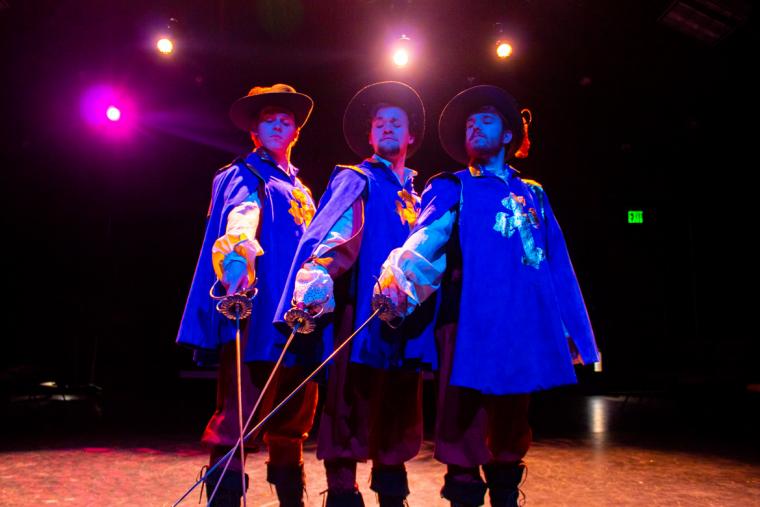 "All for one and one for all!" This is the heartfelt cry and motto of the famously swashbuckling musketeers that echoed throughout the Brunner Theatre Center auditorium in January 25's opening-night performance. Swordplay abounded as Augustana College's company of actors and stage crew presented the adventurous tales of playwright Ken Ludwig's The Three Musketeers, and the sword fights choreographed by director Jeff Coussens were superbly done, making for quite a lively evening.
Upon entering the theatre, patrons were greeted to a huge movie screen projecting scenes from the 1993 Three Musketeers film – a creative, fun way to start Augustana's production – and Ludwig's play is adapted from the classic story and series of novels begun in 1844 by French author Alexandre Dumas. Set between 1625 and 1628, the action begins with young d'Artagnan (Peter Alfano) setting out for Paris to become a musketeer – a royal soldier and guard – to King Louis XIII (Brandon Smith) and Queen Anne (Maddy Cuasay), eventually meeting with musketeer commander Captain Treville (Jacob Pecaut) to begin his training as an elite swordsman. While Alfano adequately portrayed his character, I felt his performance on Friday lacked a bit of enthusiasm. But Elise Campbell, as d'Artagnan's rambunctious sister Sabine who tags along for the trip disguised as a male servant and confidant, was bubbly and energetic, and her absolutely adorable interpretation was a pleasure to watch.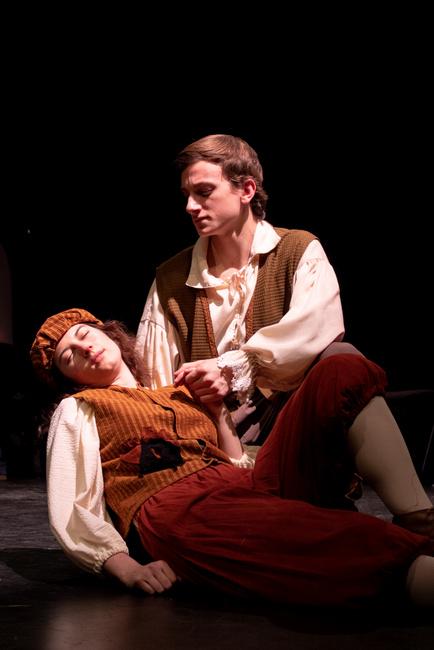 This audacious pair eventually runs into the clever, handsome trio of musketeers – Athos (James Wheeler), Porthos (Tristan Odenkirk), and Aramis (Jarod Kovach) – who individually challenge d'Artagnan to duels. Odenkirk really stood out amongst his fellow actors, as he was boisterous and commanded the stage as the charming, well-dressed Porthos. Taken as a group, however, I didn't feel much connection or stage chemistry between the musketeers in their relations with each other.
As the cynical Cardinal Richelieu, Connor Macabee portrayed his devilish character with great style and finesse. Richelieu's primary mission was to catch Queen Anne doing something wrong so he could blackmail her, and Macabee won me over with his evil grins and exaggerated facial expressions. His costume designed by Ellen Dixon, with its wig and goatee by Abby Roselieb and Shyan Devoss, shared a likeness with a Jack of Hearts playing card, which, in itself, was a hysterical sight.
Milady de Winter (MJ Mason), meanwhile, is a spy for the cardinal and the crazy, knife-wielding antagonist in a plot to bring down the queen for having an affair with the Duke of Buckingham (Jonathan Meir). Mason's ruby-red hair and diabolical countenance, along with her confidence as an actress, really made her rendition of Milady edgy and dramatic. Dixon dressed her in hooded cloaks and a long black dress that accented the darkness of Milady's personality and made the character believable.
The 17th Century costumes were, in truth, among the best features of the show, especially the glamorous pink and silver gown and headdress that Queen Anne wore, along with the silky, teal and gold ensemble donned by King Louis XIII. The musketeers were bold in royal-blue capes embossed with large gold crosses and black hats accented with great feathers, and at one point in the show, the entire ensemble is even decked out in magnificent decorative masks for a masquerade party. As for The Three Musketeers' stage crew, they were constantly busy moving around large flower pots, bushes, statues, and stonewall dividers as they scooted about from scene to scene. RaeEllen Walker's set design consisted of a lovely painted mural of a Parisian landscape as well as stoic pillars, a balcony, and dual staircases on both sides of the stage.
Throughout the show, the actors did a lot of running on and off the stage and even through the audience, and at times, for me, it almost seemed to be too much action and not enough acting. Some of the cast members were difficult to hear, which made it hard to know what was going on within scenes, and the portrayals occasionally came across a bit cheesy when performers were trying to pull off the show's slapstick portions. As mentioned, Augustana's production is lively, but I think Ludwig got it right in the introduction to his play when he described his Three Musketeers adaptation as a "comic-book soap opera."
The Three Musketeers runs at Augustana College's Brunner Theatre Center (3750 Seventh Avenue, Rock Island) through February 3, and more information and tickets are available by calling (309)794-7306 or visiting Augustana.edu.