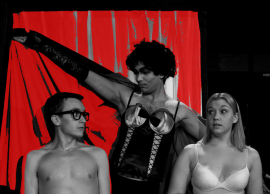 Maybe it's because co-founders Tristan Tapscott and Chris Walljasper are finally appearing in one of their venue's shows, or maybe because it's tough not to have fun when watching a dozen people in heavy eyeliner singing and dancing "The Time Warp." But whatever the reason, the Harrison Hilltop Theatre's joyous and fearless production of The Rocky Horror Show feels, to me, like the very first production that's truly the Harrison Hilltop's. Not the author's, not the performers', but the company's as a whole. And it's an inspiring sight to see.
The organization has definitely produced its share of fine or more-than-fine works over its 17-month, 17-show history; in 2009, True West, Thom Pain (based on nothing), and Long Day's Journey Into Night have been especially impressive. But part of the reason it's been so hard to get a read on the Harrison Hilltop is that the group's selections have been eclectic to the point of schizophrenia. How, over a 10-month period, does one group offer Tennessee Williams, Lee Blessing, Neil Simon, David Sedaris, Sam Shepard, Sophocles, and the stage version of The Graduate, with four other titles sandwiched in between? Variety is one thing, but it's been all but impossible to determine what, besides the Harrison Hilltop name, links such disparate offerings. (It's hard to imagine anyone having equal passion for A Streetcar Named Desire, Oedipus Rex, and The Odd Couple.) Consequently, it's felt like the co-producers have been throwing every conceivable genre and style into the mix just to see what will stick with the theatre-going public - and as the founders of a new theatre company trying to make its mark, of course, such a methodology would be totally understandable.
But while I'm not suggesting that the Harrison Hilltop only stage The Rocky Horror Show from here to eternity (though it might make a pretty penny if it did), I think there's a reason this presentation feels unique, vital, and alive in a way the group's other offerings haven't until now: It feels like it was produced not for us, but for them. Director Dave Mahl's musical comedy features a cast of 13 plus a backstage (and awesome) band, and the ensemble tears into Richard O'Brien's cult sensation with such fiendish relish and glee that you sense they'd exude the same vivacity regardless of whether there was an audience there to entertain. These performers clearly love this show. They love O'Brien's crude jokes and the fishnet stockings and the chance to belt high "A"s at the top of their lungs. And their adoration for the material, their passion, is infectious; we respond to what a great time everyone on stage is having, and in turn, have a great time ourselves.
There are actors here, in truth, that look as though they couldn't possibly be having a better time, starting with the Harrison Hilltop's own producers. Tapscott has been fantastic in a bunch of area shows in recent years, but he seems newly uninhibited and energized in his turn as Rocky Horror's demented Riff-Raff; Tapscott's glorious caterwauling of "The Time Warp" is an electrifying example of an actor going for broke and savoring the journey. Walljasper, absent from local productions for far too long, gets to pull off a splendidly silly Dr. Strangelove in his brief role as the heavily accented Dr. Scott. And the Harrison Hilltop's associate producers, James Bleecker and Steve Quartell, take part (and kick ass) as well - Bleecker projecting sweetly dimwitted comic naïveté as the hapless Brad, Quartell delivering a raucous, rejuvenating take on Eddie's "Hot Patootie." (Bless my soul, indeed.)
Steve Lasiter's sweet transvestite Frank 'N' Furter, meanwhile, is almost better than you could have hoped for, partly because the portrayal is such a spectacular channeling of Tim Curry, and partly because the actor lends the role a delicacy and longing that feels entirely his own. Don't get me wrong: Lasiter is an explosive presence who provides thrillingly expressive vocals, as he's as comically assertive during his insidious seductions as he is when demanding that we "beg for it, bitches" before he finishes uttering "antici ... pation." Yet even more than his considerable stage power and his iconic costume, what I think I'll remember most from Lasiter's delirious star turn is Frank 'N' Furter's haunting, faraway sadness. Whether pining for his buff Rocky Horror creation (played, with appropriately half-brained distractedness, by Jeff Stone) or tenderly contemplating a return to his home planet, Lasiter convinces you that there's actually something at stake in this goofy sci-fi extravaganza, which is no easy feat.
This Rocky Horror Show is positively teeming with pleasures. The beautiful vocal work and comic wit of Cari Downing, who makes Janet's progression from innocent virgin to unapologetic sexpot wickedly enjoyable. (It's the first time I've seen the actress on stage, and hopefully not the last.) The relaxed assuredness of Sara King's intimidating Magenta. The slaphappy monkeyshines of the phantoms played by Lisa Kahn, Annie Walljasper, and Paul Workman. (In one of director Mahl's most inventive touches, the trio enacts the role of Brad and Janet's car, complete with headlights and fully functioning windshield wipers.) The ebullient choreography by Andrea Moore, the imaginative lighting effects by Tapscott, the luridly suggestive costumes by ... well, the program doesn't specify who provided the costumes, but kudos to whoever you are.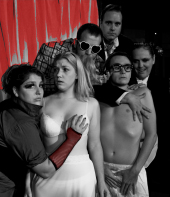 And in case you were wondering whether audience participation is encouraged at this stage version of the midnight-movie mainstay, the answer is yes - you can even purchase toilet paper at the theatre for a buck a (literal) throw. Unfortunately, I can't tell you what that experience might be like, as Saturday's 7:30 p.m. show only found a handful of attendees in the sold-out house dressed in Rocky Horror attire, and only one, really, who continually responded to the dialogue and lyrics with wonderfully snarky retorts. (My favorite bit? Janet telling Brad, "I'm coming with you," followed by the peanut-gallery reply, "That'd be a first.") When a friend and I caught up with this riotous patron at intermission, the Frank 'N' Furter doppelgänger said he would've been even more vocal, but felt slightly awkward about shouting comments during a live performance, because "they still have lines to remember." But go ahead and participate, folks. This Rocky Horror Show is so sensationally confident that you could probably set off a neutron bomb in the Harrison Hilltop and the cast wouldn't miss a beat.
For tickets and information, call (309)235-1654 or visit HarrisonHilltop.com.