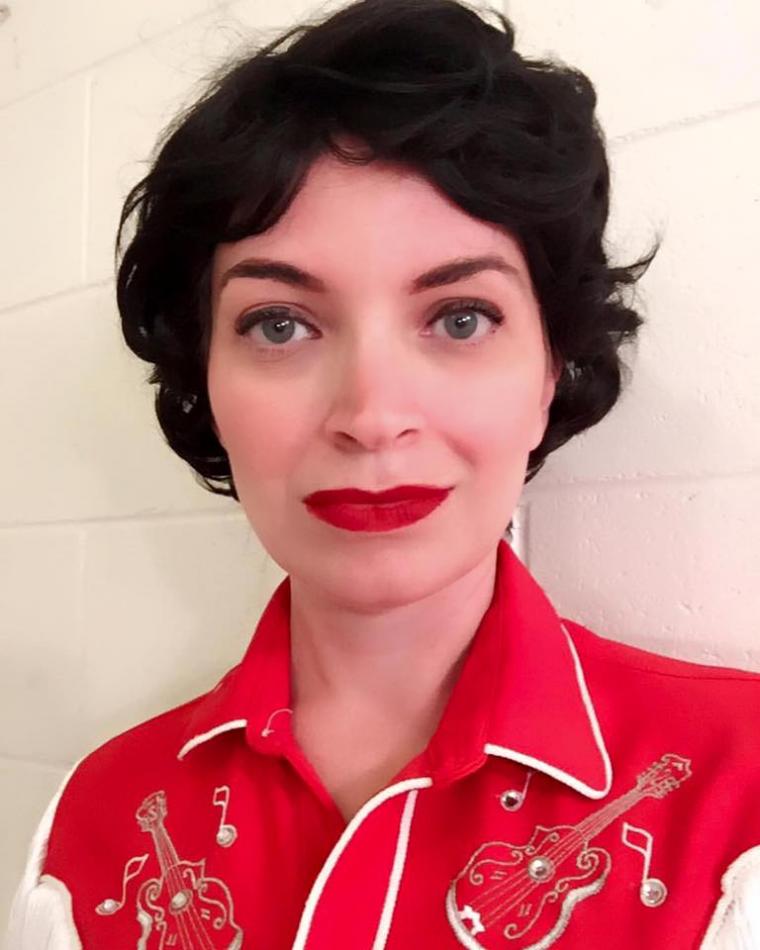 As I watched the opening-night production of the Timber Lake Playhouse's Always … Patsy Cline, I kept thinking of the word "harmony." Thinking about musical harmony certainly was appropriate, as this was, after all, a stage musical. Then I reflected on how harmonies can be calming and tranquil or dissonant and disparate. Yet I still hadn't been able to place why "harmony" kept going through my mind until it hit me that what I was seeing, hearing, and experiencing was true balance – an interweaving of two very different stories that were connected in the nearly perfect parallel of two actresses' performances. "Yes!", I thought. "Harmony!"
And how ironic is it that the title role of Patsy Cline is played by an actress whose first name is Harmony? Last seen at Timber Lake in this season's opener Almost Heaven: Songs of John Denver, Harmony France embodies the iconic singer with an unexpected innocence and naïveté that was a wonderful counterpoint to her deep, soulful voice. I've always believed that the most difficult thing for a musical-theatre performer to do is just stand and sing with no blocking or choreography – just standing in place, in character, belting out a song. This may be easier in a traditional show in which an actor has a handful of solos or duets, but in Always … Patsy Cline, France sang 28 songs (including two encores) that were nearly all "just" her standing and singing in character as the country-music legend. As was illustrated by the immediate standing ovation at the show's conclusion, France did not disappoint.
The show's premise is based on the true story of how a woman named Louise Seger first heard Cline sing on Arthur Godfrey's variety show in the late 1950s, and then met and befriended Cline at a concert performance in Houston in 1961. The two women became fast friends, and when Patsy spent the night at Louise's home, they stayed up late sharing their stories and life troubles. When Patsy left for her next appearance in Dallas, the two exchanged addresses and continued their friendship through letters and telephone conversations until Patsy's tragic death in a 1963 airplane crash.
Going into the performance, I expected that the role of Patsy would have to be played by a good actor and very skilled singer; what I didn't expect was how the character of Louise would be in absolute harmony with Patsy. Serving as the musical's storyteller, the role of Louise is crucial for setting the tone and getting the audience properly primed for each song and plot point, and Sarah Larson – last seen at Timber Lake as a 2013 company member – absolutely embodied Louise. Often breaking the fourth wall and speaking directly to the audience, Larson helped bring the story to life with a high-energy Texas twang and comedic timing that charmed the audience from the moment she hit the stage all the way through the curtain call. And her telling of how Louise learned of Patsy's untimely death was especially wonderful. Yes, there were tears, but it was as if Louise was honestly talking about a friend, as opposed to a mere fan blubbering over the death of a star.
Bravo to director Courtney Crouse, who clearly created the ideal environment to allow the very best of his actresses to emerge on-stage. The most enjoyable part of the entire show was seeing how Patsy's and Louise's relationship changed each character as the story unfolded. Patsy became less of "a voice" and more human as she got to connect with Louise on a deeper level. And Louise became less of a fan-girl and more of a true friend to a woman on a different yet strangely similar path. France and Larson were phenomenal as they deepened the bond between these two strong and talented women, and appeared to be having the time of theirs lives on stage, which definitely translated to the audience members who laughed and hooped and hollered throughout the performance.
Always … Patsy Cline is the first September show that Timber Lake has staged and is an impressive finale for their summer season. You'll get favorite numbers such as "Crazy," "Sweet Dreams," and "Blue Moon of Kentucky," but you may also hear some that are less familiar, yet just as striking. Most importantly, you will truly experience this production, one that has found a superior balance in its storytelling, musicality, comedy, and drama. In essence, what you may experience from Always … Patsy Cline is perfect harmony.
Always .. Patsy Cline runs at the Timber Lake Playhouse (8215 Black Oak Road, Mt. Carroll) through September 18, and more information and tickets are available by calling (815)244-2035 or visiting TimberLakePlayhouse.org.