I got pretty choked up at Quad City Music Guild's production of It's a Wonderful Life: The Musical, especially when George started yelling at his kids. (They were so cute!) I was truly affected by the anguished performance of John VanDeWoestyne in the Richmond Hill Barn Theatre's Cat on a Hot Tin Roof.
But, in 2006, do you know what area production made me cry like a little girl?
Freakin' Grease.
Maybe I shouldn't be surprised by this, as the continued popularity of this theatrical mainstay - one of my all-time least-favorite musicals - often makes me want to sob.
But there you have it. I got all mushy during the Circa '21 Dinner Playhouse's production of Grease.
Several times.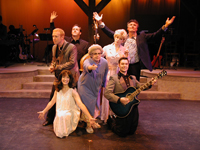 My eyes welled up at the exquisite heartbreak of Cheryl Hoffman's Sandy, when she timidly confessed, "I don't know why I ever liked you, Danny Zuko." I got all verklempt when Nicole Polzella's Cha Cha - suddenly abandoned in her moment of triumph - sadly ambled away with a meaningless dance trophy in her hand. The sweetness of the gang's eventual acceptance of Kate Riley's Patty Simcox and Mark Lingenfelter's Eugene created a serious lump in my throat.
And my tears were accompanied by a shit-eating grin during the show's exultant "We Go Together" finale, when the Rydell High students - linked together metaphorically and choreographically - beamed at one another with genuine affection, looking as if there was nowhere else in the world they'd rather be.
Under the divine direction of Ann Nieman, and blessed with a cast that was almost beyond inspired, this Grease was nothing less than a complete re-invention. The musical numbers were sensational, but what lingered was how the show's troublingly conformist messages were transformed, right before our eyes, into a celebration of individuality; "Just be who you are," this production seemed to say, "because beneath our 'cool kid' and 'nerd' exteriors, we're all the same."
I saw Circa '21's production three times, and loved it as much on closing night as I did on opening night. What a surprise, and considering that I've now seen or performed in more than a hundred Circa '21 productions, I'm a little floored that I can still be surprised by the venue.
Yet what a fantastic surprise the entire season was! I adored Irving Berlin's White Christmas (also directed by Nieman) and The Bootleggers on Broadway (no personal bias here; that show rocked). I had a terrific time at Stand by Your Man: The Tammy Wynette Story, The Elves & the Shoemaker, and Aesop's Dynamic Duo. And I was frequently knocked out by the acting talent on display in On Golden Pond; that Michael Kennedy performance was staggering.
As for Circa '21's Cats, it's no secret that I didn't much care for it. But that's mostly because - like Grease pre-2006 - I simply can't stand that show, and while Stephanie Lang directed the production with flair and frequent imagination (and her choreography was performed spectacularly), at the end of the day it was still Cats. Unlike Grease, this production didn't triumph over the material; those who enjoy Cats would certainly enjoy this one, and those who don't ... well ... .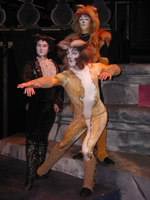 But I'll tell you something. I wound up seeing Cats as many times as I saw Grease, and as the cast relaxed and began to reveal more personality, the production became far more enjoyable than it was on opening night. (And the show certainly wasn't the Big Disappointment of Circa '21's year; The Ugly Duckling and the touring production of The Lovely Liebowitz Sisters would vie for that particular honor.) By the third go-round, I wasn't just impressed by the cast's abilities; I was having fun.
Truth be told, I'm a little uncertain about the theatre's lineup for 2007. Everyone knows, and most people love, West Side Story and Oklahoma! (and Circa '21 is also bringing back one of its best children's-show scripts with Charlotte's Web), but titles such as Don't Dress for Dinner and Church Basement Ladies do give me pause.
Yet I'm going in with an open mind. For God' sake, Grease wound up as one of my three favorite area entertainments of 2006. Anything is possible.