What are guys supposed to do when they lose their jobs because the local mill is closing? It's bad enough to be unemployed, but with nothing on the horizon except low-level work, a man can feel like he's nothing but an emasculated scrap of crap. If you're unlucky enough to be one of a ragtag group of jobless and desperate dudes, you do the obvious … and become a male stripper.
The Timber Lake Playhouse's current musical The Full Monty is based on the 1997 film of the same name, and Terrence McNally's entertainingly foul-mouthed script follows two buddies from Buffalo, New York – Jerry (Trevor Vanderzee) and Dave (Darren Mangler) – as they attempt to process their new lives as unemployed, blue-collar tough guys. After eavesdropping on their wives, they decide the best way to regain their male mojo and replenish some much-needed funds is to create a company of inexperienced outcasts to perform a one-night-only strip show, and going where no Chippendale has gone before – undressing to the point of absolutely no apparel. A.k.a.: The full Monty.
In director Paul Stancato's production, Vanderzee and Mangler are great fun serving as best-friend therapists and helping one another's characters deal with what it means to be a man who has lost his dignity. Both actors also have wonderful voices and really know how to work all the different musical styles of David Yazbek's lyrics and score. The best example may be on the song "Big-Ass Rock," in which Dave and Jerry stumble into Malcolm (a frantically funny Ryan Wagner) as he is trying kill himself through asphyxiation in his car. Attempted suicide is typically not funny. However, the boys talk Malcolm out of the act by coming up with all sorts of more manly ways to end one's life, with the number ending in a very Carly Simon-esque ballad, plus a comically touching group hug.
Stancato, who is also Timber Lake's artistic director, directs and choreographs this masculine love-fest with great energy and comfort while also making sure the underlying story of dignity and friendship shines through. My only issue with Saturday night's presentation was that some scenes seemed to drag a little, and could've used a boost of energy that much of the show thrives on. Matt Hamel's rusty and corrugated industrial set, though, is spot-on in developing a scrappy environment for the story's setting, and is perfectly enhanced with some wonderful color and texture in Tanner Simpson's exceptional lighting design. There were also two young women employed as the show's stagehands who did an outstanding job moving multiple large set pieces, furniture, and other scenic elements throughout. I don't know their names, but well done, ladies!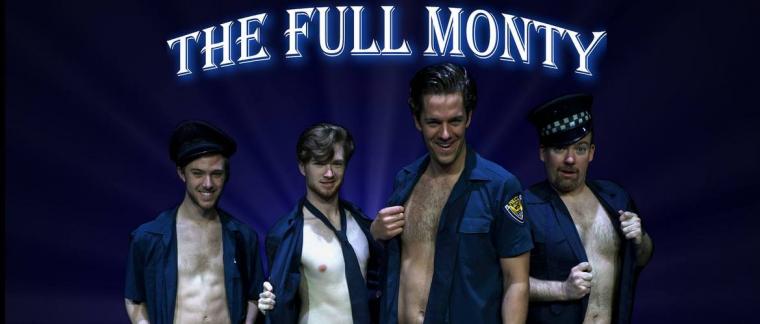 Rounding out the show's not-so-hard bodies are Dyan Goike as the well-endowed Donald O'Connor wannabe Ethan; James Tweedale as the spousally whipped factory manager Harold, and the totally groovin' Richard E. Waits as Horse. As the only African-American stripper to join the act, Waits nearly stopped the show halfway through Act I with his sexy-smooth version of "Big Black Man."
The Full Monty's women don't get quite as much stage time as the men, but not to be outdone, they play a huge role in fleshing out the story and relationships. As Dave's wife Georgie, Erin Stapleton, in particular, breaks through the material's glass ceiling. Wow, can this young woman sing, and with a sassy vocal ring in one scene followed by her delivery of an achingly gorgeous ballad in another; Stapleton was the perfect partner to Mangler in helping Dave regain his self-worth. As Harold's overly pampered wife Vicki, Rebecca Marowitz is an exceptionally talented vocalist and wonderful comic actress who really zings up the production in her big number "Life with Harold."
Meanwhile, as the guys' self-appointed accompanist, Michelle McKenzie-Voigt plays Jeanette like an old barstool broad who's been wrung out and put away wet more times than she cares to remember. Her Act II opener, "Jeanette's Showbiz Number," is a hysterical torch song about how bad the troupe's pending show will likely be.
As the show's end approaches, with the male freak-a-boo show getting closer and closer, nearly every troupe member has real doubts as to whether he can, should, and will bare it all for family members and the rest of Buffalo to witness. And the finale in Timber Lake's production is truly a bawdy strip-fest of dollar bills flying through the audience, screaming women, and G-strings bouncing around the stage.
The Full Monty is a rowdy night of atypical musical theatre that will have you cheering to see if a bunch of out-of-shape, rhythmless flunkies actually do leave nothing on the stage.
The Full Monty runs at the Timber Lake Playhouse (8215 Black Oak Road, Mt. Carroll) through July 15, and more information and tickets are available by calling (815)244-2035 or visiting TimberLakePlayhouse.org.