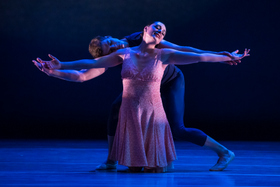 Choreographer Courtney Lyon outdid herself for Ballet Quad Cities' Love Stories featuring Romeo & Juliet. This piece, presented in two acts, enraptured me during Friday's performance, and it was beautifully bizarre - and I mean "bizarre" as a positive, as the moves, lines, and compositions Lyon created for each scene were often stunning and always interesting, eliciting from me multiple gasps of appreciation.
Accompanied by Sergei Prokofiev's evocative, hauntingly foreboding music, the intriguing oddity of Lyon's piece began with its first scene. In it, the invented character of Fate, portrayed by Jacob Lyon, and the ensemble - representing Fate's influence or his helpers or some other extension of his power - performed slow, methodical movements that involved lying on the ground and creating arches with their bodies, or sometimes simply extending an arm straight up into the air. In truth, this scene made no sense to me until later in the piece, when I realized the ensemble performed the final death scene with the same bodily formations employed at the start, but with the inclusion of Jill Schwartz's Juliet.
In so doing, choreographer Lyon re-created the story of these star-crossed lovers so that the focus was more on "star-crossed" than "lovers." This was undeniably revealed with the entrance of Patrick's Green's Romeo, who jumped and twisted in the air while, with a youthful energy, he danced a circle around the stage. His exuberance remained until Fate appeared and obviously took control as his ensemble danced with Romeo, and the young man lost his free spirit in favor of a more automaton-ic nature. Here, Lyon incorporated her most telling juxtaposition of dancers as, in pairs, the ensemble and Romeo repeatedly moved into forms that had one dancer in each pair looking as if he or she was advancing in a crouched position, and their partners holding them back with hands on their foreheads. This formation seemed to represent free will being held back, even overpowered, by Fate, which made sense given Lyon's emphasis on Romeo's and Juliet's lack of choice in love. These two will die in the end and have no say in the matter. It is their destiny from the start.
However, while both Romeo and Juliet entered with an obvious youthfulness, he spirited and she virginal, Fate affected a distinct change with each. Whereas Romeo was taken under a harsher, more staccato-stepped spell, Juliet's taking by Fate was softer, as if love itself was the magic cast upon her. The most telling physical combination of their relationship involved Jake Lyon bending over so that his torso was parallel to the floor while Schwartz sat on his back and he raised her up. In comparison to Fate's forceful control of Romeo, this showed his influence as more of a foundation for Juliet - something that holds her rather than pushes her.
When the lovers finally shared their newfound infatuation in the balcony scene, their pas de deux was a blend of these styles, though with more of the softer-sided influence. Still, one of the ballet's most intriguing steps involved Schwartz with her back against Green's chest as he lifted her repeatedly into the air, and she kicked her legs out into a "V" shape parallel to the ground. It wasn't the most romantic image, but it was aesthetically pleasing and exquisite for being creatively unexpected in an otherwise gentle, fluid duet.
Employing such a relatively weird movement in the midst of more legato beauty is the reason I was so taken with Lyon's choreography, yet I appreciated designer Joedy Cook's more obvious choices for the company's costumes, most notably Romeo being dressed in dark blue and Juliet in a light pink dress that seemed to flutter as Schwartz moved. Lyon's Fate, meanwhile, wore nothing but short green tights that appropriately showcased his imposing muscularity, and the ensemble was outfitted in light gray pieces, with the women in what looked like short-shorts bathing suits under sheer dresses ribbed in the midsection.
I'm on record stating that I prefer Ballet Quad Cities' vignettes that showcase modern styles over its more classical ballets, but Love Stories featuring Romeo & Juliet is a game-changer for me. Of course, it helped that Lyon's choreography was staunchly modern, buoying my focus and interest from beginning to end. But either way, what resulted is this being my new favorite performance by the local company.
For more information on Ballet Quad Cities and the rest of the company's 2014-15 season, call (309)786-3779 or visit BalletQuadCities.com.