There were several moments during the evening performance of Spring Is in the Air - presented April 12 at the Adler Theatre - in which I sat slack-jawed in awe of the choreography executed by Ballet Quad Cities.
The lifts, in particular, impressed me to full attention, and I was especially eager to see what would come next within Elie Lazar's choreography for the presentation's first half: the ballet Tehilah, set to Aaron Copland's "Appalachian Spring." My astonishment started with a sweeping lift in which Margaret Huling held her arched legs aloft as Patrick Green held her up, while also spinning so that her feet skimmed the stage. While this struck me as exquisite, their movements were topped again and again as the piece progressed, as when Emily Kate Long later used the calf of Alec Roth's bent leg to step up into a lift, and Roth was seen spinning Long backwards while she held a tucked position.
Such beautifully unexpected motions marked much of the first half of Spring Is in the Air, with Lazar's choreographed constant movement peppered with abstract, sometimes odd steps or actions, and performed with breathtaking musicality by the entire company. With their indisputable connection to the music, the dancers made Lazar's nonstop steps seem lilting despite their rapidity, as if the effort exerted were no effort at all; the piece felt like a quick-paced physical poem.
While I struggled to follow the choreography's exact storyline, which was based on a short story by Shai Agnon, it hardly mattered, as I was so taken by the ballet unfolding before me. And what was clear for me was even more stunning for its meaning, as part of the tale involved Huling's Tehilah returning to her now-married ex-fiancé - Roth's Shraga - with each exquisite pas des deux interrupted by Jacob Lyon as Tehilah's father. At one point, after pulling her away from Roth, Lyon held Huling in front of him with his hands on each side of her head, turning it 180 degrees again and again, with Huling's body following just before the next spin. This struck me as Tehilah's father's effort to turn her attention away from her former fiancé and direct it elsewhere - advice that Tehilah would attempt to follow only to find herself, once again, unable to let go of her past.
The second half of Saturday's performance was set to Igor Stravinsky's Rite of Spring and choreographed by Ballet Quad Cities' artistic director Courtney Lyon. While Tehilah was fluid and eloquent, Rite of Spring was more staccato and severe. With the company dressed in light-blue, sleeveless bodysuits for the women and matching tights (without a shirt) for the men, there was a clear rawness to the proceedings, with Lyon's disjointed movements representative of ancient tribes of humans, or even groups of animals partaking in a ritual. There was a clear sense of awakening, as though the return of spring stirred new life into the long, cold limbs of these people. The tribal aspect was particularly apparent in the way the dancers would form a group with one or two separating from among them, as if assuming roles of leadership.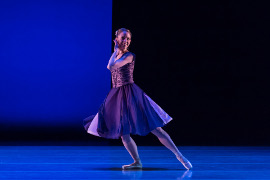 Much of Lyon's choreography involved holds on beats, with a movement executed then a position held, if only for a single beat before another movement was made and another position held. Lyon also incorporated a recurring movement throughout that involved a dancer starting in a crouched position, jumping up into the air with one arm held straight up while performing a bent-legged scissor kick, and then returning to the crouched position. This eventually familiar motion lent rhythm and intent to an otherwise obscurely modern dance that was both weird and wonderful all at once.
As if the physical performance weren't enough, the experience was elevated by Orchestra Iowa's performance. There's something stirring about live music that recorded accompaniment cannot mimic, and it didn't hurt that Orchestra Iowa's flawless performance was worthy of a concert itself, even without the visual display of the dancers adorning the ensemble's music. Paired together, though, Orchestra Iowa and Ballet Quad Cities created a work that stirred my soul both visually and aurally, with Spring Is in the Air now the most stunning Ballet Quad Cities production I've yet seen.
For more information on Ballet Quad Cities' season, call (309)786-3779 or visit BalletQuadCities.com.
the local ballet company's