You know those earworms you get when you can't get a song out of your head no matter how you try? That happened to me several weeks ago after listening to the soundtrack from the Broadway hit Hamilton. My earworms were so intense that I had difficulty falling asleep, and I would elicit strange looks from people in the grocery aisles as I was unknowingly singing "My Shot" out loud. But the cure was found by my attending Quad City Music Guild's Into the Woods on July 7, and this brilliant send-up, with its quirky, witty songs, wiped out my old earworms without creating new ones.
Director Colleen Houlihan and her cast take on one of composer/lyricist Stephen Sondheim's most celebrated musicals, and as written by James Lapine, Into the Woods' story incorporates familiar fairytale characters who are very human in their wants and needs and fears. Houlihan has brought all the necessary elements together – actors, sets, costumes, makeup, lighting, sound, choreography, and orchestra – to create a magical theatrical experience. Everyone involved (and the list is long) is to be congratulated, and of special note is the woodland setting, especially the five trees, created by scenic designer Michael Turczynski. I was entranced by the movements of these 12-foot high, 4-foot wide trees as they glided around the stage and changed their placement to fit the mood of the scene, appearing massive, and at times ominous, against a back-lit pale-blue curtain.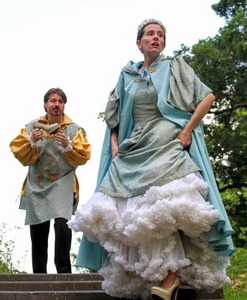 This show is so loaded with talent that it's difficult for me to choose who to highlight. Kailey Ackermann, as the Baker's Wife, had the type of voice that was easy to listen to – beautiful in tone without being saccharin – and she was at her best in her solo "Moments in the Woods." Playing her husband the Baker, Ben Holmes' rich tenor balanced with Ackermann's, providing some strong melodic duets. The Witch, who is transformed from a hag into a young beauty, is played amazingly well by Rachel C. Vickers, whose mezzo-soprano has an aged timbre when she's an old woman and then sounds youthful post-transformation. Along with Vickers' interpretation of the "two" witches, designer Sue Woodard's creative makeup and costuming for the metamorphosis had me wondering, "How did they do that!?"
Cole Harksen is endearing as Jack (as in "... and the Beanstalk"), playing a clueless boy whose only friend is a cow, and his great facial expressions and reactions, along with his soft, idealistic vocals, display an innocence that becomes lost as the story progresses. Another innocent, Little Red Riding Hood, is portrayed by Noel Huntley, whose strong vocals and defiant nature reveal she may not be as sweet as the storybook Red.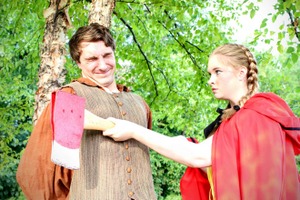 Although the characters are taken from fairytales, Into the Woods is not usually considered appropriate for small children unless you take them home after Act I and its happy-ending song of "Ever After," at which point the characters have everything they wanted in life. (The group of four sitting behind me during Thursday's preview, thinking the show was over at the intermission break, would likely have left had I not intervened.) But the real meat of this musical comes in Act II, which brings its characters back together, after some time has passed, in a much darker reality – and in an act involving death and destruction!
But who better to rescue us with some comic relief than the sibling princes played by Jake Walker and Tim Dominicus? Both of them were crowd-pleasers, and garnered great laughter, as they rode in on their "stick horses" and, in general, just horsed around. And although they didn't have the strongest singing voices, they sang convincingly woefully in Act I about finding true love, only to duet again in Act II – with both numbers titled "Agony" – about being bored with their true loves.
The show also presented several life lessons in its metaphor about life being a forest where we might stray off the path, sometimes with good consequences, sometimes not. And like the show's characters, we're reminded that we are not alone in this world as we endure struggles and losses – we are a community. Music Guild's cast and crew, led by Houlihan, put these themes into practice as they worked together to deliver a seamless, professional rendition of Into the Woods.
Into the Woods runs at the Prospect Park Auditorium (1584 34th Avenue, Moline) through July 17, and more information and tickets are available by calling (309)762-6610 or visiting QCMusicGuild.com.