To be frank, I didn't find the Richmond Hill Barn Theatre's comedy I Take This Man all that funny, at least not consistently. However, playwright Jack Sharkey's plot - about a single woman who brings home an unconscious Boston Marathon runner in order to finally have the romance she's long wanted - is incredibly interesting, particularly considering the gradual pace at which Sharkey's story unfolds, leaving you constantly wondering what will happen next. I may not have laughed as much as Sharkey would have liked, but I was certainly entertained during Thursday's performance.
I Take This Man's plot is intriguing from the get-go, as Bryan Woods' police officer Jud carries Tommy Ratkiewicz's passed-out (and, at this point, nameless) Bret into the apartment of Sarah Ade Wallace's Gideon and plops him down on her couch. (He's put there, we're told, because "the fabric's Scotchgard-ed and he's all sweaty.") After sending Woods' too-easily-persuaded officer on his way, it's revealed, through a conversation with Molly McLaughlin's more grounded and sarcastic roommate Charlene, that Gideon found the man lying unconscious at the end of the Boston Marathon. Believing him to be the event's final racer, Gideon decides he must be perfect for her, since nice guys finish last.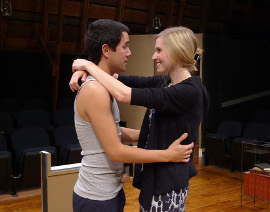 Once set up, Sharkey's story proceeds to unfold slowly, and impressively delivers a continued sense of anticipation about what on Earth will transpire. What will happen when Bret wakes up? (Which he does, but with amnesia, and accepting Gideon's dream name of Antonio as his own.) When Gregory O'Neill's captivatingly earnest Dex realizes that the man standing in his fiancée Charlene's living room in his boxers and A-shirt is, in fact, not the plumber? When Jud returns to finish his police report? When Bret eventually does remember his true identity? When Gideon's dream romance becomes all too real for her? There are even more questions than that, the intrigue behind which overpowers the contrived conflicts themselves. And I was consequently mesmerized throughout the entire 100 minutes of I Take This Man, with director Dana Skiles' pacing, and her presentation of this fairly impossible scenario as credible (rather than tongue-in-cheek or farcical), excellent matches for the proceedings.
It certainly helps that Wallace is playing the role of the cockeyed optimist Gideon, the woman certain that her scheme to finally bring home a man, both figuratively and literally, will work out. Wallace's performance is actually too broad for the Richmond Hill space; she seems to be playing to the barn's rafters rather than the audience that's sitting within spitting distance. This hardly matters, though, as Wallace's portrayal is remarkably consistent and sincere. (Throw in the fact that her character is a bit too much of a dreamer, and Wallace's overacting actually feels appropriate.)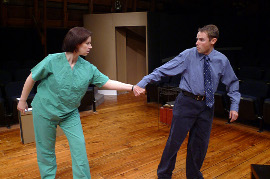 In contrast, McLaughlin offers delightfully deadpan deliveries of her frequently snarky comments, while O'Neill is enchanting in his grand confusion, and consternation, when the women tell him that the half-naked man before him is actually Gideon's husband. (Of one year. And today is their anniversary.) While O'Neill's readings, though, are believable in their sincerity, his physical responses - and McLaughlin's, as well - seem, for the most part, overly rehearsed, rather than spontaneous. For his part, Woods delivers a welcome, relatively subdued portrayal compared to the grandiosity and pomposity he so deliciously brings to many of his Genesius Guild roles. And while Ratkiewicz could employ more nuance in his characterization of a man with amnesia, as he does little more than act confused, he does so with commanding stage presence.
It is worth noting that while I didn't laugh all that much while watching Richmond Hill's production, many of Thursday's other audience members did, and I did find a smattering of truly guffaw-worthy jokes, such as when the girls tell Dex that the bathroom is broken and he asks what they do when they have to go, and Gideon confidently replies, "Grit our teeth and smile." There are just enough laughs in I Take This Man to please even the audience members most jaded toward this type of comedy (i.e., me), and that turned out to be the icing on what I found to be a fascinating cake.
I Take This Man runs at the Richmond Hill Barn Theatre (600 Robinson Drive, Geneseo) through November 17, and more information and tickets are available by calling (309)944-2244 or visiting RHPlayers.com.