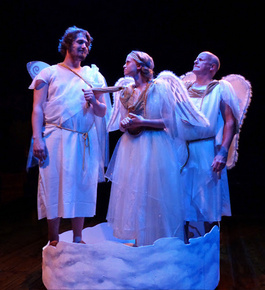 A poorly written script isn't enough to derail the Richmond Hill Barn Theatre's Down to Earth. While I've never before thought "Too much exposition!" as much as I did during Thursday's performance, I still enjoyed director Joe DePauw's presentation of playwright Bettye Knapp's weak "comedy fantasy" about angels coming to Earth.
Knapp starts us off in Heaven as three angels are about to descend, two of them to collect souls and the third simply tagging along. While delightful in their roles as Agnes, Pilone, and Wilfred, Richmond Hill's A.J. Evans, Josh Wielenga, and Greg Bouljon are tasked with explaining the rules of Down to Earth's universe, in which angels must either return with the souls they're sent to collect or remain on Earth until they can find others willing to join them in Heaven. If the play's exposition were as simply put as that previous sentence, I wouldn't have minded. However, Knapp uses an entire scene of awkward dialogue to set up her plot, and as talented as the angels' portrayers are, they struggle to make their conversation sound sincere.
What's beautiful about that opening scene, though, is the combination of set designer Mollie A. Schmelzer's cloud on which the angels stand and designer Jennifer Kingry's lighting effects. The moving light on the tufts of cottony stuffing - which surround a circular platform painted to resemble clouds - makes it look as if the three angels are spinning atop the set piece. However, both that piece and the actors are immobile, and it's merely the lighting that creates this illusion - one that had me repeatedly looking down at the platform to make sure it wasn't, in actuality, spinning. This is true theatrical magic.
Once we're on Earth, we meet Susan Philhower's Augusta Applegate, an elderly, wealthy woman who houses one of the souls meant to be collected. And I was shocked by Philhower's performance, because, here, she portrays an older woman in her waning years as if channeling Katharine Hepburn in her waning years. I'm used to adoring Philhower in her more energetic roles, such as her rich bitch Patsy Price in Richmond Hill's 2010 Christmas Belles or her sprightly Hillary Hudson in 2011's Sex Please, We're 60. To see her playing someone far more decrepit was a surprise and attests to Philhower's abilities as an actor, and has me hoping the Barn Theatre soon stages a version of Great Expectations with Philhower in the role of Mrs. Havisham. (And if Philhower were to play Dickens' iconic role, then I'd cast Dana Skiles as Pip, given her simple but genuine turn as Augusta's long-suffering maid Diana. Lacking any pretense, Skiles seems to settle into her part with ease, as if it takes absolutely no effort for her to flesh out a character with heart.)
The other soul to be collected is that of Herman Howell (Stan Weimer), Augusta's considerably less wealthy neighbor. It struck me during Thursday's performance that Weimer's Herman is much like Jurassic Park's John Hammond if he fell on hard times and lost a bit of his jolly edge. That's to say that Weimer has the charm of Richard Attenborough, if a more subdued Attenborough, and makes a wonderful counterpart to Philhower's stingy Augusta.
In Knapp's story, Augusta is beleaguered by relatives who show up to care for her (Molly McLaughlin's Orpha and Catherine Przybyla's Ruthie) or who stop by to request loans (Schmelzer's Millie, Victor Angelo's Baxter, and Elizabeth Buzard's June). Among those guests, Przybyla - after a few dull early appearances - comes most alive after Ruthie's inhibitions are freed, her hair is let down (literally and figuratively), and she begins chasing after her cousin June's love interest Richard (a blandly deadpan Ben Magerkurth).
The "Too much exposition!" continues, unfortunately, with Augusta's relatives, as Knapp attempts to include too many backstories. (At one point, Orpha says to Augusta, "After all, my mother was your sister," to which Augusta replies, "I'm well aware of our relationship, dear." So are we, Ms. Knapp, as you've already established that Augusta is Orpha's aunt.) But beyond the exposition - which did take a lot of effort to ignore - I did enjoy Richmond Hill's Down to Earth, but more for the performances than the script, as even the small role of Robert found actor Andrew Roseman excelling at playing an awkward, nerdy, illness-ridden love interest. Knapp's script, in my estimation, was in heavy need of an editor, but this production is still pulled off with an amusement and charm that exist beyond the source material's limitations.
Down to Earth runs at the Richmond Hill Barn Theatre (600 Robinson Drive, Geneseo) through August 23, and more information and tickets are available by calling (309)944-2244 or visiting RHPlayers.com.