With the popularity of television series such as Downton Abbey and The Crown, contemporary audiences have become intrigued by, even addicted to, European aristocracy. I can't help but think that in comparison to the many works of William Shakespeare, our obsession with binge-worthy TV must be like attending live theatre over 400 years ago. Take, for example, the twisted path of dysfunction, poor leadership, and random acts of stupidity as illustrated in Shakespeare's tug-of-war tale King John.
Directed by Kate Farence, the Prenzie Players' latest production tells the tangled account of England's King John (Jeremy Mahr), who's approached by an emissary to France's Queen Philippa (Denise Yoder) demanding that he hand the throne to John's young nephew Arthur (an earnest Joe Brune). Of course, John says "Screw that!" (not in those words, exactly), and decides to wage war against France. The two countries consequently fight to a draw, and then a brilliant idea is hatched to have John's niece marry Philippa's son to form an alliance, making everyone happy … or not.
The Vatican gets involved, sending Cardinal Pandulph (a sinister Alaina Pascarella) to share news that the Pope is pissy because John refuses to act in accordance with the Holy See. Pandulph consequently excommunicates the King, and offers a little extra dispensation for anyone who permanently silences poor King John. (Sounds less like Shakespeare than the second season of The Sopranos!)
The king's flunkies take Arthur back to England, holding him prisoner with the intent of burning his eyes out. However, chief goon Hubert (Angela Rathman) is charged with guarding poor little Arty, and finds himself – in a case of reverse Stockholm Syndrome? – becoming buddies with Arthur. Hubert lets the kid go. Unfortunately, Arthur ain't no Peter Parker, because while descending a wall, he falls to his death.
I need a respite from from King John's puzzling plot, so let's chat about some of this production's fine performances. First off, Jeremy Mahr turns in another top-notch portrayal as the enervated King John. Mahr consistently brings a commanding presence in stature and voice, but here, he wisely and intentionally tones down both to make his John more wishy-washy than macho monarch. The yin to Mahr's yang is Denise Yoder as Queen Philippa, as the performer's presence is commanding, wise, and resolute.
One of the characters not mentioned thus far is Philip Faulconbridge, a.k.a. The Bastard, and portrayer (and Reader employee) Nathan Klaus brings a wonderfully strong sense of energy and boldness to Philip's loyalty to John; I particularly enjoyed his rather cheeky asides when speaking directly to the audience. But my favorite performance from the Prenzies' April 21 presentation was Jessica White's as Constance, the mother of young Arthur. White is heavily featured throughout Act I, and is exceptionally strong late in the act when she realizes her son has been kidnapped. The utter emotional devastation she exhibited must have been exhausting to portray, but was very captivating, and nearly overwhelming to watch as she wailed and pulled at her hair, sobbing how "grief filled the room of her absent child."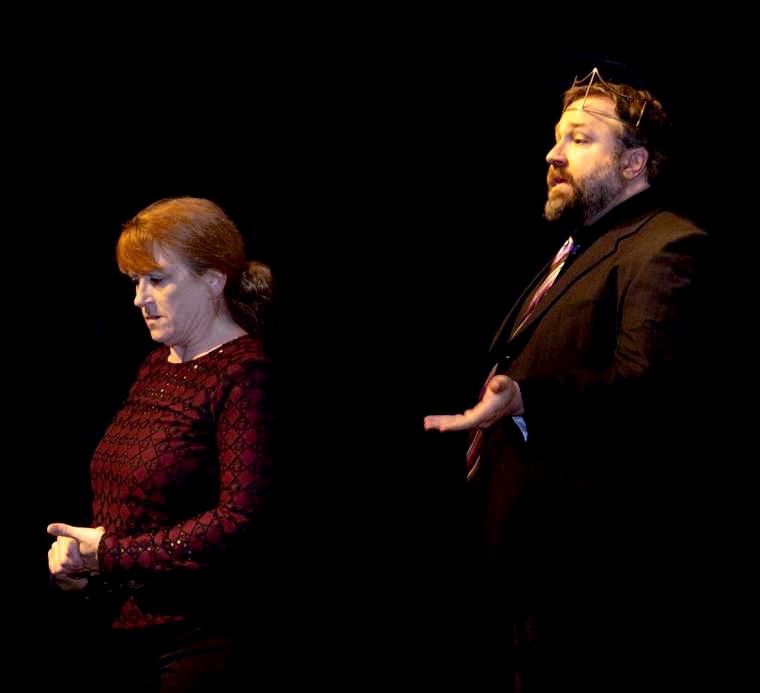 At the point of Constance's breakdown, it seems as though everyone is irked at King John – the French, the Pope, and even some of John's own noblemen, who are pretty darn mad about what (they perceive) has happened to Arthur. John is in a tight pickle, and decides the best thing to do is kiss the Catholic ring so that the Church will once again cover his royal rump. Yet as the French and English fight to a virtual stalemate – lo and behold! – John falls sick and leaves the battlefield, as someone has poisoned the ill-fated King.
Does he live? Will the war drag on? And why the heck do they call Philip "The Bastard"? Those and virtually all other questions were, for me, left unanswered during the play. But I must say that this is one of the more balanced productions I've seen presented by Prenzies. The actors are well-suited for their parts, with the performances consistent in energy, tone, and pace. I must admit that, on Saturday, it felt as if vitality started to wane in Act II, but I wonder if that was more due to the script (and audience fatigue in keeping up with the plot) than the production itself. However, there was no doubt that the Prenzie Players has a prized production up and running.
The other day, I read an article about how Hollywood is looking for new streaming series to produce. As audiences are obviously enamored with royalty, maybe it's time for studios to look at classics such as King John. If only Will Shakespeare were around to write the script for a new series – now that would be some binge-worthy viewing.
King John runs at the QC Theatre Workshop (1730 Wilkes Avenue, Davenport) through April 28, and more information and tickets are available by calling (563)823-8893 or visiting PrenziePlayers.com.