While waiting for the Prenzie Players' Thursday-night dress rehearsal of the William Shakespeare comedy Love's Labour's Lost to begin, I realized it had been a long time since I had seen one of the Bard of Avon's plays performed live. I pondered whether I would be able to follow the plot and comprehend the dialogue. I worried that the show might be too stuffy for my unrefined sense of theatre. "Holy crap, I'm supposed to write a review – what if I don't get it?" Yet as the show began, the Prenzies put my neuroses to rest very quickly.
Here's the elevator-speech version of the plot: King Ferdinand and his buddies Berowne, Longeville, and Dumaine conclude that it is good for them to swear off women and other indulgences (incuding sleep) for three years so they can focus on their academic pursuits. As fate would have it, the elegant Princess of France arrives (along with her own larger, more attractive posse) just as Ferdinand and company begin their path of self-restraint. The boys, first independently and then collectively, throw out their vows, and fall in love with the Princess and her three most prominent attendants: Rosaline, Katherine, and Maria. Love letters are sent to ladies, but are unintentionally delivered to the wrong ladies. The men disguise themselves as Russians (as you do), and subsequently court the wrong prospective lovers. There is also a peculiar storytelling Spaniard in love with a peasant girl, a slacker dude, a priest, a scholar … . Phew! And like a cracked episode of The Bachelor, the story comes ludicrously unhinged in just over two hours.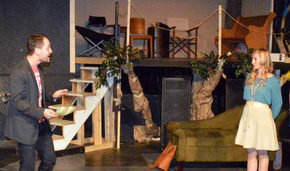 Love's Labour's director Cait Bodenbender does an exceptional job of bringing this tale into a contemporary setting, beginning with Ferdinand and friends meeting in their treehouse man-cave shortly after college graduation. (Nothing says Shakespeare like four guys swiggin' PBR in a tree.) Jarrod DeRooi, who plays Ferdinand, is spot-on as the impetuous frat-boy leader of the gang. Andy Curtiss, as Longeville, and Reader employee Nathan Klaus, as Dumaine, are great fun, especially when masquerading as Russians. The Reader's Mike Schulz, meanwhile, plays Berowne as a wiser, more romantic member of the group. Although the play is a comedy, Schulz's muted reaction at the conclusion, when Berowne is faced with the absence of his lover, is devastatingly emotional.
Stephanie Burrough is striking as the Princess of France, her command over the character (and her male counterparts) reminding the audience precisely which gender is in control. Joining her are Denise Yoder, whose strong yet tender performance as Rosaline was a highlight of the evening; Maggie Woolley's ballsy Katherine; and Sarah Wallace, who brings beauty and sardonic intelligence to her Maria.
Nearly every Love's Labour's performer excelled, but no actor since Leonard Nimoy has said as much with the arch of an eyebrow as Jeremy Mahr does as the Spaniard Armando. With his melodramatic skill at chewing up scenery, Mahr was the source of many laughs. (Plus, he rocks a mean handlebar mustache!) Another winner was Cole McFarren, who plays the fool Costard with the stoner superiority of Jeff Spicoli, oftentimes making fools of other characters in the process. Yet the evening's standout was Jake Walker as Boyet. Of all the Princess' attendants, Walker, in his Miami Vice linen suit, was the only male and her one true confidant, and the actor's smart take on his character underlined that Boyet was the foppish yet intelligent puppet master behind much of the plot.
I also enjoyed Angela Rathman's asymmetrical scenic design, which featured an elevated treehouse juxtaposed against three very tall periactoids with murals by Carolyn Krueger. (Periactoids are three-sided structures that enable simple scene changes, and allow the cast, here, to quickly turn the setting from a forest to a library.) Tyson Danner's warm lighting design was also effective; it kept the story focused, and the effects shifted gracefully between scenes.
Crafting Shakespeare that's relevant in the 21st Century is not an easy task. Bodenbender and her team, however, make it look effortless. Love's Labour's Lost is a fantastic contemporary approach to the Bard, making this comedy very difficult to resist, even by someone as unrefined as me.
Love's Labour's Lost runs at the QC Theatre Workshop (1730 Wilkes Avenue, Davenport) through January 30, and more information and tickets are available by calling (563)484-4210 or visiting PrenziePlayers.com.