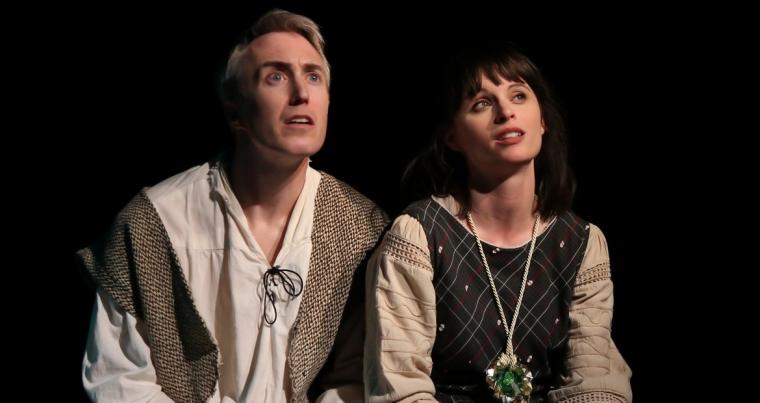 It's opening night, and it's intermission at the QC Theatre Workshop. I wander out into the warm evening for some fresh air, wondering what, exactly, I'm witnessing. I mean, it doesn't really fit into any genre or theatrical category I can recall previously seeing. And yet, it's not only entertaining; it's exciting. At times, I feel as if I'm watching a silent movie in a nickelodeon. No, it's more like a sketch comedy. Wait: It's really a fable or children's story. A-ha! It's like something from Monty Python! No, I got it – it's a tongue-in-cheek musical à la Mel Brooks, yet an intimate and deep one. But hang on … . There were fart jokes, too.
I'm not sure what it is. I don't know how to categorize it. But I will say that Peter & the Starcatcher is something mesmerizingly fun and unique, and a welcome change from traditional summer-theatre offerings in the Quad Cities.
Based on the book by Dave Berry and Ridley Pearson, Rick Elice's play reminds me of waking up from a very elaborate dream and having a clearer understanding of something I thought I knew all too well. Peter & the Starcatcher provides the backstory to J.M. Barrie's iconic characters from Peter Pan, telling an adventurous tale of how three young orphan boys are discovered in the bowels of a ship by a pretentious young lady named Molly (Jessica Denney). As a Starcatcher padowan, Molly, along with the boys, also learns that their ship is carrying the most treasured treasure ever: starstuff. When their ship is hijacked by the dastardly pirate Black Stache (Reader employee Mike Schulz), they do everything in their power to keep the cache of starstuff from the pirates. It's a dynamic and (at times) chaotic epic that finally explains, once and for all, how Peter became the Pan, how the Captain really received his Hook, and much, much more.
It would be almost immoral not to point out how this 12-member ensemble worked in complete unison to transform this no-frills production into a complete theatrical story. Most of the cast members cover multiple roles, filling in the dozens of characters the script requires. Along with Denney and Schulz, the cast consists of Kevin Babbitt, Adam Cerny, Andy Curtiss, Jarrod DeRooi, J.J. Johnson, Jordan McGinnis, Max Moline, Joe Oliger, Keenen Wilson, and Bret Churchill as the boy who won't grow up.
Denney is a nearly flawless Molly, and as the only female member of the cast, she portrays the role as though she were the real Peter Pan. For his part, Churchill's Peter develops beautifully throughout the story, learning what it means to be a leader and a hero, and how to trust enough to fall in love.
There are numerous adaptations of the Peter Pan saga, yet director Calvin Vo has developed a wonderful creative style by keeping the pace quick and nimble, and taking a delightful yet very effective low-tech approach. Emma Brutman's scenic design (the most expansive in the Workshop's history) is a multi-level playing area utilizing an old English U-shape technique that allows for an intimate acting area right in front of the audience. A big shout-out must also go to pianist Mary Coker, whose musical-accompaniment gifts heavily influence the emotional undertow throughout this two-hour show.
The actor having the most fun here has to be Schulz, who prances around the stage delivering irreverent zingers with the largest intentionally fake mustache ever seen on a QC stage. Look for Schulz, especially, when he and the rest of the show's dudes open Act II dressed as mermaids (complete with shells on their man-boobs) and perform the number "Mermaid Outta Me." Too bad the Workshop didn't have the budget for a large indoor pool, because these guys were ready for some Esther Williams-style synchronized swimming.
At a time in which theatre so often seems to be about spectacular, big-budget effects, this production reminds me just how magical and transforming a night in the theatre can be for audiences of all ages. With no wires for flying, animatronic crocodiles, or laser-lit fairies, Peter & the Starcatcher is a high-energy, charming performance by a passionate troupe of actors who just may make you believe a boy really can fly.
Peter & the Starcatcher runs at the QC Theatre Workshop (1730 Wilkes Avenue, Davenport) through June 18, and more information and tickets are available by calling (563)823-8893 or visiting QCTheatreWorkshop.org.