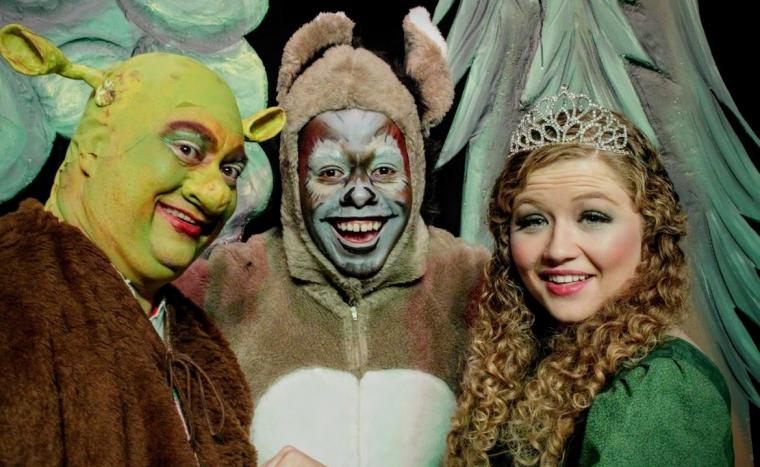 These days, one could rent just about anything when producing a theatrical production. Need a backdrop? Rent. Costumes? Rent. Props? Rent. Wigs? Rent. Lighting? Rent. The entire set? Rent. You can even rent the whole orchestra by licensing the use of a pre-recorded soundtrack. And there's nothing wrong with taking the rental path. I mean, why reinvent the wheel?! But that's why Quad City Music Guild's latest – and determinedly non-rented – production of Shrek: The Musical is so ogre-ly impressive.
Based on the animated film, Shrek: The Musical is set in a fictitious land of living fairytale figures who have been evicted from their homes by the evil Lord Farquaad (Jeremy Weinstein). Meanwhile, the hulking green ogre Shrek (J. Adam Lounsberry) has spent nearly his entire life in happy exile living in a disgusting swamp. When the homeless fairytale characters arrive in the swamp to make it their new home, Shrek demands his solitude, finally agreeing to visit the miniature monarch to negotiate a deal that will return the fairytale foreigners back to their homes. As Shrek begins his journey, though, he runs into a slick-talking Donkey (Keenen Wilson) who is being chased by Farquaad's goon squad and begs to tag-a-long, leading to the beginning of a new friendship and new adventure.
When Shrek and Farquaad meet face to face (more like face to belly button), Farquaad agrees to let the fairytale characters return if Shrek rescues the beautiful, imprisoned Fiona (Megan Warren) and brings her back for him to wed. Shrek agrees, so he and Donkey set off to free the damsel from her castle tower. And after they find her, as the trio journeys back to the town of Duloc, it's clear that Fiona and Shrek have a unique chemistry – one made ever so clear when the two have a gut-busting noxious encounter. (I don't want to ruin what happens, but let's just say it's a gas.)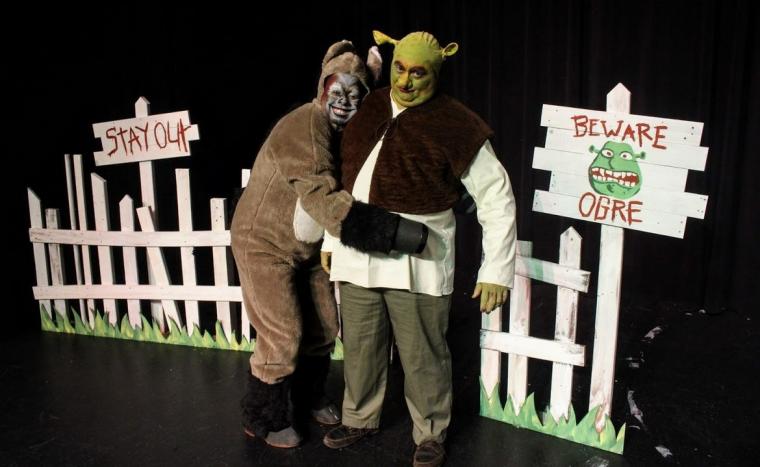 Lounsberry's Shrek is truly his own creation. Of course, he has the green skin and vaguely Scottish accent. But Lounsberry is no Mike Myers mimic, as he layers his version of the ogre like a beautiful onion with crass compassion, heroics, and powerful vocals. Matched up with Wilson's Donkey – a hip-witted ass that brings huge laughs and was a crowd favorite (although, I must admit, he spoke so fast that he was at times difficult to understand) – the two make a Crosby-and-Hope road picture look like a picnic.
Warren's take on Fiona was sensational as she oscillated between manic and composed. One of my favorite numbers in Shrek: The Musical was when the trio of Emily Winn, as Little Fiona, and Lillian Cobert, as Teen Fiona, beautifully sang along with Warren about finally meeting their white knight in "I Know it's Today." And Weinstein's Farquaad was phenomenally nefarious as he performs almost the entire show on his knees. Given his talent, it's hard to believe that this young performer just graduated from high school.
As I thumbed through the program at the August 3 opening-night performance, it was amazing to see the number of people credited with helping bring this very large and complicated production to life. According to Beth Marsoun, in her director's notes, virtually every costume, prop, set piece, and special effect were "made from scratch by dozens of artists who don't do this for a living." As the show's director, Marsoun clearly was the visionary behind this impressive explosion of talent, art, color, and joy, and I found Shrek: The Musical to be one of the most impressive productions to grace the Music Guild stage in recent memory.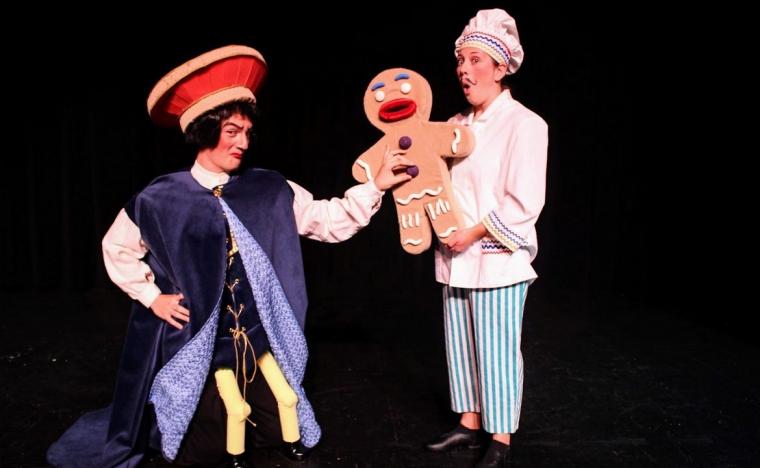 Truth be told, the script and lyrics by David Lindsay-Abaire felt a bit clunky, the story was at times hard to follow, and the music by composer Jeanine Tesori was rather unremarkable. However, none of that is the fault of Music Guild's cast and crew, as they are clearly enjoying every single moment of telling this tale. Connie McGinn's costumes are wonderfully cohesive and colorful, and Emma Brutman's scenic design is extraordinary in its artistry and texture – with one notable exception, as the main backdrop was not quite on a par with the rest of the set.
Again, there's no shame in renting pieces for a theatrical production. But why rent when you have a crew of fellow theatre lovers who can build animatronic dragons, Gingerbread Man puppets, a nose for Pinocchio that actually grows, and a magical land where it's okay to be who you are? Marsoun and her team have conceived a beautiful version of this fractured fairytale, and I can say without a doubt, "I'm a Believer!"
Shrek: The Musical runs at the Prospect Park Auditorium (1584 34th Avenue, Moline) through August 12, and more information and tickets are available by calling (309)762-6610 or visiting QCMusicGuild.com.