Director Chris Causer plays up the baser parts of William Shakespeare's The Tempest in the District Theatre's latest production, taking the debauchery of Bryan Tank's Trinculo, a coxcomb of a servant, and Ed Villarreal's Stephano, a drunken butler, to their limits. (And sometimes mine.) The scenes involving the two men bickering, and their leading around of Todd Schwartz's crazy-ish castaway Caliban - a native to the island that serves as the play's setting - drew large laughs from Friday's audience, and broke up the serious tone of the rest of the tale.
Causer, with the laudable help of scenic designer Charles Knudsen, sets the play in a prison, and delivers one of the most beautiful sets I've yet seen on the District Theatre stage. Knudsen has painted blocks of various sizes, and in black on white, to create gray stone walls, and these prison enclosures are also embellished with graffiti - signs and symbols of different languages, or perhaps runes. Michael J. King's commanding, intense Prospero, the sorcerer at the center of the play, refers to these markings as his most precious of books, the tomes that accompanied him and his daughter when he was overthrown as Duke of Milan and set adrift, eventually ending up stranded on The Tempest's island.
While the structure and painting of Prospero's prison is beautifully rendered, the set's most remarkable aspect is a symbol placed in the middle of the floor (and employed in the theatre's advertisements for their production). The emblem is a penkhaduce - a blend of an Ankh, a caduceus, and a pentagram, which is a symbol of wizardry - and this mark also adorns Prospero's back in the form of a tattoo, one of a handful decorating his torso and arms.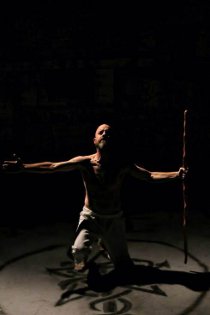 Causer's other great design achievement, this time pulled off with the aid of technical director Tristan Tapscott, is the tempest that Prospero conjures at the play's beginning, one created to ground the ship of his brother Antonio (Andy Curtiss), the man who usurped Prospero's dukehood. With heavy rock music pulsing, King directs Prospero's storm with dramatic movements featuring full, strong extensions of his limbs, and as this occurs, most of the other cast members climb on stage - some of them over the prison walls - and grab ropes attached to the sides, miming the act of attempting to control a ship in the midst of a storm. The evocative look is both effective and stirring, though it does last a bit too long; I first beheld the scene with wonder at what was unfolding, then with awe at its effectiveness, and finally with a sense of "All right, I get it ..." as the storm droned on and on.
Another of Causer's imaginative choices is having Prospero continually seated at the back of the stage as if in a trance, sometimes gently swaying or waving his arms as if casting a spell. This he does as the play's action is acted out in front of him, suggesting that he's watching with his mind's eye or, at times, scrying, with a container of water (internally lit with a green light) positioned at his side.
While Tank and Villarreal, for my tastes, got a bit too over-the-top at times, they do seem to be enjoying themselves more than anyone else in the cast, and their joy is infectious. There's a palpable chemistry between them as they play with their new "pet" Caliban, promising to aid him in killing Prospero, who has enslaved the man after Caliban attempted to rape Prospero's daughter Miranda (played with unwavering loyalty to her father by the sprightly and bright-eyed Lauren VanSpeyBroeck).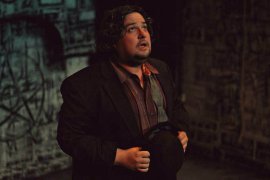 Costume designer Cindy Ramos makes some smart choices, with Miranda's wardrobe among them. The teenage girl, who has lived on an island since the age of three, is dressed in leather boots and brown leggings, with the most interesting piece being her top: a green scarf wrapped around her torso like a bandage, with a swipe over one shoulder and the fringe at the ends of the material hanging around her waist. While the look is intriguing, its effect is that of a found object used for clothing. Trinculo, meanwhile, is smartly dressed in hole-filled socks, brown trousers rolled halfway up his shins, and a shirt, tie, and vest under a green, brown-and-white tweed jacket that doesn't quite reach to the waist. The look is very dandy, and matches Tank's popinjay of a Trinculo.
I will admit to having reservations about the District Theatre producing Shakespeare, given how fantastic I think the company is with musicals, and how impressed I've been with the company's take on modern plays. Causer's design for The Tempest, however, won me over. While King brings the same intensity and passion to his performance that marks his Shakespearean roles with Genesius Guild, the rest of the cast give a distinctly District Theatre flavor to this classic play. That is, after all, what should be expected from any theatre company - offering their own, distinctive take on plays and musicals - and in that regard, the Rock Island-based organization succeeds with The Tempest.
The Tempest runs at the District Theatre (1611 Second Avenue, Rock Island) through November 24, and more information and tickets are available by calling (309)235-1654 or visiting DistrictTheatre.com.