It is with no hesitation that I admit adoring Stephen Flaherty's and Lynn Ahrens' musical Seussical, for which Flaherty wrote the music and Ahren the lyrics, with both collaborating on the book. Though it seems a children's play, the lyrics, melodies, and harmonies are sophisticated and memorable, and knowing how much I like this piece - and remembering the Clinton Area Showboat Theatre's excellent Cats from earlier this summer - I couldn't set aside my expectations prior to Thursday's Showboat performance, certain I was in for a theatrical treat. Director Matthew Teague Miller did not disappoint.
What's fascinating about Miller's staging here is that he envelops the audience in the story, which is primarily based on Dr. Seuss' Horton Hears a Who!, with a few other favorites mixed in. From the moment you sit down prior to the musical's start, you'll notice this communal theme by looking up at the ceiling. Set designer Steven P. House - employing a gorgeous color palette of mostly blues and oranges - and lighting designer James K. Davis worked together to create Seuss-ian sorts of tribal cutout designs in PVC pipe, with light shining through to illuminate the patterns. (The pair must have also collaborated on the backdrop given the way lighting changes completely alter its coloring, as if in a sky that's constantly shifting hues.) Throughout the production, Miller also places cast members within the audience, either in the balcony or along the first-floor aisles, surrounding patrons with beautiful harmonies. In these ways, this Seussical bleeds into the audience rather than being merely displayed for us to see, and for me, it enriched the experience, pulling me in as if it were a creation of my own invention.
If I wasn't already sold on the performance about halfway through its first act, the production crew would've had me all in during the "It's Possible" scene, in which Joseph Brune's young Whovian Jojo is inspired by Morton Garringer's Cat in the Hat to explore the possibilities of imagination. (Brune alternates Showboat performances with Lilly Leding.) During this sequence, the cast stands around the balcony dangling sea creatures from strings on poles, with the underwater animals lighting up under a black light so they're almost the only things visible beyond the glowing backdrop, Jojo, and the Cat. I got chills experiencing this bit of theatrical magic, which captured me hook, line, and sinker.
Garringer, who is in fine voice and comical physicality, is most notable for the way he plays to Brune rather than the audience; he avoids stealing the spotlight from Jojo by being in the spotlight primarily for Jojo. As for Brune, the young actor has an adorable charm that seems to stem from his lack of polish and pretense, which proves endearing as we experience the story through his eyes. Jojo also shares as much time with the Cat as he does with Horton the elephant, played with buttery-voiced baritone excellence by Otis Jefferies.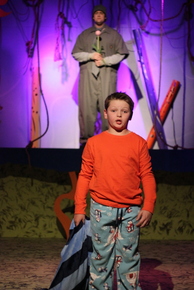 Of equal note is Livvy Marcus' Gertrude, the bird who's in love with Horton and pops pills to grow a bigger tail by which to impress him. Costume and puppet designer Emma Ford dresses Marcus, her "nemesis" Mazzie (Bailey Reeves), and the bird girls (Adria Swan, Claudia Stein, and Allison Winkel) in black, and places feathered, plump bird bodies on their left hands, with loose necks connecting them to cone-beaked heads on their right hands. The idea behind the design is fantastic, but the puppets actually inhibit the actors, with Marcus the only one who doesn't seem uncertain whether to put all of her emotive efforts into the puppet, or to use her own face and let the puppet be an accessory. Marcus chooses the latter, and I'm grateful for it, as the bird effect remains intact while her character's emotions are abundantly clear.
Other than this minor annoyance with the puppets, the Showboat's entire production is a whole lot of fun. The Wickersham Brothers (Ty Taylor, Christian Chambers, and Jonathan Young) cavort about the stage, swing from ropes, and climb into the balcony on rope ladders. Natalie Fisher's vocals as the Sour Kangaroo are so full of remarkable soul that they had me tempted to raise my hands in praise. Even the lack of physical scene changes is a bit of a delight, as the Clinton Area Showboat Theatre's Seussical begs you to use your imagination to make this already imaginative production an even more memorable experience.
Seussical runs at the Clinton Area Showboat Theatre (303 Riverview Drive, Clinton) through July 19, and more information and tickets are available by calling (563)242-6760 or visiting ClintonShowboat.org.