On December 12 and 13, area audiences will have the opportunity to attend two separate productions of composer Pyotr Ilyich Tchaikovsky's The Nutcracker: one performed by the professional dancers of Ballet Quad Cities (plus a few local performers), one performed by the student performers of RiverPointBallet (plus a professional dancer). And Ballet Quad Cities' Executive Director Joedy Cook is up-front about a large part of the holiday favorite's appeal: "For all ballet companies, Nutcracker is what really helps pay their bills. Nutcracker is the one ballet that you can count on to get an audience."
Yet as Cook well knows, that's not the reason that audiences themselves flock to The Nutcracker year after year. "It's truly the most recognizable music in the world," she says, "and that's because it's magical. And The Nutcracker itself is magical. It's magic, it's dreamy ... it's 'Calgon! Take me away!'"
A dated reference, sure, but an entirely accurate one, as The Nutcracker's tale of a little girl named Clara and her wondrous adventures one Christmas Eve has now been delighting and enchanting audiences for more than 100 years. Most of us have seen it, many of us (including yours truly) have been in it, and yet this ballet continues to be a beloved holiday tradition - one that, as you'll see below, hasn't lost its appeal even for longtime professional dancers.
From Mouse to Maestro: Artistic Director Courtney Lyon Re-Thinks a Classic for Ballet Quad Cities
When asked if she remembers the first production of The Nutcracker that she ever saw, Ballet Quad Cities' Artistic Director Courtney Lyon laughs and says, "Oh, I remember. I remember. Because it's what made me want to become a professional dancer.
"I was five or six," she says, "and my parents took me and my sisters to see a performance of The Nutcracker in St. Louis. And the production was kind of like the ones we do, with professional dancers and then some area children who have the opportunity to be part of it. So I saw students up there not much older than me, and I could, like, taste it. It was like it was meant for me. I wanted to be a mouse in the battle scene.
"I didn't care about the women in the tutus or the sparkly crowns," Lyon continues. "I mean, at that age, I knew that the Sugar Plum Fairy was far beyond me. But I saw something I could do. I could be that mouse. And I could be a good mouse. So I trained for a couple years, and then when I was eight or nine, that was my first role in The Nutcracker. I got to be a mouse."
Currently, Lyon finds herself fulfilling another Nutcracker dream, serving as co-choreographer (with company member Erica Attwood) for Ballet Quad Cities' latest incarnation of Tchaikovsky's holiday favorite. Yet while The Nutcracker is an annual tradition for the professional dance company - one that she's participated in for the past 10 seasons - Lyon says she's "overjoyed" to be taking on the challenge of co-choreographing, "because even though we all know the general story, there are so many different ways to tell the story."
In her initial discussions with Atwood, Lyon says, "the very first thing that we did was decide on what version of the story to do. Because there's an original version, but there are lots of different, small changes that can be made, and a lot of it has to do with how many dancers you have, how many men versus how many women, and what the dancers look like."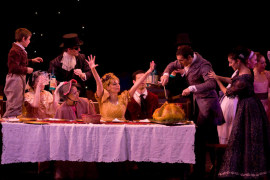 Given the makeup of the current Ballet Quad Cities company, Lyon says, "We chose a version where we have Clara being an older company dancer rather than a child - she's now a 16-year-old - and she becomes the Sugar Plum Fairy. And from there, we went all the way through from the party scene to the end of the ballet, and had to decide, 'What is Clara's motivation?' We had to figure out the parts of the story that needed to make sense.
"Like, she's a 16-year-old that was just given a doll," Lyon continues. "Why is that such a big deal? Why does she care about it when she was already given all these other wonderful gifts - oranges, and candy, and all these special things for the time period? And how do we want the audience to understand all this? Is it real? Is it all a magical dream?
"A lot of choreography is just the storytelling, and once we decided on the story, the choreography just came naturally after that. You just have to ask, 'With my body, how do I tell the story?'"
While much of The Nutcracker's dancing is character-based, it's the ballet's second act, says Lyon, that allows for the most choreographic imagination.
"Act II has the Russian dance, and the Arabian dance, and the Spanish dance," she says, "and with all those divertissements, there's a million ways to do them. And there are so many great characters in it that it can be really fun as a dancer - if you do a variety of those parts, you really get to spread your wings."
Not all of Act II, says Lyon, required tinkering. "One thing that we kept very traditional is the Grand Pas de Deux between the Sugar Plum Fairy and the Nutcracker Prince. The version we're doing is one that most dancers know, although probably not most audience members, unless they're very educated in ballet. It's a version that you see in most Nutcrackers around the world."
But Lyon says that she and Attwood "have been having so much fun" inventing new dances for other segments in the ballet's second act. "In one, I have five umbrella dancers, two Chinese-ribbon dancers, and a male lead dancer who's doing movement inspired by Chinese kung fu, that I turned into more modern-dance choreography."
Adding the choreography to the production's new scenic drop, the new gray marley floor (allowing for changes in the traditional lighting palette), and new costumes designed by Adele Forest, Lyon is confident that this year's Nutcracker will give audiences a happily unfamiliar take on familiar material - even though, as she says with a laugh, "I don't think we've re-invented it or anything. I mean, it's The Nutcracker. It works."
And despite their own familiarity with Tchaikovsky's tale, Lyon believes that it continues to work for Ballet Quad Cities' company members. "I would guess that for most of the dancers in this studio," she says, "Nutcracker's why they started dancing. So you know, even though it might seem repetitious to do it year after year - 'I already know the music, I already know the story' - I think it probably stirs up something in all the dancers. Memories of childhood."
Ballet Quad Cities' The Nutcracker will be performed at Davenport's Adler Theatre (136 East Third Street) on Saturday, December 12, at 2 and 7:30 p.m., and on Sunday, December 13, at 2 p.m. Tickets are $12 to $27, and can be reserved by calling (800)745-3000.
Keeping It Fresh: Professional Dancer Ramon Gaitan Performs with RiverPointBallet's Student Cast
For many of the company's student dancers, RiverPointBallet's The Nutcracker marks the first chance they've had to perform Tchaikovsky's legendary ballet. For guest artist Ramon Gaitan, a professional dancer and veteran of Virginia's Richmond Ballet and the Ballet Theatre of Maryland, the production marks ... .
Well, even he doesn't recall how many Nutcracker performances he's appeared in.
"I mean, we did it in Richmond," says the 30-year-old Nicaragua native. "I don't even know how many we did there. And I did them in college. I did them with Maryland, and I've guested for other places whenever I'm available ... ."
Yet Gaitan insists that he still doesn't find the Nutcracker experience tiresome. "Everywhere you go," he says, "there's always something a little different about it that keeps it fresh." And Gaitan adds that in this current RiverPointBallet production - where he appears as the Nutcracker Prince, Clara's father, and in the ballet's famed Grand Pas de Deux - that freshness stems directly from the youthful energy of the company's student cast.
"They range from the itty bitty ones who play the mice," he says of The Nutcracker's non-professionals, "up to the oldest, who is like 15 or 16. And the thing is, you watch the show, and you wouldn't realize that these girls are so young. They work so hard - almost to the breaking point sometimes - and it's exciting to see them have the opportunity to be on stage, and get a taste of what it's like to have a professional career."
His own professional dance career, Gaitan admits, began somewhat accidentally. After moving to Oak Park, Illinois, at age 10, he spent his early high-school years as a gymnast, and was eventually recruited as a cheerleader for the school's basketball team. During his senior year, though, Gaitan's abilities were recognized by a player's mother - the director of Oak Park's Academy of Movement & Music.
"She kind of convinced me to come in and take some dance classes," says Gaitan, "and after a year of classes, and dancing in some of the shows, she's like, 'You know, you're very talented. You could do this professionally.' And I was so confused. I just couldn't believe people got paid to, like, dance. So she took me to see Joffrey Ballet, and a couple other companies that were coming to Chicago, and that was it. I was hooked."
Gaitan enrolled at Northern Illinois University, where he studied under noted professional dancer Randall Newsom, the recently retired department director who, says Gaitan with a laugh, "is kind of like a miracle worker for boys who have talent but start late. I mean, I started dancing when I was 18, and in four years he had me ready to be company-level. The training was very intense."
After graduation, Gaitan auditioned for, and accepted, an internship with the Richmond Ballet ("I was happily surprised that someone offered me a job right after college," he admits), and went on to perform professionally as a company member of the Ballet Theatre of Maryland - where his roles included leads in Sleepy Hollow and Tarantella - and Ohio's Dayton Ballet.
He was also a frequent guest artist, at one point taking on a principal dance role in Wayne McGregor's Midsummer Marriage for Lyric Opera of Chicago. "That's probably one of the best gigs I've ever done," says Gaitan. "I mean, that environment, and dancing in a theatre like the Lyric Opera, and working with a world-renowned choreographer ... . It was like nothing I'd ever done before."
Yet in the years since 2000, Gaitan has also been happy to lend his professional talents to Artistic Director Sue Snider and the young dancers of RiverPointBallet.
"I went to [Northern Illinois University] with Sue's daughter, Meg," he says, "and I'm good friends with her. And so ever since college, whenever I have the chance, I've been coming to guest for her, and help fill spots in school shows. And I've always loved coming back to work with them. I just think they're really good teachers and are really training their kids well for the real world. The real dance world."
Gaitan is currently serving as RiverPointBallet's artist-in-residence - a position that finds him teaching classes, coaching the students, and, in what Gaitan says might be his most important function, "helping them with their partnering skills. I find that girls that have partnering experience are definitely way ahead of the rest. Even if you're talented, but don't work with partners, it's something that takes a while to get used to. And partnering experience, I think, also helps you understand how to dance better by yourself."
But Gaitan says that the highlight of his local tenure - which began at the end of September and concludes with The Nutcracker's final performance on December 13 - is the chance, with Tchaikovsky's ballet, to help shine light on RiverPointBallet's young talents.
"My goal is to try to make the girls look the best they can," he says. "Like our Clara, she's a beautiful dancer, but she's really young - she's only 12 or 13 - and she has a lot on her plate. So my main concern when I'm dancing with her is to make sure she's having fun and enjoying it. To make sure she looks good."
RiverPointBallet's The Nutcracker will be performed on Saturday, December 12, at Davenport's First Presbyterian Church (1702 Iowa Street) at 2 and 7:30 p.m.; tickets are $8 to $12, and are available by calling (563)326-9815.
The Nutcracker will also be performed on Sunday, December 13, at Rock Island's Jumer's Casino & Hotel (777 Jumer Drive) at 1 p.m.; tickets are $30 - with lunch included - and can be reserved at (309)756-4600.