Wonderful Town is one of the few musicals whose soundtracks I love without ever having seen the stage version. That is, until Thursday night's performance at the Clinton Area Showboat Theatre, and what I saw lived up to the high expectations created by listening to the rich, often humorous songs by composer Leonard Bernstein and lyricists Betty Comden and Adolph Green.
Jenna Haimes plays Ruth, a writer and the eldest of two sisters who move from Ohio to Manhattan circa 1935, and who face the challenges of big-city life such as finding an apartment, job, and romantic love. Compared to her animated characters in this summer's three previous Showboat productions, Haimes offers a relatively subtle portrayal here. The actor still delivers adept comicality, particularly in the scene in which she tries to contribute to an awkward dinner conversation, mentions Moby Dick, and, with effectively and comically agonizing pauses throughout, recommends the book "about a whale" as "worth picking up again."
Haimes also showcases a talent for touching moments, layering Ruth's defensive conversations with potential employer and love interest Robert Baker (Nathan McHenry) with pride, independence, and undertones of regret mixed with guilt for having initially treated him so rudely. My only complaint about the casting of Haimes, who performs rousing renditions of the numbers "Conga" and "Swing" backed by Zachary D'antonio's infectiously energetic choreography, is that her character is repeatedly referred to as the uglier, more undesirable of the two sisters, and Haimes is anything but unattractive. (She's also dressed in some of costume designer Nicole Angell's most striking period ensembles.)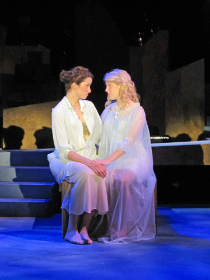 While Carly Ann Berg doesn't break from the mold of the other characters she's played this summer, her bright-eyed naiveté suits Eileen - the younger sister and an aspiring performer - just fine as she flits around and flirts with every man who comes her way. That includes Derrick Bertram's charmingly dorky and over-eager Walgreens manager Frank Lippencott, her most earnest suitor, and Kris Doss' dry, somewhat forceful Chick Clark. Her flirtations also pit her against her own sister as Eileen chases after Robert, accepting dinner invitations with a seeming obliviousness, but also an ever-so-slight slyness that says she really knows what she's doing and doesn't seem to care how it could impact Ruth.
Rather than emphasizing its humor, director Tommy Iafrate's staging plays to the emotion of the musical's book (by Joseph Fields and Jerome Chodorov), though this production still elicits plenty of laughs. Though Iafrate's production sometimes feels overcrowded on the Showboat's intimate stage, he also mimics the hustle and bustle of big-city life by placing ensemble members upstage where they mill about, rest against a lamppost, watch the onstage musicians for a bit, or rush to presumed appointments. In truth, the actors in the chorus are oftentimes just as interesting to watch as the main characters; they held, rather than pulled, my attention whenever I shifted my gaze to them. That was especially true of Danica Smith, who makes some smart choices as she holds character during her entire time on stage, and Robert Rice, who dances with both precision and personality.
If anyone does steal the spotlight, it's Caleb Jernigan as "The Wreck," a fellow tenant of the apartment building in which Ruth and Eileen rent a space from Jalen Lee's easygoing but somewhat shady artist/landlord Appopolous. Jernigan lends this former football star an air of triumphant self-confidence and bravado that's an apparent effort at self-denial, considering he's passed his potential for greatness. Heather Baisley, stunning as Annie Oakley in Annie Get Your Gun earlier this summer, doesn't have much of an opportunity to showcase her acting skills as Appopolous' fiancé Helen, but also doesn't get lost in the shuffle as she attempts to shield her future husband from her aristocratically arrogant mother (Dorothy Farach's Mrs. Wade). The role of the prostitute who occupied Ruth's and Eileen's apartment prior to their arrival is also played by Farach, who completely differentiates her characters by way of her countenance, rotating between the prim, looking-down-her-nose-at-everyone Mrs. Wade to the loose-limbed, swaggering hooker Violet.
Still, it's Haimes who stole my heart with her c'est la vie delivery of "One Hundred Easy Ways to Lose a Man" and her brokenhearted delivery of "A Quiet Ruth," performed after she overhears Robert sing of his longing for "A Quiet Girl" - one unlike the intelligent, independent, headstrong woman that is Ruth. Haimes sells the Clinton Area Showboat Theatre's Wonderful Town - and given the talent surrounding her, it's not a tough sale to close.
Wonderful Town runs at the Clinton Area Showboat Theatre (311 Riverview Drive, Clinton) through August 2, and more information and tickets are available by calling (563)242-6760 or visiting ClintonShowboat.org.