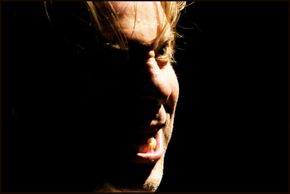 I came across a quote this past week that read: "A true friend talks trash to your face and is fiercely loyal behind your back." While the sentiment came to my attention at a particularly poignant time for me personally, it also fits almost perfectly with the core theme in William Shakespeare's Timon of Athens, currently being presented by the Prenzie Players.
Timon, here played by the dynamic Matt Moody, is a man of wealth and generosity. Being generous, he has a regular habit of giving lavish gifts and sharing his money with friends. Unfortunately, almost all of those friends - among them Daniel Logan's effeminate poet and Luke Vermeire's even more effeminate painter - are of the type to speak flattery to Timon's face, but shun him in his time of need.
Fortunately, Timon has at least two true friends as defined by that aforementioned quote. Timon's earnest, beleaguered servant Flavius (Mischa Hooker) is seemingly the only man who will bring Timon's pending financial troubles to his master's attention, beseeching Timon to cool off on the generosity. Apemantus (Michael Carron) is even more forward with his approach, forsaking all sugarcoating as he tells Timon that his "friends" only flatter Timon when his finances are readily available and freely given. Both actors instill in their characters a sense of "tough love" in their approaches to Timon, though Flavius is meeker about it and leans toward the "love," while the self-certain Apemantus accents the "tough."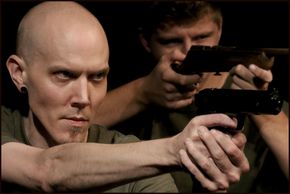 There's not a lot of action, per se, in Timon of Athens - a Shakespeare title I hadn't even heard of prior to it showing up on the Prenzies' schedule - and director Jake Walker doesn't add much dynamic movement to its staging. Walker does, however, include some scenes of high interest that inspire refocusing, especially for those of us whose minds might have occasionally drifted during the dialogue. The first such inclusion is the presence of two prostitutes at Timon's dinner party, one at which he unknowingly doles out the last of his fortunes. Kara Widel's Phrynia and Ali Knollenberg's Timandra, each dressed by costume designer Kate Farence in black-and-white outfits with brightly colored fishnet stockings, perform a choreographed, striptease-type dance that's loads of fun. The second lively portion of the play's first act is a swordfight between soldiers played by the multi-cast Vermeire and Hooker (the latter figure serving under Andy Koski's passionately aggressive Alcibiades). Aaron E. Sullivan's fight choreography has a balletic fencing quality to it that resembles a beautiful dance, and ends in a final blow that's no less effective for being indirectly seen (at least from where I sat on Friday).
Walker also makes an exceptionally shocking choice in his alteration to the scripted meal served at the end of Act I, as Timon takes revenge on those he believes betrayed him. At this final banquet, covered plates and glasses are delivered to the table, and by way of insulting his guests, Timon reveals the "food" to be rocks and lukewarm water. These, however, are not the items on the table in Walker's production. I won't say what replaces them, but the intended insult is clear.
The most surprising highlight of this presentation, though, is the scene change that takes place during intermission. During that time, stagehands pull down the floor-to-(almost)-ceiling white curtains that flank the back of the stage. They also, with the aid of electric drills, remove the white panels covering the lower portion of a backstage center platform. What's revealed is a cave that looks like it could've been Jesus Christ's tomb, and is the home of Timon in Act II after he's fled Athens in disgust for his poor treatment. As if this reveal weren't impressive enough, the stagehands then return with a bag and several buckets, and moving in sync, empty the contents to cover the floor with what looks like thick sawdust, fully transforming what was Timon's dining room into his forest hideaway. And there's yet another scenic transformation that takes place toward the end of the play, but I won't give that one away - other than to say it's equally astonishing.
I'm not sure why Timon of Athens is a lesser-known work by Shakespeare, as I find the story to be rich with emotional truth and ripe with memorable lines both lofty ("Like madness is the glory of this life.") and laugh-worthy ("Thy mother's of my generation. What's she, if I be a dog?") Here, the play also proves a testament to Moody's talents as he transforms from a jovial Timon to a crazed version driven mad by disloyalty, and to the Prenzie Players' ability, yet again, to pepper the Bards' works with modernized, often shocking staging.
Timon of Athens runs at the QC Theatre Workshop (1730 Wilkes Avenue, Davenport) through September 27, and more information and tickets are available by calling (563)484-4210 or visiting PrenziePlayers.com.