When Rock Island's summer-theatre organization Genesius Guild opens Gilbert & Sullivan's comic operetta Patience on June 9 - taking place in the city's Lincoln Park, and co-produced with Opera @ Augustana - it will mark the group's first production in a half-century not under the helm of Guild founder Don Wooten, who retired at the end of last season. And when asked what it's like serving as Genesius Guild's new executive director, and assuming a majority of Wooten's tasks, Doug Tschopp has a succinct one-word answer.
"Wow."
Actually, he has a few more words. "It's already overwhelming," Tschopp continues, "and we don't even have a show up. I mean, it's a monster. To run a theatre company that does 11 weeks in a row of free theatre in the park?"
Tschopp - director of marketing and Web communications at Augustana College, and president of the Wooten-founded arts coalition Quad City Presenters - made his first acquaintance with a Guild production, and with Wooten, some 13 years ago. Experienced as a lighting designer, Tschopp says, "My comment after it was done was, 'Wow, you guys made a really interesting choice of under-lighting that. It really made you focus on the action on stage.'
"And Don's comment was, 'That was all of our lights all the way up.'"
He laughs. "So the next day I'm out tearing light fixtures apart, and cleaning them, and fixing them, and figuring out what they had."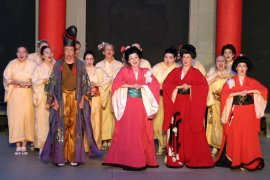 Over the next 13 seasons, Tschopp worked as a lighting designer, general technician, and occasional performer for Genesius Guild, a group dedicated to the annual production of classical theatre. "I love Shakespeare," he says, "and I love Greek; I started reading Greek when I was in junior high school. So, for me, it was kind of this revisit to the classics I loved."
Tschopp also served on the Guild's board of directors. "It had just been kind of a general advisory board," says Tschopp, "with Don really doing most everything," and he isn't kidding. Wooten chose the annual play schedule, directed, wrote script adaptations, composed grant proposals, spearheaded fundraising campaigns, and, on a nightly basis, delivered introductions - and historical perspective - on the evenings' performances.
Yet after 50 years with his organization, Wooten opted to retire from active Guild duties. "Everyone knew [he was retiring]," says Tschopp, who agreed to serve as the group's executive director for the 2007 season. "But I think I may have been one of the few that really realized what that would entail."
So how does one replace a man who - considering the sheer volume of his duties - may seem irreplaceable?
By getting a lot of help.
The first step was to re-think the board's function. "Even last year, when Don was still there," says Tschopp, "my call to action was to re-organize. There needed to be subcommittees, and the subcommittees actually need to do things."
One of these entities is the artistic subcommittee, which Tschopp says "is still in its formation stages," and which is expected to oversee auditions, choose directors, arbitrate the selection of actors, and eventually select the annual play schedule. "Don has a preliminary five-year [schedule] set," says Tschopp. "So we're in year one of that."
Another is the financial subcommittee, dedicated to writing grants, fundraising efforts, and making sure the organization stays on budget. And while Rock Island Parks & Recreation provides, says Tschopp, "a solid core of money," the Guild requires both monetary grants and individual and business donations to thrive, as its productions don't have an admission fee.
"We raise decent money from our audience," Tschopp says. "I mean, there's 5,000 people out there in a given summer. ... We might be getting a buck apiece on the average. There are probably people that come to every show that never give us a penny, and then there are other people that may only come to a couple shows a year, but they write us a check for $100, or $500.
"But what if we had five bucks apiece? With the park board, with all the other stuff, we'd be right about where we need to be. So it's okay," he says of the donations received, "but no revenue stream is always kind of ... it makes you feel a little uneasy."
The Guild's third subcommittee is dedicated to marketing, and for its 2007 season, Tschopp is committed to bringing awareness of the organization to previously unexplored markets.
"We're doing three shows at the Greek Fest," he says, regarding the annual cultural festival that, this year, takes place at Moline's John Deere Commons on June 1 and 2. "My thought there was the Greek tragedy seems to be the toughest to sell; you know, you get 225, 230 people, typically, there for every Shakespeare, and the Greek plays are usually at 190. A Greek festival that has 12 [thousand] to 15 thousand people in a day and a half. ... Maybe there might be somebody there that might be interested in the fact that we do a Greek play ... ?"
The shows in question, tentatively grouped under the title From Athens to New York, are designed to dissect the tools of Greek theatre - such as the chorus, the tragic messenger, the deus ex machina, and even dialogue - and reveal how and where these theatrical traditions are still employed. "Most people don't realize that in theatre today, almost all the paradigms come out of Greek drama," says Tschopp.
Yet much of Genesius Guild's marketing is still reliant on print advertising and word-of-mouth, and this is where the organization will be seeking the most assistance - through volunteers.
Tschopp says, "There are probably people that come [to Genesius Guild productions] on a regular basis - they don't want to act, they aren't lighting designers, they aren't sound engineers - but they would love to be asked to help. And we're going to utilize that group this year. You know, if you don't ask people, they don't necessarily know that you're looking for that sort of thing.
"We actually put a call out to volunteers," he continues, "and we've had a fair amount of responses. Like one person said, 'Hey, I can't lift and all that, but I'm a good seamstress, and I'd love to help hang posters.' Perfect. So we're going to call on a number of volunteers that specifically said they would come and help us hang posters. It's a huge help for us, but it also lets people that want to be engaged more, engage."
However, with all of the behind-the-scenes changes in Genesius Guild's 51st season - what Tschopp calls "a huge rebuilding year" - don't expect everything to change. In addition to the operetta, the organization will still present Shakespeare (As You Like It and The Winter's Tale), Greek drama (Medea), Greek comedy (The Frogs), and dance (Ballet Under the Stars, co-produced with Ballet Quad Cities), and the play introductions that Wooten originated will remain, only not delivered by Wooten.
"That'll be my job now," says Tschopp. "I speak at national conferences, so I'm really comfortable in front of 600 people. And I think my style's much the same, so it won't be an abrupt change."
And even though you won't see him as often, Wooten won't have completely vanished from the season. He recently gave synopses and analyses of the Guild's 2007 season at the Hauberg Civic Center; he's producing and directing the productions for the Greek Festival; and he's writing the Guild's adaptation of The Frogs, which - in an annual tradition - is sure to be rife with Wooten's expected blend of pop- and Quad Cities-culture references.
Says Tschopp about Wooten's "retirement" from the Guild: "I've got him working pretty darn hard, actually."
Auditions for Genesius Guild's 51st season will be held at Rock Island's Lincoln Park at 1 p.m. on May 27, June 2, and June 3, and at 7 p.m. on May 29 and May 30. For information on forthcoming shows and volunteer opportunities, visit (http://www.genesius.org).