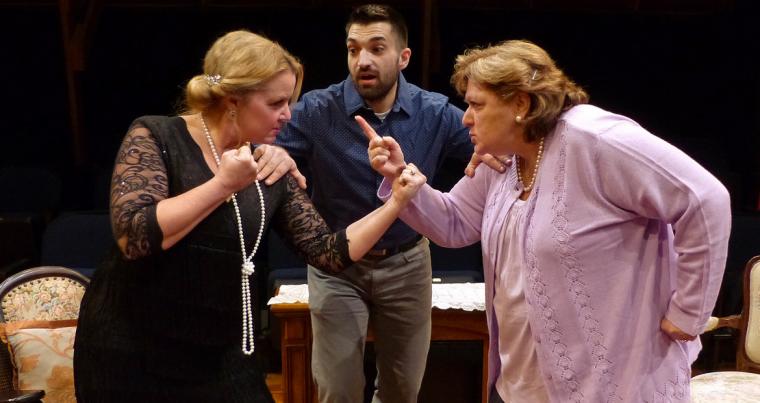 As the clock approached 7:30 p.m. on a refreshingly cool and clear mid-April Saturday, the old barn beckoned like a silent sentinel as we wove our way up the meandering hill. While approaching the main entrance, the imposing presence at the ticket window asked quietly, eerily, if we had reservations. We said we did, and he motioned for us to climb the stairs leading us to the loft. I swallowed hard and took my time, stretching out each step knowing that I was ascending ever closer into the darkness, the unknown, and into a night of murder. Bwa-a-a-a-h Ha-a-a-a-ha-a-a-a-ha-a-a-a-a-a!!!
Whoa – that may be a little too dramatic. But it did kind of fit the mood as we made our way into the Richmond Hill Barn Theatre for its 49th-season opener: Out of Sight, Out of Murder. When attending a murder-mystery such as this play, oftentimes one may have a pretty good sense of what's going to happen. Usually, early in the story, someone is killed, with everyone asking "Whodunit?" Generally, there's a rogues' gallery of potential suspects such as a young female ingénue, a young heroic male, a brusque old spinster, a lawyer, a maid, a middle-aged gold digger, and, of course, a butler.
However, Out of Sight, Out of Murder's playwright, Fred Carmichael, takes a comedic and interesting twist to the genre by introducing the story's author as a central character in the plot. Enter novelist Peter Knight (Nicholas Waldbusser), who, in the mid-1970s, is hammering out his own murder-mystery novel in an old Vermont mansion in which another author was murdered years earlier. During a freak thunderstorm, though, his novel's potential characters inexplicably materialize in the mansion. Shortly after each character's introduction, one of them is murdered, and then another, and then another … . Or is it all in Peter's head?
Peter serves much like a referee as each character is introduced into the story, and Walderbusser, in a '70s-styled wig, does a fine job playing the novelist without too much over-the-top flash. It would have been nice to see him push the character's emotional limits a little more, but his consistency as the story's "straight man" was on-target throughout the performance.
Director John Donald O'Shea has assembled an appropriately stereotype-ready cast to fulfill each Out of Sight character. Joe LoGiudice, as the mysterious butler Cogburn, was quite good with his proper dialect and dry one-liners, playing the servant as if he were more intelligent than anyone else in the story. (Or in the theatre, for that matter.) As female ingénue Kay, Elizabeth Buzard had a sweet earnestness that was a strong fit for her part, although she did struggle – as did a couple of others – with a sing-songy pitch pattern that detracted from an otherwise solid performance. As the gold-digging Lydia Dillingham, Stacy Herrick portrayed her role with a great amount of class, rather than enacting a money-grubbing parasite. And my favorite performance was Jackie Skiles' as the old spinster Fiona Babcock. From the first moment Skiles stepped on-stage, the show's energy and pace were elevated, and her comedic timing and melodramatic facial expressions were a much-needed delight.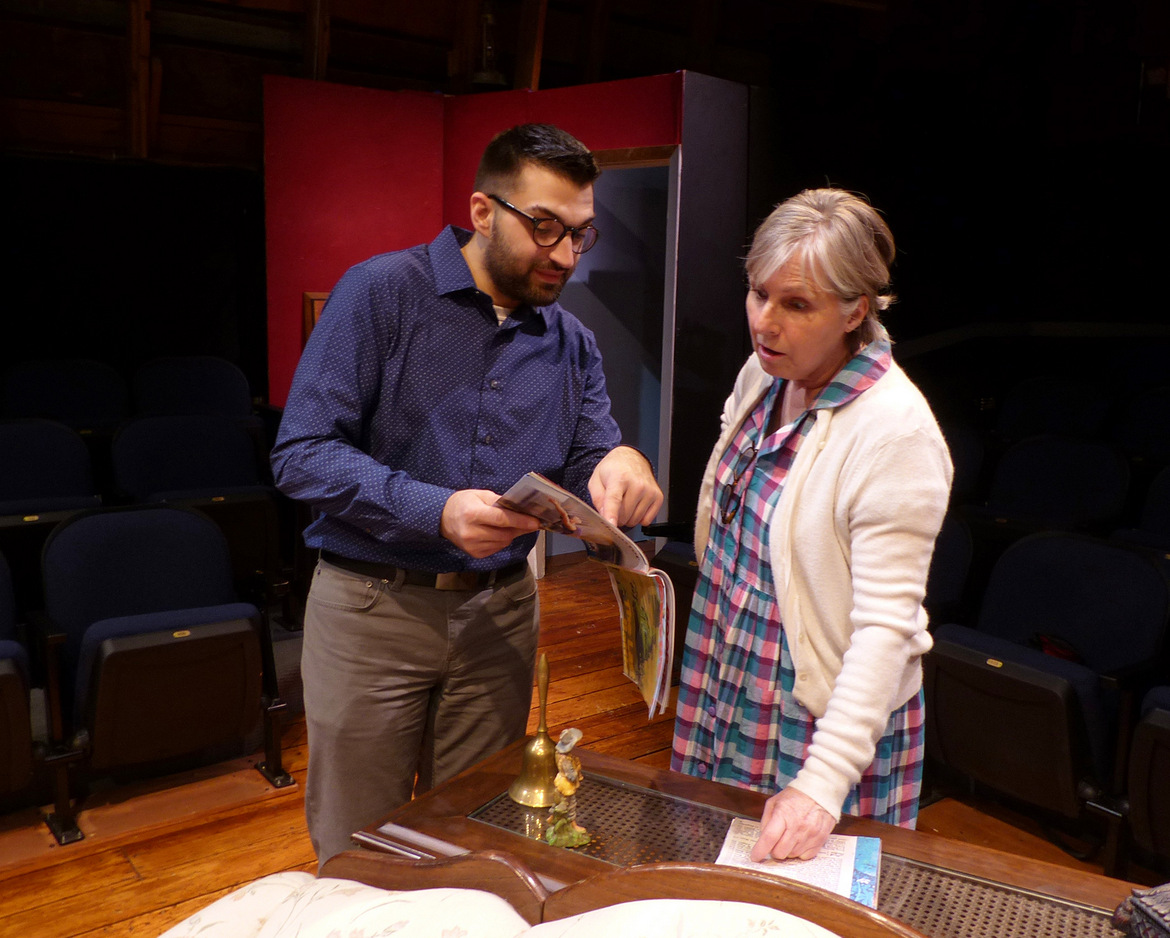 Carmichael's script, in truth, is plodding and wordy. With the show clocking in at approximately two hours and 15 minutes (not including intermission), the author clearly could have used a judicious editor. However, the way Carmichael acquaints the audience with the background of each character is very clever and often very funny, and in Richmond Hill's production, I couldn't help but notice the perfectly timed sound effects that were also at near-perfect volume, with the choices for pre-show and intermission music equally splendid. Cheers to Jennifer Kingry for the excellent sound design, and a most appropriate lighting plot as well. Kudos also to Terri Nelson, whose costuming efforts went a long way in helping establish the clichéd aspects of each murder suspect.
Out of Sight, Out of Murder may not have the sophistication of an Agatha Christie story or the creepiness of an Edgar Allan Poe tale, but it does have plenty of laughs, and it's a lot of fun to see behind the façade of the genre's stereotypical murder-mystery characters.
Out of Sight, Out of Murder runs at the Richmond Hill Barn Theatre through April 30, and more information and tickets are available by calling (309)944-2244 or visiting RHPlayers.com.