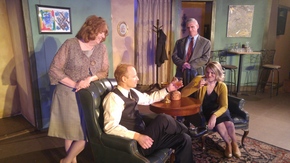 Let's say you're a young, male biology professor who has landed a job at a small New England college. After a faculty party and lots of drinking, you and your wife are invited for a nightcap at the home of a middle-aged history professor whose sexually charged spouse happens to be the college president's daughter. It's 2 a.m., the liquor keeps coming, and your hosts start to argue. Do you stay? Of course you do. What could go wrong?!
This is the setup for Pulitzer Prize-winner Edward Albee's Who's Afraid of Virginia Woolf?, the latest offering at the District Theatre. And after attending the April 1 performance, I have a newfound reverence for Albee's words as performed by its four actors. The play, which mixes emotions, reality, and symbolism into a thought-provoking commentary on the society and values of its time, has to be truly understood by the actors and director for the performance to work. Happily, director/set designer Tristan Layne Tapscott and company provided a visceral theatre experience that was intimate, revealing, shocking, at times uncomfortable … and pretty darned amazing.
Virginia Woolf?, which won the 1963 Tony Award for Best Play, is not the easiest thing to watch, but its complexity and emotional drama challenged my thinking and reminded me how vulnerable we all are. In Albee's script, the focus is on two college professors and their wives, each with their own secrets, with the older couple's almost nonstop verbal attacks disguising the deeper matrimonial games they play. The younger couple caught up in the drama, meanwhile, is alternately amused, confused, and frightened.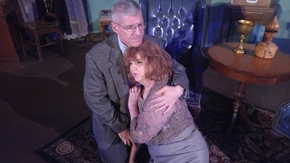 Having seen the 1966 film version, it was hard for me not to compare the performances of the movie and stage actors, but Patti Flaherty's boozy, brassy Martha would give Elizabeth Taylor a run for her money (and her Oscar). Flaherty's character interpretation was spot-on, with her voice at times seductive and purring, and at other times screaming and hostile. Her energy filled the stage, and Flaherty's hearty laugh was employed artfully whether to show defiance or hide hurt.
Trying to hold his own against Flaherty was James Driscoll as George, and his portrayal of the fidgety, middle-aged nebbish took emasculation to a new level. The realistic barrage of insults thrown at each other with deadly accuracy displayed Driscoll's and Flaherty's acting prowess, although there were moments in which I wanted some of George's sarcastic lines to be delivered with more edge. But Driscoll's is a most challenging role. The actor must act the fool, yet also match intellectual barbs with his wife and deftly expose the intimacies of his guests' marriage – all the while mixing reality with illusion. Driscoll proved to be a masterful juggler.
Cast as biology professor Nick, Jonathan Grafft had the right young, attractive look, and although not the focus of the play, his reactions and demeanor as a supporting figure had to show multiple facets including vulnerability, outrage, sympathy, and more. Grafft's commendable performance proved he was not just cast for his looks. And while on that topic, the role of Nick's wife Honey was played admirably by Jenny Winn … but she is just too beautiful for the role, which calls for a plain, mousy, somewhat dim-witted 26-year-old. (Note to Virginia Woolf's costumer: Put Winn in a frumpy dress, let her hair droop, and ditch the makeup.)
I always look forward to Tapscott's set designs, but this one was lacking in certain details. The walls, painted dark blue-green with matching wingback chairs center-stage, gave the room an unfriendly feel that did fit the mood of the play. But when Martha famously announces that the place is a dump … it isn't. There's not a thing out of place. And where were the books? A history professor's living room without books? Maybe it was a space issue, but I counted a mere eight stacked on a tiny desk. And the bar was on a table no one would've had in their home in the 1960s.
Yet even today, 50-plus years after its premiere, Who's Afraid of Virginia Woolf? still resonates with its themes of immorality, truth, and sexuality, and the idea that people sometimes need illusions to help them cope with life's absurdities. It may leave you with feelings of shock, depression, anger, comfort, excitement, or joy. It may cause you to question your own life and your responses to your own secrets and truths. In short: It is the type of complex play to attend with friends. Then, after seeing it, go pour yourselves a few bourbons and talk about it. Who knows – you may find out who really is afraid of Virginia Woolf.
Who's Afraid of Virginia Woolf? runs at the District Theatre (1724 Fourth Avenue, Rock Island) through April 16, and more information and tickets are available by calling (309)235-1654 or visiting DistrictTheatre.com.