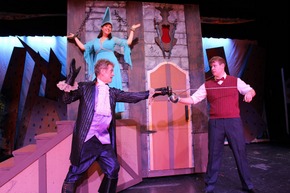 If you are of a certain age, you will happily recall the golden days of live television. And whether you can remember those days or not, you will have the opportunity, through Quad City Music Guild's production of My Favorite Year, to go back in time to the year 1954, and experience the trials and tribulations of producing a weekly segment of a fictional TV show titled King Kaiser's Comedy Hour.
Monday night's dress rehearsal was my introduction to this musical, which is based on the 1982 movie of the same name. Under the direction of John Weigandt and the musical direction of Joe Miller, the overall production – from the live musicians in the pit (always a treat) to the well-designed sets, attractive period costumes, and singers' beautiful voices – promises some entertaining performances when the show's one-weekend run begins on Thursday. There were some issues on Monday night, particularly involving comedic timing and stage business (an ineffective attempt at a bit with a chair and an unrealistic "roughing up" scene particularly stood out), plus moments in which the acting and movement seemed perfunctory and, for lack of a better word, "polite." But for the most part, it seemed that the show would be well-served after it had more rehearsal time, and especially once the actors receive the adrenaline boost provided by a live, expectant crowd.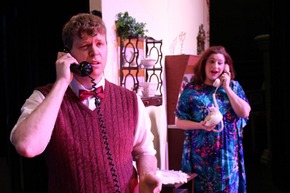 Music Guild's production features some stars that shine and bring forth the best in the music composed by Stephen Flaherty (with lyrics by Lynn Ahrens), and in Joseph Dougherty's book, which gives the actors several plotlines to deal with – some of which aren't adequately developed or satisfactorily resolved. Will the musketeer skit that up-and-coming script writer Benjy Stone dreamed up for Kaiser be a hit? Will Benjy succeed in keeping one-time movie idol Alan Swann away from alcohol? Will Benjy succeed in courting co-worker KC Downing? Will Swann be reunited with his daughter? (Concerning that last plotline, I think it was resolved in the final scene, but I'm not sure. And why wasn't the musketeer skit more fully developed as part of a grand finale? And, on another note, why does Benjy speculate about his father's identity at the musical's start, but then no further mention is made of it?)
But despite the drawbacks in My Favorite Year's material, Music Guild provides a show that has a lot of charm. Ian Sodawasser, as Benjy, has a natural, believable delivery and likability, and I felt I was in very good hands as he confidently moved us through the show's multiple plot points. Sodawasser's voice is very warm and tender, and I found myself wishing that he had had more numbers to sing. He's also well-paired with Jen Sondgeroth, who portrays Benjy's romantic interest KC. Songeroth has a lovely stage presence and voice, and it was indeed a pleasure to watch her.
When it's announced that former matinée idol Alan Swann (Tom Naab) is to be featured on an up-coming King Kaiser broadcast, Benjy is given the task of keeping the dissipated actor away from booze; Benjy's job, in fact, depends on keeping Swann sober. Yet while I did love Swann when he realized, to his shock, that he was going to have to go on live television ("I'm not an actor, I'm a movie star!"), I didn't, in general, like much about Swann as written. Naab's best moments, for me, were his musical ones, and through his singing, he found a beautiful vitality and the core of a man we could begin to care about.
Another focus of the show concerns Benjy's family, and Jess Fah is terrific as Belle Carroca, Benjy's very Jewish mother. With her delightful singing voice, great stage presence, and comedic timing, Fah has the chutzpah necessary for such a role, and is amusing opposite Belle's current husband Rookie (Shane Pruett), a former prize-fighter of uncertain nationality who can really roll the r's in his own name. I also loved the "Welcome to Brooklyn" song with Benjy's extended family at the home of his Uncle Morty (Mark Holmes), which included a kick line with assorted neighbors. I didn't, however, get why Benjy's Aunt Sadie (Margie Martel) was dressed in a wedding gown and introduced as "Queen Elizabeth." Perhaps Monday's rehearsal was simply lacking the over-the-top wackiness that was necessary for such a bit to work. Or maybe this was just another example of writing gone wrong.
Late in the show, another number features King Kaiser (Mark McGinn) and Alice Miller (Heidi Pedersen), one of the writers on his team. They're pretty funny when delivering some vaudeville schtick, but Pedersen steals the show as she binds Kaiser to a chair, gags him, and belts out her solo as "Josephine," a gypsy queen with a tambourine. Pedersen is vibrant and hilarious, and really sells the song.
Rounding out My Favorite Year's cast are Michael Schmidt, James Alt, Joe Urbaitis, Rebecca Casillas, and a large ensemble that sings, sometimes dances, and helps to keep things moving along in a production that, despite a few problems, most definitely entertains.
My Favorite Year runs at the Prospect Park Auditorium (1584 34th Avenue, Moline) through April 3, and more information and tickets are available by calling (309)762-6610 or visiting QCMusicGuild.com.