"It was third grade," says actor Marc Ciemiewicz, recalling his stage debut. "I went to Catholic school, and it was the Christmas pageant, and I was given the solo for my class - 'I'm Gettin' Nuttin' for Christmas.' And my mom, to this day, still tells the story of the gentleman in the audience who tried to give me a standing ovation ... but his wife pulled him back down."
Ciemiewicz laughs hard at the memory, with a geniality that suggests how aware he is of both the sweetness and silliness of the man's gesture. "He was just some random guy," says the actor. "Nobody I knew, or my family knew. But apparently, he thought I was really damned good!"
If you've been a regular, or even an occasional, patron of the Circa '21 Dinner Playhouse over the past three years, chances are excellent that you agree. Ever since his Rock Island debut as Howard Cunningham in 2011's Happy Days: A New Musical, Ciemiewicz has continually proven himself a fantastically gifted and entertaining stage presence, whether he's appearing in evening productions (Miracle on 34th Street; A Christmas Story: The Musical), children's shows (Diary of a Worm, a Spider, & a Fly; Alexander & the Terrible, Horrible, No Good, Very Bad Day), or as a member of the theatre's performing wait staff, the Circa '21 Bootleggers.
Yet for all of his recent area credits - which include directing two productions of Avenue Q at the neighboring District Theatre - Ciemiewicz is about to take on what might be the biggest challenge of his professional life: the iconic, intimidating role of Tevye in Circa '21's Fiddler on the Roof, running May 23 through July 19.
In terms of leading male characters in American musical theatre, Tevye just might be the granddaddy of them all. A simple Russian dairyman who is equal parts poet, philosopher, and Catskills comedian, Tevye not only has to belt out classic numbers such as "Tradition," "If I Were a Rich Man," and "To Life! (L'Chaim!)," but he must emerge as a believable and soulful husband and father - a figure as filled with heartbreak as he is with bonhomie.
Obviously, then, the casting of Tevye - a role played on Broadway by such varied talents as Zero Mostel, Herschel Bernardi, Alfred Molina, Harvey Fierstein, and Topol (who received an Oscar nomination for the 1971 film version) - is of critical importance to any production of Fiddler on the Roof. And that's certainly the case this particular year, which marks the 50th anniversary of the beloved musical's debut. (Tevye, in fact, was Fiddler's working title prior to the show's first rehearsals in 1964.)
But even though, at age 37, Ciemiewicz is several years younger than the character he'll be portraying, I don't see how Circa '21 could have cast the role of Tevye better ... and clearly, neither do those who did the casting.
"He had an incredible audition," says Circa '21 producer Dennis (Denny) Hitchcock. "It really was amazing - he was big, but he was also very touching and moving, as I know his whole performance will be."
Meanwhile, the show's director, Jim Hesselman, says: "There's a whole lot of modern talent out there. But can they get Tevye? Can they do that balance between this vaudeville character and this caring father and make you believe it? Marc can. He's maybe of that last generation that worked all these different theatres and became this incredible character actor, and really had a practical idea of what this career was all about. He's a true theatre person. He gets it all."
"To be honest, I'm a nervous wreck," says Ciemiewicz himself, with a laugh, when we spoke the day before Fiddler's first rehearsal. "But I'm excited to really delve into it. I mean, I've played Julian Marsh [in 42nd Street], I've played Henry Higgins [in My Fair Lady], but there's just something about Tevye. There's literally nothing like it in American musicals." And Ciemiewicz should know, because he's performed in pretty much all of them.
Surrounded by Characters
A Pennsylvania native who moved to California at age two and New Hampshire at age 10, Ciemiewicz - the youngest of five children - says his adoration of theatre began not long after that third-grade Christmas pageant.
"My parents did some community theatre here and there," he says, "and were always very big on the arts. All of us learned an instrument, and my parents were always taking us to shows. I know they took my siblings to Cats and Evita, and when we moved to New Hampshire, we'd go down to Boston to see theatre ... . They wanted us to experience the realness of it, and become lovers of it."
While still in grade school, says Ciemiewicz, "I'd sit there and listen to the cast recordings of Jesus Christ Superstar and Evita and Les Mis and Cats. I even went to my sixth-grade teacher and said that our class should do a production of Cats. And she said, 'Oh ... well ... I think that would be a wonderful idea. I'm not sure we can make that happen ... .'"
One year later, however, Ciemiewicz finally made his theatrical debut. "My first play that I was ever in was in junior high, in Phantom of the Soap Opera." He laughs. "Yeah. Horrible. I was Addison Meriwether, the director of the soap opera. And after that, our junior high, the girls' high school, and the boys' high school decided to get together and start doing shows. We did Oliver!, and I was cast as the Artful Dodger.
"And that was it," he says. "There was a point early on when I was thinking of becoming a priest, but after that, no-o-o. I just wanted to do theatre."
As a high-school student, Ciemiewicz performed in such shows as Annie, Snoopy, Bye Bye Birdie, and, yes, Fiddler on the Roof. (Though he's never before played Tevye, Circa 21's production is the fifth Fiddler the actor will have have appeared in.) During that period, he also enjoyed his first of many summer-stock residencies, performing in Joseph & the Amazing Technicolor Dreamcoat, Shenandoah, and other musicals for Manchester, New Hampshire's Palace Theatre.
"I loved it," says Ciemiewicz. "I just loved that lifestyle - doing one show after another. It brought me into the realm of characters. Not only the ones I was playing on stage, but the people that I was around. I was surrounded by characters."
Following high school, Ciemiewicz continued his musical-theatre studies at Winchester, Virginia's Shenandoah University, from which he graduated in 1999. "It was a small school with a great conservatory and one of the oldest music-theatre programs in the country," he says. "And I was actually one of the lucky ones, because I got cast right away, freshman year, and there wasn't a single semester that went by in which I wasn't in a show."
With Shenandoah roles including Bigley in How to Succeed in Business Without Really Trying, Oberon in Robin Goodfellow, and the understudy for Charlemagne in Pippin, Ciemiewicz's undergraduate career also continued a trend that began in high school and persists to the present: his being cast as middle-aged characters even though he wasn't - and still isn't - over 40.
"Yeah, the big baritone voice really set me into that," he says, adding with a laugh: "And I was good at makeup. I could grow a beard, and I could do old-age makeup."
Ciemiewicz found immediate theatrical employment after graduating from Shenandoah; among many credits, he appeared in Naughty Marietta and Jesus Christ Superstar for his first Equity house, worked at the Carousel Music Theater on the coast of Maine, and performed in the national tour of Kopit & Yeston's Phantom, "a full bus-and-truck tour" that lasted nine months.
"But then 9/11 happened," says Ciemiewicz, who was working in Maine and renting an apartment in New York City at the time. "It didn't spook me to be around there, but just thinking ahead, I knew the economy was gonna slow down, and people weren't gonna go places where there were big congregations of people ... . And I really wanted to get my MFA in musical theatre, so I could teach on the collegiate level if I wanted to. So I said, 'You know what? Let's go to grad school.'"
He applied to, and was accepted at, San Diego State University, one of only two schools in the country that offered a Master of Fine Arts in musical theatre. "I did a couple of dramas while in college," he says, "and I'm okay at Sheakespeare, which isn't my forte, and I tend to avoid it like the plague. But really, my love has always been musical theatre. That's what I've always wanted to do."
That's also what Ciemiewicz continued to do both at graduate school - where he appeared in A New Brain, Honk!, and Sondheim's Merrily We Roll Along - and after receiving his 2004 MFA, when his acting résumé began to be augmented with directing credits for such musicals as My Fair Lady, West Side Story, and Mid-Life: The Crisis Musical, the latter of which he also performed in. ("I'll never do that again," says Ciemiewicz of his dual responsibilities. "As a director, I couldn't step out and watch the whole picture. And video isn't the same.")
Yet despite his professional success and the satisfaction Ciemiewicz took in his career, he admits, "I was kind of getting tired of living out of suitcases, and going from theatre to theatre and show to show and job to job."
And then he got a call from his friend Ann Nieman, who was directing a show at Circa '21.
Happy Days and Happy Days
A frequent Circa '21 director/choreographer whose Rock Island credits have included West Side Story, Grease, and three productions of Joseph ... (the 2005 version of which, it should be noted, this author and former Circa '21 employee was fortunate to appear in), Nieman previously directed Ciemiewicz in the musicals Wonderful Town and Irving Berlin's White Christmas for the Prather Entertainment Group. When she was hired to helm Circa '21's springtime musical for 2011, however, it had been several years since they'd last worked together.
"Denny [Hitchcock] and I were casting Happy Days," says Nieman, "and we just could not find a Howard. We had lots of submissions and none of them were quite right, and I said to Denny, 'Look, let me go through my files and see if I can come up with somebody.' And the minute I got to Marc's name, I thought he'd be perfect. Perfect for Howard.
"I mean, he's incredibly talented," she continues. "He's a fantastic actor, he sings, he dances, he builds sets - he does everything you want him to do. But one of the things I really love about Marc is that he is always positive, and not in a false way. He always finds the positive in everything and always has a smile on his face, and when working with him, I don't think I've ever heard him complain." (Laughing, she adds, "Kvetch, yes. We all kvetch. But I've never heard him complain. Never ever.")
Hitchcock, however, says that before hiring Ciemiewicz, he needed more to go on than Nieman's recommendation: "She said, 'He's perfect for it, he's 32 or 33 years old ... ,' and I said, 'Oh, that's way too young.' But she said, 'No, I really think he can pull it off.'"
After being sent "a pieced-together monologue" of Howard Cunningham material from Happy Days: The Musical, the actor was asked to record a video audition for Hitchcock. He did, sent it along with a photo and résumé, and, as Ciemiewicz says, "The next thing I know, I'm hired for Happy Days."
After landing in Rock Island, though, Ciemiewicz may have initially wondered just how long he'd be hired for Happy Days. "I signed the contract, everything's great," he says, "but on the first day of rehearsal I find Denny to introduce myself, and he looks at me and says, 'I thought you'd be fatter.'"
Ciemiewicz laughs. "So I said, 'Well, what if I do this?'" At this point in our conversation, the actor lowers his head slightly, tightens his neck muscles, narrows his eyes, and slaps on a wide yet serene grin - and suddenly, in a flash, he's the spitting image of Howard Cunningham. "And Denny says, 'Okay!'"
"He was channeling Tom Bosley," says Hitchcock. "He was just great."
Describing his Cunningham impression as "one of the easiest things in the world," Ciemiewicz says, "I just tuck in the chin, stick out the gut, and we're good to go. I've always been something of a mimic. Even as a kid, listening to all those cast recordings, that's how I taught myself to sing before taking voice lessons - I mimicked. And in this case, it's Tom Bosley. Who doesn't know Tom Bosley?"
Given his terrific Happy Days performance, and the positive impression he made on Nieman and her cast and crew, Ciemiewicz was asked to return to Circa '21 for that winter's musical Nuncrackers, which was being directed by Jim Hesselman. But others, including Ciemiewicz himself, began to have more long-range plans for his area stay.
"It was in the middle of Happy Days," says Ciemiewicz, "and I was already friends with the Bootleggers, and so I'd start helping them re-cover tables for the evening shifts after the matinées. I'd waited tables in dinner theatres, so this was nothing new to me. So eventually Jan [Schmall] and Brad [Hauskins] started talking to me about whether I wanted to be a Bootlegger. And while I love what I do, and I love working at different places, at the same time, I wanted to have a home."
Consequently, after some consideration and the fulfillment in summer 2011 of a previously signed contract for another theatre company, Ciemiewicz returned in the fall as a Bootlegger, even though, as he says, "I don't think anybody expected me to be here for more than six months to a year."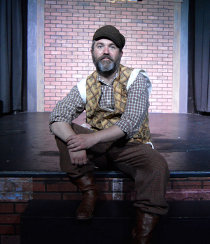 Older Soul
Two-and-a-half years later, Ciemiewicz continues to work at Circa '21, in large part because of the numerous theatrical opportunities he's enjoyed at the venue.
Ciemiewicz sings and dances in the Bootleggers' nightly pre-show entertainments and has written and directed several of them, and is currently the venue's go-to director for its family musicals, having helmed three in the past year: How I Became a Pirate; Click, Clack, Moo: Cows That Type; and this spring's Tales of a Fourth Grade Nothing. He performed in Junie B. in "Jingle Bells, Batman Smells" and the Kander & Ebb revue The World Goes 'Round (again for Hesselman), and both acted in and Bootlegged for Circa '21's Miracle on 34th Street and A Christmas Story: The Musical.
And now he's playing Tevye in Circa '21's 50th-anniversary production of Fiddler on the Roof, even though, at age 37, many might consider Ciemiewicz too green for a role frequently played by significantly older actors.
One of the initial doubters was Hitchcock himself. "When he and I first talked about it - or, I should say, when he first talked about it - I said, 'No, you're too young.' But then I remember that the first time we did the show, in 1977, we couldn't find anybody we really liked for it, and Seth Reines [the show's director] called and said, 'I just saw this guy named Fred Applegate. He's 23 years old.' And I said, 'Seth, we can't have a 23-year-old Tevye.' But he said, 'Trust me,' and we hired him, and he could've been 19 and still pulled it off.
"There are those actors," Hitchcock adds, "those character actors, who can do it despite their age, and Marc is one of those guys. And the more I thought about it, and Jim and I talked about it, the more we realized he was perfect for it."
"He's an older soul," says Hesselman, "and in his audition, he really got the idea of family, because that's what Fiddler is all about. If the audience comes in and they see Tevye and his family and they believe that relationship, then it [Ciemiewicz's age] won't matter. If you come in and see a star performer and you don't believe the family? Then you're in trouble."
"I wasn't expecting it," says Ciemiewicz of being cast as Tevye. "I thought it might happen, because after I auditioned, I was told, 'We're considering you.' But I didn't really expect it. I just thought, 'Well, I can be Mordcha or Bothwell again' - any of those characters men, because I've done the show four times and I know it pretty damned well.
"But then, it was about 15 minutes before [March 25's] staff preview for Always a Bridesmaid, and Denny was going through his list of who'd been cast in Fiddler so far, and he looks at me and goes, 'Oh yeah ... you wanna play Tevye?'"
After a laugh, Ciemiewicz says, "And after the show started, I needed to get up and leave. I just started bawling.
"I've been treated so well here, and I love the people, and have been given so many opportunities since I've been here. I stick around because I like it. And as long as you're working and you're happy? That's what matters." Spoken like a true Tevye.
Fiddler on the Roof will be staged at the Circa '21 Dinner Playhouse (1828 Third Avenue, Rock Island) from Friday, May 23, through Saturday, July 19, with preview performances on Wednesday, May 21, and Thursday, May 22. For more information and tickets, call (309)786-7733 extension 2 or visit Circa21.com.