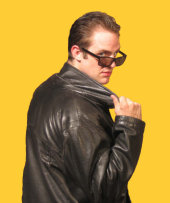 No one in his or her right mind could possibly think that the Elvis Presley pastiche All Shook Up, the new presentation at the Timber Lake Playhouse, is a stronger piece of theatre than West Side Story or You Can't Take It with You, the first two presentations in the venue's 2008 season.
But whatever you do, do not, for the love of Pete, tell this to the performers in Timber Lake's latest, who are attacking this goofy lark with such impassioned zeal that you'd think they were enacting Shakespeare. (And, it turns out, they oftentimes are.)
The show itself, which fashions a wildly complicated musical romance out of nearly two dozen Elvis hits, is a perfectly enjoyable piece of slaphappy silliness. Yet under the invigoratingly imaginative direction of Brad Lyons, the All Shook Up cast is less electric than thermonuclear; in comparison, Timber Lake's collective ensemble may as well have been performing Leonard Bernstein and Kaufman & Hart in straitjackets.
Despite the talents involved, I'll admit to being apprehensive about this particular offering, because not only (blasphemy alert) have I never been a big fan of the King's output, but the first few scenes here - well-played though they were on Thursday night - didn't exactly fill me with hope for All Shook Up as a whole. The show begins with the motorcycle-riding Elvis stand-in, Chad (Brandon Ford), being released from prison (cue the song "Jailhouse Rock"), and continues with the residents of a small Midwestern town bemoaning their romantic woes (cue "Heartbreak Hotel"), and continues with Chad's public explanation for his bad-boy attitude (cue "Roustabout"), and before the production was 15 minutes old, the cutesiness, to say nothing of the obviousness, was already tiresome; add the references to Chad's "burnin' love" and the sight of his blue suede shoes, and we seemed in for a two-act version of a rather lame theme-park revue.
Yet just when you're preparing for the worst - Footloose by way of the Presley catalogue - All Shook Up takes a magnificent detour, as its female lead, Natalie (Samantha Dubina), decides that the only way her tomboy mechanic can win the heart of Chad's hip-swiveling lothario is by disguising herself (and subsequently winning his trust) as an equally cool, motorcycle-riding boy. Soon, Natalie's "Ed" is longing for Chad, who in turn longs for the disinterested museum curator Miss Sandra (Heather Herkelman), who in turn develops the hots for "Ed," and after you throw in farcical subplots involving Natalie's awkwardly pining best friend (Justin Banta), her widowed father (Nathan Grant), a level-headed waitress (Kelli Koloszar), and a pair of young lovers from opposite sides of the tracks (Kaitlin Doughty and Danny Henning), you can forget about Footloose - to the audience's great delight, the show morphs into an unapologetically ridiculous, riotous take on Twelfth Night.
From the start, the musical numbers here are sung with exhilarating brio, and James Beaudry's terrifically clever, '50s-style choreography is danced with glorious enthusiasm. (The early "Let Yourself Go" is an especially memorable show-stopper.) Yet once the romantic complexities of the plotting kick into high gear, the actors are free to emerge as dynamic, go-for-broke comedians whose unbridled sincerity is as sweet as it is hysterical.
None, perhaps, is more subversively funny than Ford's Chad, whose tortured crush on "Ed" leads to a character turn that Shakespeare himself never envisioned. (Chad's comedic anguish is so forceful that, in a priceless aside, it briefly breaks the show's fourth wall.) But Dubina is spectacularly quick-witted and inventive, with Natalie's desperate hunger exploding through the actress' fantastically timed and delivered readings and gorgeous vocals; it's the performance that Dubina's fans (and I've been one for two summers running) have been waiting for. And Herkelman, whose jaw-dropping work in last July's Anything Goes for the Quad City Music Guild remains one of my favorite theatre-going memories of the past several years, is absolutely stunning. A brilliant physical comedienne - I loved watching her, on heels, attempting to navigate Joseph C. Heitman's carnival set - Herkelman is simultaneously subtle and unabashed as Miss Sandra: a knockout combination.
With marvelous accompaniment provided by Seth Ward Pyatt's backstage orchestra, All Shook Up is, after its shaky opening, two hours of nearly undiluted pleasure, from Banta's endearing cloddishness to Koloszar's touching underplaying to Doughty's happily empty-headed honesty. ("Do you ever lie to your mother?" asks Henning's Army-brat innocent, to which Doughty's unconflicted ingénue replies, "Every day.") And I haven't even gotten around to discussing the many, many moments of inspired madness inherent in Lyons' staging, mostly because, like the production itself, its joys lie in its surprises. Be on the lookout, though, for the splendid group reaction when Kitty Karn's shrewish mayor chides the townsfolk for their hell-bent ways, and for the city bus that magically bursts with romantic ardor, and, in a wonderfully bizarre curlicue, for the male ensemble donning old-lady attire to protest Chad's trouble-making "Devil in Disguise." Along with Natalie's gender-swapping act, it's All Shook Up's only drag.
For tickets, call (815) 244-2035.