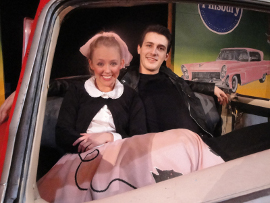 I adore the movie version of Grease, and think it's one of the few musicals in which the film is an improvement on the original stage version. The theatrical musical is less cohesive in terms of the timelime's flow, forcing the audience to fill in the gaps between scenes, and I kind of hate that about it - unless a stage production transcends the script's weakness, in which case, like the movie, I love it. However, while I did not hate Friday's performance of Grease at the Circa '21 Dinner Playhouse, I didn't exactly love it, either.
Director/choreographer Ann Neiman's production, with its notably amusing dance numbers, isn't bad. But the show is an unsurprising and, to a certain degree, schizophrenic one. It's hard to find anyone, I imagine, who isn't familiar with the story of the Rydell High School class of 1959, with its focus on the relationship of Sandy Dumbrowski and Danny Zuko set against a backdrop of greasers versus goody-goodies. Neiman's cast, unfortunately, offers a mixture of sincerity and caricature in this telling of the tale, and while either choice would work individually, together they weaken the overall feel of the piece.
Because of Grease's nostalgic elements, it can be appropriate for them to be played up, with the characters turned into enjoyable one-note stereotypes. And among Neiman's cast, Tristan Layne Tapscott brings Eugene to life as the expected, nasally dork we all love; Liz J. Millea's Patty Simcox is an always-smiling goody-two-shoes; Kelly Anna Lohrenz shades her Cha Cha DiGregorio with unforgettable naughty fun (showcasing especially smart choices when flirting with Eugene in the background), and I don't think Andrea Moore's Miss Lynch could be any more prudishly authoritarian. (While Moore is good in the role, her most clever moment came with her in-character announcement of the reception following Friday's opening-night performance, which, unfortunately, will not be repeated during the rest of the show's run.)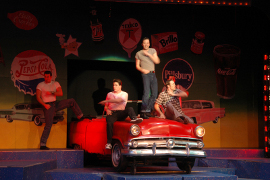 Yet while some of the actors play their characters' defining traits to great effect, others attempt more realistic approaches, which sometimes works, but creates a constant contrast that proves problematic. Lisa Carter's Sandy, for instance, exudes a believable sweetness in her innocent infatuation with Danny. It's beautiful work, but would work better if the goals of Neiman's production were to turn the greasers into realistic characters, and deliver a nuanced, multi-layered exploration of love in the midst of social differences. Those don't seem to be intended efforts in Neiman's show, though, so we're left with a mix of silly and serious that doesn't always blend well.
And while Carter mostly benefits from her sincerity, David Bryant Johnson's Danny suffers from a lack of it. The actor delivers all the right moves, tics, and vocal inflections, but they don't seem motivated beyond "this is the way I'm supposed to do this." There isn't a sense of spontaneity to his Danny; it's as if he's inserting his lines where appropriate instead of offering genuine reactions to his cues. Johnson is quite impressive during his solo number "Alone at the Drive-in Movie," but that's likely because he's alone, and we aren't witnessing practiced responses to his castmates. (On January 22, Johnson was replaced by actor Aaron Alan.)
Still, there are some excellent moments in Circa '21's production, including a pleasing sense of sorority among the actresses playing the Pink Ladies and, though to a lesser degree, a fine camaraderie evident among the Burger Palace Boys (the stage version's name for the movie's T-Birds). Andy Pollock and Jennifer Ambler shine in their performance of "Mooning"; with humor courtesy of the song's double-entendres, the sweet romance of the loving lyrics comes through clearly in the chemistry between the two. Pollock also shares some beautiful harmonies with Matthew Wiggin's Doody on "Rock 'N' Roll Party Queen," which - just for the chance to see more of these actors' impressive work - had me wishing the two characters had bigger presences in the show.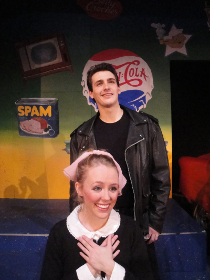 For some of the other numbers, though, a faster tempo on the score's tracks would've added energy to the performances. Most notably, Elizabeth Flemming would've benefited from a faster-paced, punchier "Look at Me, I'm Sandra Dee," as her Rizzo seems held back by the slow speed of the teasingly mean-spirited song. Flemming would also benefit from adding at least one more layer to her character, perhaps a tortured resentment behind her tough exterior; as is, Rizzo is just a rebellious teen popping off derogatory quips, making it more difficult to feel for her when she's struggling with a possible pregnancy and exposing her internal pain in "There Are Worse Things I Could Do."
While Circa '21's Grease doesn't exceed expectations, it is, at least, a reasonable replay of the much-loved musical, particularly for the memorable songs. Perhaps with a few more performances under its belt, the cast will come into its own, making for a stronger show.
For tickets and information, call (309)786-7733 extension 2 or visit Circa21.com.