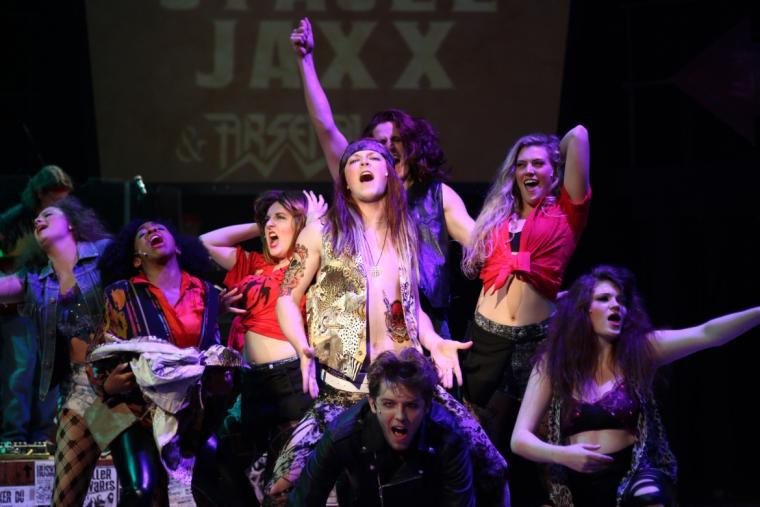 In an appropriate touch for the raucous stage party that is Rock of Ages, its opening-night performance came with cake – a large sheet cake celebrating Artistic Director Jim Beaudry's 100th production at the Timber Lake Playhouse. It was presented, to his surprise, at the tail end of Beaudry's pre-show announcements, and the touching tribute by Executive Director Dan Danielowski elicited for its recipient a deserved standing ovation. But there was an added fillip of comedy when Beaudry revealed, to much laughter, that the cake's photo decoration of him performing in West Side Story was actually from a West Side Story Beaudry did in New York, not Mt. Carroll, making the evening's prelude funny, thrilling, endearing, and just a little bit awkward – not unlike June 30's Rock of Ages itself.
As with any jukebox musical, you'll know if the show is for you based on your fondness for the artists being saluted. Here, it's rock icons such as Bon Jovi, Twisted Sister, Joan Jett, and Poison, and book writer Chris D'Arienzo's Broadway hit clearly wasn't for the stone-silent seniors who sat in front of me and left at intermission. (You're advised to maybe skip this one if you ever heard those artists' songs coming from your teens' bedrooms and yelled at them to turn that crap down, for God's sake.) Proud Gen-X-er that I am, though, Rock of Ages falls right in my wheelhouse, and the musical's nostalgic kick is all the kickier for the way its arena-rock anthems and power ballads now sound so innocent, suggesting that all "rebellious" music, given time and distance, can be affectionately turned into kitsch.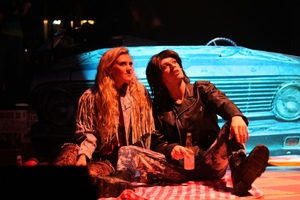 And Rock of Ages is kitschy – profoundly, unapologetically so. From the moment Chandler Smith's amped-up, mullet-haired narrator Lonny first introduces us to our L.A.-in-the-mid-'80s milieu (and Arnel V. Sancianco's lovingly detailed scuzzy-nightclub set), it's evident that the show is going to have a blast busting the fourth wall. It consequently does with regularity during its numerous Muppet-movie plotlines: naïve Kansas gal Sherrie (Annalise Griswold) hoping to jump-start her acting career; sensitive bar-back Drew (Christian Chambers) pining for singer/songwriter success; persnickety father-and-son team Hertz and Franz Klinemann (Ken Singleton and Luke Stewart) purchasing and renovating, apparently, the entire Sunset Strip. None of these narratives, however, means a thing; even Lonny admits that the show is little more than "poop jokes and Whitesnake songs." What makes it all such delirious fun are the period tunes and how they're employed, whether it's a city planner (the dynamic Olivia Kaufmann) protesting the Germanic buy-out with Starship's "We Built This City" or the restroom sex accompanied by Foreigner's "I Want to Know What Love Is." One Rock of Ages number after another engenders both cackles and cheers, and conceivably could have even if director Brigitte Ditmars' participants weren't having what is quite obviously the time of their lives.
Opening night wasn't without hiccups. There were actors who occasionally didn't find their light and lights that occasionally didn't find their actors, plus a handful of dance slip-ups. (One caused Kaufmann to be accidentally knocked to the ground, but, as she was kneeling at the time, she didn't fall far.) Most troubling was the sound mix, which caused quite a few group numbers to be unintelligible regardless of your familiarity with the lyrics. While conductor/keyboardist Cindy Blanc and her fellow on-stage musicians played splendidly, with every song a perfect tempo and volume, the band and the cast's body-mic amplification made for a frequently muddy blend whenever more than a half-dozen people sang together, as well as when characters spoke underneath the music. (From my seat, it wasn't uncommon to see patrons turn to each other with looks of "What did they say?")
But none of those were problems that couldn't eventually be fixed, and perhaps have been fixed, and 30 seconds rarely passed without a performer giving you reason to grin. Boasting an exceptionally intimidating, crystal-clear rock tenor, Chambers knocked numbers such as "Waiting for a Girl Like You" and "Oh Sherrie" right out of the park, and Kieran McCabe, as hair-metal god Stacee Jaxx, not only tore Bon Jovi's "Wanted Dead or Alive" a new one, but delivered part of it while climbing up the stage-right dance pole that castmates generally used for sliding down. Shayla Brielle G., who has been absolutely killing it this season, provides sultry vocals as Sherrie's gentleman's-club proprietor, while Sherrie herself – who's like Grease's Sandy if she were slutty from the start – is enacted by Griswold with ace comedy skill and a heart-rending solo on Extreme's "More Than Words."
The ebulliently fearless Smith was a consistent, coke-fueled delight, and shared with Alec Irion's bar owner Dennis Dupree a devastatingly hilarious, almost embarrassingly moving REO Speedwagon duet on "Can't Fight This Feeling." Singleton's cheerful Teutonic stereotype gained in depth (or as much depth as this show allows) with a fantastically well-sung "Keep on Lovin' You." And with choreographer Jon Martinez's routines ever-energetic, and Ditmars' staging particularly brilliant in the "High Enough" number that re-imagines Sherrie's and Drew's romance as an '80s-movie montage, the dance moves and direction in Stewart's confrontational show-stopper are only topped by Stewart himself, who kicks ass and takes names in an explosive rendition of Pat Benatar's "Hit Me with Your Best Shot." For three scorchingly enjoyable minutes in Rock of Ages, Stewart – sporting the grandest wardrobe treat in costumer Grayson Cusimano's considerable arsenal – hits you with his. And when he does, despite our not hearing any John Cougar Mellencamp in Timber Lake's irresistible production, trust me: It hurts so good.
Rock of Ages runs at the Timber Lake Playhouse (8215 Black Oak Road, Mt. Carroll) through July 10, and more information and tickets are available by calling (815)244-2035 or visiting TimberLakePlayhouse.org.