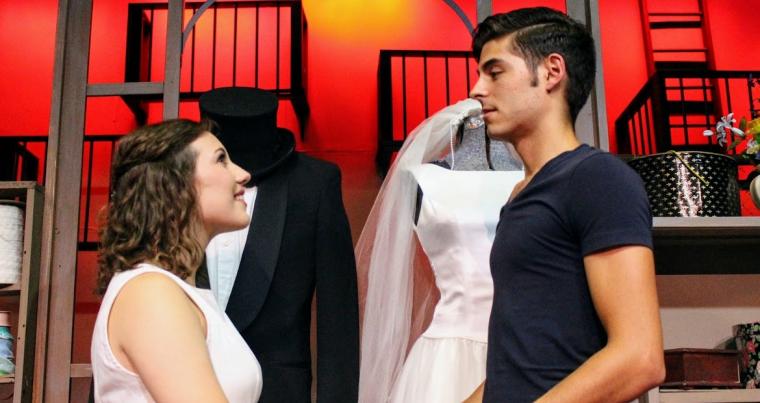 Everybody wants to see that hot, innovative musical. You know the one. It's cool and diverse, sexy, sacred to its fans, and combines hip music and lyrics with some phenomenal choreography. The one in which a man and woman fall into a forbidden love that takes place amidst a bloody war between rival armies with a deadly duel as part of its climax. C'mon, you know the show I'm taking about, right?
No, not Hamilton. Sheesh.
I was referring to West Side Story. And to find out if this tale of sweet love set against street violence and bigotry continues to have a long shelf life, all you have to do is check out Quad City Music Guild's latest production.
West Side Story takes William Shakespeare's tragic Romeo & Juliet and places it in the mid-20th-Century neighborhood streets of New York City. Much like Hamilton, WSS was a landmark musical when it first opened on Broadway nearly 60 years ago. With its book by Arthur Laurents, music by Leonard Bernstein, and lyrics by Stephen Sondheim, this classic combines jazz, Latin, and operatic vocals with neoclassical ballet to create one of the most revered musicals in American-theatre history, and the Guild's latest adaption does not disappoint.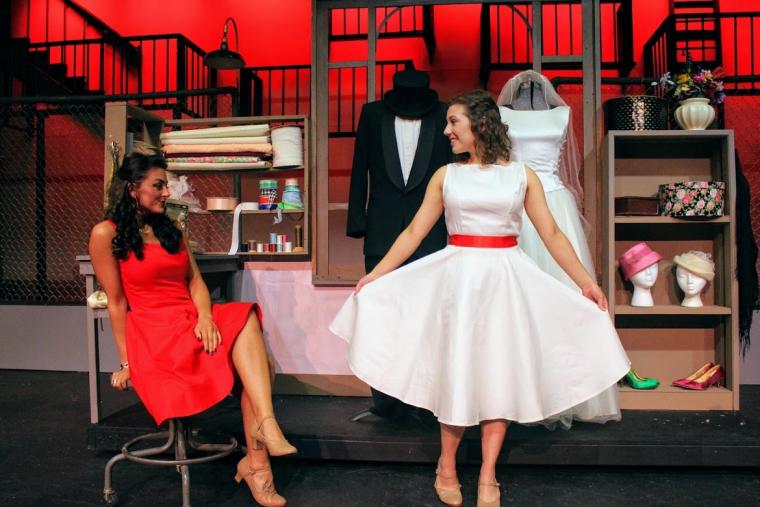 For those not familiar with the show, WSS's young sweethearts are represented through the love-at-first-sight attraction between Tony and Maria. This reboot switches out the houses of Shakespeare's Capulets and Montagues and utilizes the angst and hormone-fueled hate between two warring street gangs – the Jets and the Sharks – as a catalyst for the lovers to transcend.
At Thursday night's preview performance, Callen Brown's Maria appeared almost too naïve and awkward early on. However, this made for a nice juxtaposition as the character blossoms into a mature young woman whose heart is opened to true love. Brown's vocals are pure and flawless, and she truly shines on the iconic song "One Hand, One Heart." John Whitson's Tony, meanwhile. is a perfect match for Brown vocally and physically, and his balcony scene is full of hopeful energy that had me rooting for him, for them, and for an alternate ending.
Michael Alexander's combative take on the leader of the Sharks, Bernardo, is strong, dark and passionate; not since "Batfleck" has an actor brooded so effectively. And as the Jets' leader Riff, it's good to see Andy Sederquist, so skilled in comedic roles, expand his acting chops creating a character that is "coolly cool" yet intense, and in command.
Director Bob Williams has created a strained yet optimistic world here. He also pulls double duty as scenic designer, visualizing the neighborhood by utilizing a rather simple, stylized veneer of balconies and fire-escape stairways silhouetted against a stark white wall, which provides a blank pallet for the dynamic, multi-hued lighting design by Alex and Zachary Chaplain.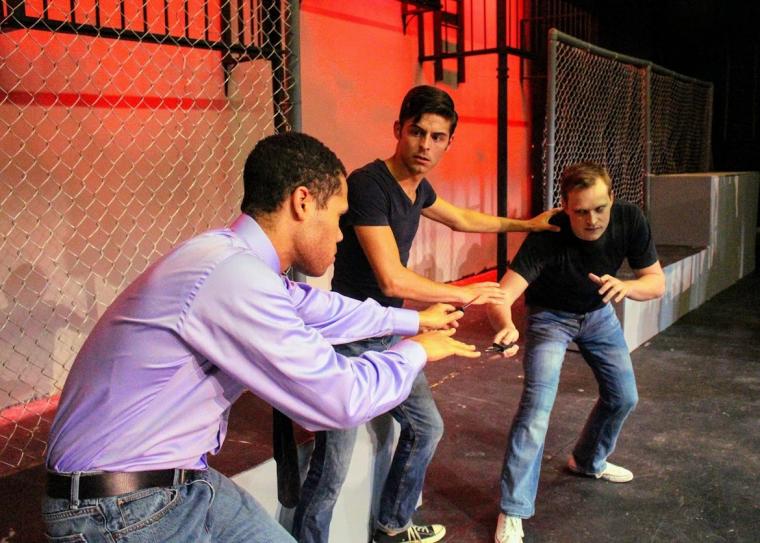 WSS must have strong dance sequences to be successful; in other words, bad dance, bad show. But once again, Williams and his team deliver, due in large part to choreographer Stephanie DeLaey, making her Music Guild debut. DeLaey does an excellent job with all of the anticipated styles from modern to jazz to ballet, and proves most effective at choreographing to the level of dance talent in the cast, making nearly everyone look accomplished and smooth. (Plus, she and her cast nail all the finger snaps at just the right moments.)
There were many other notable performances, solos, and characters, but three supporting actors really stand out. Jake Walker's definitive take on Lieutenant Shrank is locked, fully loaded, and barely restrained every time he steps into the lights. Heather Herkelman is an absolute joy as Bernardo's flame Anita – sultry, sexy, and sizzling in her movements, vocals, and dialect. And as the Jets' henchman Action, Daniel Williams plays the part with such manic enthusiasm it's as if he forgot to take his daily dose of Ritalin, positively exploding (along with the other Jets) in the vaudevillian song "Gee, Officer Krupke."
West Side Story, a milestone production that broke ground for the musicals of today, continues to play very well in the age of Hamilton, and if you've never seen it, this is your chance to witness a high-energy, emotional presentation that's just as relevant now as it was 60 years ago. Reserve your tickets – "Tonight"!
West Side Story runs at the Prospect Park Auditorium (1584 34th Avenue, Moline) through July 16, and more information and tickets are available by calling (309)762-6610 or visiting QCMusicGuild.com.