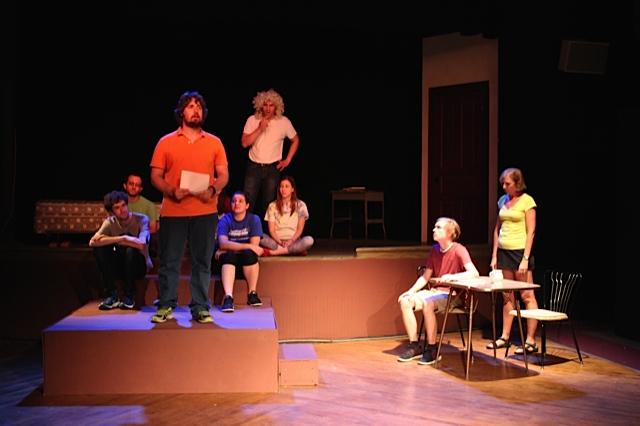 Whenever I see a box marked with an arrow and the phrase "This Side Up," the words strike me as almost poetic in their simple and straightforward instruction. If only life came with such clear signage! It would sure make living easy. But if that box was heavy and turned topsy-turvy with seemingly no way to right it … . What then?
This is the allegory pursued in New Ground Theatre's latest production aptly titled This Side Up, whose world premiere I attended on August 26. University of Iowa graduate Kit Grassi, who wrote the work, told our opening-night audience that he drew inspiration from his own experiences and those of some friends but then "blew them up 200 percent," and that having previously written short stories, this is was first produced play.
Under Chris Jansen's adroit direction, This Side Up explores the mind of the soon-to-be-13-year-old Jack, and Grassi's script and the actors adeptly visualize the forces inside the head of this creative, imaginative, and troubled boy. Austin Winters, who is a college student, is totally believable as our pre-teen hero, at times humorous and silly, and at other times scared, confused, and angry. Jack's outlet is writing adventure stories, and although the bullied kid has no friends, he fills that void with not one but six imaginary ones, all of whom the audience can see and hear. Five of them are playfully portrayed by Craig Cohoon, Mary Dammad, Donna Diggs, Beau Gusaas, and Josh Wielenga, who suggest a Greek chorus in Jack's head – sometimes comforting, sometimes baffling, but mostly amusing.
Jack's sixth and best friend, Brutus, is played brilliantly by Jordan Smith as a smart-alecky, adventurous, adult-hating, gleam-in-his-eye pal. In contrast to Winter, whose character is shy and introverted, Smith demonstrates intense energy as the alpha-male Brutus, a quality showcased at its finest when he emotionally debates Jack in Shakespearean prose.
Our angst-ridden tween's mother seeks psychological help for her son, and Mischa Hooker, as Jack's therapist, delivers his lines in a calm, steady, non-confrontational tone, perfectly befitting the character. Meanwhile, Alexa Florence, as Jack's mother, is a natural. (The performer does have two sons of her own.) Working several jobs, Mom struggles to make ends meet, and although she cares for Jack, she is unsure how to help him. But thinking that a new neighbor's daughter, Sydney, may befriend her son, Mom decides to invite the girl over. Jack's imaginary friends immediately dislike her. Sydney, however, is no shrinking violet.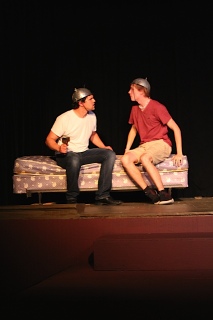 One of the more powerful scenes in the play occurs when Sydney comes for a second visit, and Jack proposes that they play house. Jo Vasquez, an Augustana College graduate, is wonderful as Sydney, and in this sequence, she and Winters skillfully stay in childlike character while the kids simultaneously mimic their unstable parents. Taking a page from Edward Albee's Who's Afraid of Virginia Woolf?, the house-playing builds in tension as the youths' anger escalates and the "pretending" reveals some ugly truths.
With This Side Up's sparse playing area composed of a small dinette set, a few chairs, a bed, and a small desk, designers Jansen, Cohoon, and Smith put the focus on the actors and the usually spirited action (although the bed is cleverly employed for one of the play's funnier moments). As the actors wear their own street clothes, there's no costume designer listed in the program, but props designer Anne Petrie deserves credit for her creative use of cardboard.
I must clarify that This Side Up is not a simple play. It blends humor and pathos to tell a tale about trauma – about how life sometimes makes us feel like we're in a box that has been turned on its side, and it's up to us to right it. Yet it's also a play with relatable figures, well-written and well-acted. On opening night, Grassi stated that his characters "say things I'm afraid to say myself." How lucky for us that he had the courage to write them down and share them.
This Side Up runs at the Village Theatre (2113 East 11th Street, Davenport) through September 4, and more information and tickets are available by calling (563)326-7529 or visiting New Ground Theatre's Facebook page.