There were moments during Friday's performance of Annie Get Your Gun at the Clinton Area Showboat Theatre in which I forgot that I was watching a performance. That is to say, the audience around me disappeared as I became lost in the production, and particularly captivated by Heather Baisley's Annie Oakley. This, for me, was a true escapist experience: I was absolutely taken in by Baisley's fantastic portrayal.
For frame of reference, Baisley's sincere, charming, moxie-filled Annie is more like Reba McEntire's take on the gun-toting, tell-it-like-it-is figure than Ethel Merman's larger-than-life turn. Baisley's performance seems effortless - genuine and overflowing with engaging charisma. On Friday, when the performer first opened her mouth to sing, and a voice with the velvety richness of Judy Garland's and the tone of Adele's emanated from her lips, I was already smitten. (By coincidence, I'd purchased a vinyl record of the Broadway production's original-cast recording earlier in the day but don't want to listen to it yet, to avoid mentally overriding Baisley's Annie.)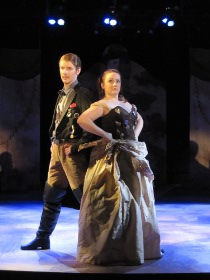 Nathan McHenry's vocals, however, are similarly memorable in his portrayal of Annie's love interest and shooting-showmanship rival Frank Butler. McHenry's baritone voice, both when he speaks and when he sings, carries with it his character's gravitas and bravado. While the two blend remarkably well on composer/lyricist Irving Berlin's ballads, such as "They Say It's Wonderful" and "The Girl That I Marry" - performing with a beautiful chemistry that elicits support for their inevitable connection - they bring down the house with their rousing, high-spirited performance of "Anything You Can Do."
Director Wm. Perry Morgan stages Annie's and Frank's story as a show-within-a-show, placing the cast members on seats along the sides of the stage, in full view, as they wait to enter a scene and deliver their lines. The presentation is fitting, given that the backdrop of this couple's love story is the traveling Buffalo Bill's Wild West Show in which Frank is the star, and, therefore, the means by which he and Annie meet, as she steps up to Frank's challenge of a shooting contest. And with autumnal colors emphasized in both Adam Spencer's scenic design (which is filled with large, period posters advertising the Wild West show) and Jenna Damberger's late-19th-Century, rural-Midwestern costumes, Morgan's staging of the story - with playwrights' Herbert and Dorothy Fields' original book revised by Peter Stone - unfolds with a gentle but energetic pacing that's never too slow.
That energy partly comes from some enjoyable performances from the cast, including Jenna Haimes as Frank's assistant Dolly Tate. With her Southern drawl and slow, careful enunciation making it clear she's putting on airs, particularly condescending ones, her Dolly is a bitchy caricature that's fun to hate, while Laurel Decker's Charlie Davenport is easy to like for her self-confidence, sly attitude, and bright smile. As Buffalo Bill Cody, Jalen Lee sometimes falters in matching Decker's showmanship, but he makes up for any shortcomings when he sings. And while Carly Ann Berg's Winnie and Daxx Jayroe Wieser's Tommy are fairly one-note as happy-go-lucky lovebirds, they're paired perfectly, as exemplified by their sweet, romantic delivery of "Who Do You Love, I Hope?"
Also well worth mentioning is designer Cassie Mings, whose lighting effects feature frequent shifts in color and position, but in ways that aren't overly flashy. Her talent is best represented during the "They Say It's Wonderful" scene in which, thanks to Mings' mid-stage lighting of Baisley and McHenry, a set change takes place downstage of Annie and Frank without attention being called to it, as the people changing the set - as well as the set pieces themselves - are seen only in silhouette.
In my opinion, the Clinton Area Showboat Theatre's presentation of Annie Get Your Gun is near-perfection and a must-see production. Baisley's performance, meanwhile, is one that will stay with me for a long while, and will likely be the benchmark by which I measure the next actor I see take on her iconic character.
Annie Get Your Gun runs at the Clinton Area Showboat Theatre (311 Riverview Drive, Clinton) through June 29, and more information and tickets are available by calling (563)242-6760 or visiting ClintonShowboat.org.