I make a conscious effort to suppress expectations prior to seeing a production, for fear they'll rise to the unattainable. With Genesius Guild's Ajax, however, I couldn't help it. I was so taken with last year's Andromache, performed in traditional period masks, that I was giddy with anticipation to see this summer's Greek-tragedy offering. And despite a few apparent stumbles over lines and one glaringly missed cue, director Don Wooten's effort did not disappoint. Saturday night's performance of Sophocles' piece captivated me with its creative execution.
Enraged that the defeated Achilles' armor was awarded to Odysseus and not to him, the drama finds the warrior Ajax vowing to kill those who made the error of honor. Athena, however, intervenes, causing Ajax to believe a flock of sheep (which he consequently slays) are his enemies, and upon waking from his ethereal stupor, an embarrassed Ajax - believing himself mocked - spends much of the play considering suicide.
Bob Hanske, so proud as Ajax, shows great skill in verbally shaping his character. Without the benefit of facial expressions, Hanske's intent, feelings, and emotions are clear through the sometimes angry, often anguished inflections in his voice. The actor, whose portrayal of Bottom was the highlight of last summer's A Midsummer Night's Dream, maintains an undertone of pride throughout his performance. Even as he speaks of his humiliation and suicidal plans, it comes from a place of self-regard - he's ever the deserving hero, to the bitter end.
As a big fan of Patti Flaherty's comedic turns (and having been equally impressed by her intense yet humorous work as Violet in New Ground Theatre's August: Osage County last fall), I was delighted to see her shape a character wholly different from any I've seen from her before. While her Tecmessa (Ajax's wife) is humorless, she's absorbing even without Flaherty's great skills for comicality. Flaherty layers her character's sadness with distress and yearning; begging her husband not to leave her a widow and his son fatherless, Flaherty repeats the line "Have pity" first with defeated sadness, and then again as an anguished plea.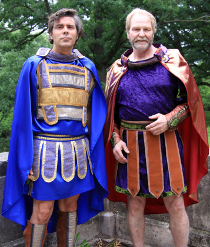 Among other cast members, Mischa Hooker's almost melodic vocal delivery, with its lilting flow, is most pleasing as he speaks Odysseus' dialogue. However, it seems the pleasantness of his voice, at times, also masks a lack of distinct interpretation on some of his lines. Heather Nobiling shapes her Athena with regal, superior intonation. There's a pleasing hint of friendly familiarity in Kevin Goveia's Messenger, with realistic, rather than exaggerated, inflections in his voice. Similarly, Andy Curtiss adds a warm nobility to his Teucer, making clear his character's higher position, but also giving him an approachable nature. Bryan Woods seems made for masked performances, with his ability to project to the highest balcony, grand line deliveries, and appropriately overstated articulation. And Dan Fennesy's stance and speech make his Agamemnon's forceful strength quite clear.
Though I couldn't tell which chorus member it was, one actress deserved a special accolade on opening night for covering a painfully pregnant pause that seemed to last for several minutes (though it was probably little more than one, if that), causing the show's pacing to stumble for a few moments while actors recovered from the gaffe. Saturday's mistakes aside, though, there's much to applaud in Wooten's work, from the atypical way the chorus enters as individuals when returning from an exit (the exit also being atypical in Greek tragedy), to the means by which Wooten stages an unusual act of on-stage violence. Ellen Dixon's costumes are also, as always, impressive in their construction, and even more so in their bright colors and mixture of tones. Tecmessa's purple gown with glittering green sash is a particularly stunning mix of color, and Dixon's design for the blood dripping from Ajax is quite clever.
And Bill Hannan's wheeled platform (known in Greek drama as the ekkyklemia) is an exceptional surprise for the way it moves smoothly into position, aesthetically decked out with slaughtered sheepskins and Ajax upon his chair. Together with Ajax's actors, the show's design makes for an experience that's not only unique in the area, but also to Genesius Guild's long line of Greek tragedies.
For information, visit Genesius.org.