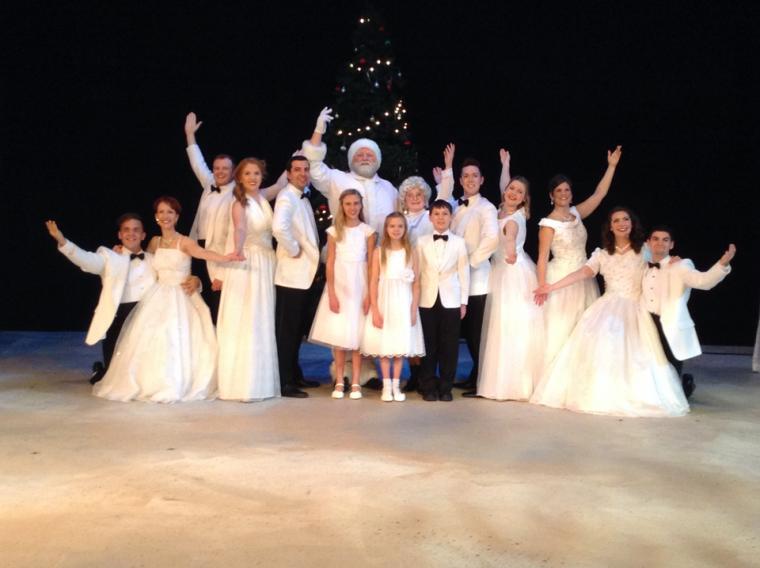 Everyone loves "holiday fluff," right? You know – that oddly concocted mixture that your crazy aunt brings for the holidays each year combining Cool Whip, pistachio pudding, marshmallows, crushed pineapple, and walnuts (or not), with cherries on top? Admit it. It's the perfect little taste of sweetness on a plate otherwise full of more savory dishes.
The Circa '21 Dinner Playhouse is now serving its own version of holiday fluff. No, not on the buffet menu, but rather in the form of its musical Holly Jolly Christmas, which isn't really a musical so much as a musical revue. There's no real story or character development. You won't see the duality of man in an Ebenezer Scrooge figure or an "If only I would have …" scenario played out by a George Bailey type. In fact, you won't see anything remotely resembling a plot. What you will find is a Branson-style revue that utilizes the talents of an extremely gifted cast in spite of Ty Stover's exceptionally weak script.
In structure, Holly Jolly Christmas is like a 1970s TV-variety program. It begins with a big production number and beautiful costumes that portend a classic Broadway musical, but then makes a sharp turn when Santa and Mrs. Claus enter and begin their groan-worthy comedic banter á la The Sonny & Cher Show. The holiday-themed, pun-based jokes are real stinkers, and admittedly so; early on, Santa says to the audience, "You might as well laugh, folks – they don't get any better."
Playing Santa and the missus are James Fairchild and Bonner Church, and the latter, in her silver-white wig and spectacles, is the epitome of the spouse of Father Christmas. Church displays fine comedic chops, a sweetly engaging demeanor, and a beautiful singing voice – she's the yin to Santa's yang. And Fairchild makes his Kris Kringle a unique characterization. Sure, he is a big, bearded guy who can "Ho ho ho!" with the best of them. But I particularly enjoyed Fairchild's tongue-in-cheek approach to the role; don't step out to the restroom early in Act II, or you'll miss the Elvis-meets-Santa love child he creates for Santa's "Blue Christmas" number.
There are over 30 songs in this Christmas extravaganza. But while you will hear many favorites, there are a few unexpected tunes that stand out, including "Pure Imagination" (especially considering the recent passing of Gene Wilder), "Christmas in My Hometown" (poignantly sung by Circa '21 favorite Tristan Tapscott), and a song treasured by kids – "Believe," from the The Polar Express. I also very much appreciated Holly Jolly Christmas' presentation of "The Little Drummer Boy," as the cast sang the traditional verses while Fairchild, Tapscott, and Zach Snyder sang an alternate verse made popular by David Bowie in his duet with Bing Crosby.
A few scenes here, however, just didn't work for me, as when a creepy (and hairy) Pinocchio came down the chimney to dance with a wind-up doll. Nothing against the actors in this scene, but for a few moments it was almost as if we were watching a Tim Burton movie, and I began to wonder if Jack Skellington might make his way down the chimney, as well.
Holly Jolly Christmas is directed and choreographed by Ann Nieman, and her work does not disappoint, especially on the dance side of the equation. I lost count of the show's number of choreographed sequences, but the tally was impressive, and the dancers appeared to effortlessly enjoy the different genres they took on, from tap to ballet to boogie-woogie, with even the hula thrown in.
Bravo, too, to the ever-talented Gregory Hiatt, whose costumes were terrific for each scene, especially the numbers in which Santa and Mrs. Claus made a tour of Christmases around the world. As designed by Susan Holgersson, Holly Jolly's scenery is simple yet effective, although I found the manger set to be clunky-looking and, on Saturday, almost incomplete in its paint scheme and dressing.
I enjoy holiday fluff. I really do. It's light, airy, sweet, and creamy, with just enough cherries to make the dish interesting. It's a tradition at our house, and maybe at yours as well. And Circa '21's version of it is the same – light and airy, sweet and sour, and with the perfect amount of cherries on top. Holly Jolly Christmas may just be fluff, but it, too, is just enough to make the holidays glow with a warm reminiscence of another era.
Holly Jolly Christmas runs at the Circa '21 Dinner Playhoue (1828 Third Avenue, Rock Island) through December 29, and more information and tickets are available by calling (309)786-7733 extension 2 or visiting Circa21.com.