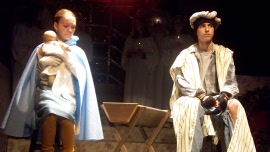 The Best Christmas Pageant Ever, the one-act play Barbara Robinson adapted from her beloved book, is set primarily in a church that stages a grade-school re-telling of the Nativity story - the exact same pageant, we're told, that the church puts on year after year after year. And after attending Friday night's hilarious, intensely charming production of Robinson's show, I, for one, would be totally on board with the Clinton Area Showboat Theatre opting to stage The Best Christmas Pageant Ever year after year after year, at least if director Jalayne Riewerts wouldn't mind making it an annual commitment.
In recent years, Riewerts has helmed outstanding takes on such disparate offerings as Tennessee Williams' Cat on a Hot Tin Roof and Neil Simon's Biloxi Blues (the latter also for the Showboat). But having now seen two Riewerts-directed versions of Robinson's holiday piece - the Richmond Hill Barn Theatre produced her Pageant in 2007 - I almost don't want to see any other director's rendition; Riewerts appears to get absolutely everything possible out of this (already first-rate) material, and choreographs the youthful activity with dazzling assuredness and invention. There may not be traditional "special effects" on display here, but the director's handling of the show's many child performers is most certainly special - I'm guessing that the dropping of a chandelier or helicopter from the ceiling might pale in comparison to the task of eliciting fresh, funny, and truthful portrayals from nearly two dozen mostly untrained youths.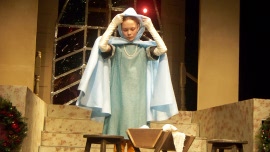 What Riewerts understands - which is what Robinson understands - is that kids can be just as complex, specific, and eccentric as any adult you'll meet, and one of the great joys of this Best Christmas Pageant is that its child characters don't feel at all interchangeable. From Beth (Sydney Schrieber), the show's composed, dryly sardonic narrator, to Charlie (Jacob Thies), Beth's constantly kvetching little brother, to Alice (Skyler Pennock), the know-it-all priss with the unwavering sense of entitlement, the youths here emerge as true individuals; delivering wonderfully naturalistic readings and reactions, even the production's most minor figures boast personalities that feel solely theirs. (Riewerts appears to use the kids' own personalities in fantastically advantageous ways, as when she lets the production's two shiest performers earn big, encouraging laughs for overcoming their shyness.)
Yet while the kids' collective stage honesty is refreshing and endearing, the spirited play-acting of those portraying the Herdmans - those memorable brats and vandals whose participation threatens to upend the annual pageant - is no less enjoyable. Dressed in costumer Kate Ottens' spectacularly ragtag ensembles, Noah Strausser, Sarah Stephan (a terrifically spiteful Imogene), Jacob Smith, Aedan Marlowe, Andrew Thies (throwing a mean sucker-punch), and the fearless spitfire Allison Regenwether are feisty and joyously energetic; the Herdmans' bullying of the other kids, and of one another, is performed with wholly believable comic fervor. The show's church-going student characters may detest their presences - early on, Charlie sings a hysterical little ditty about church being the one place where he can hide from the Herdmans - but no reasonable audience could possibly want less of them. (In one of the production's funniest encounters, Imogene asks what the church's pageant is about, and when told that it's about Jesus, the girl rolls her eyes and says, "Everything there is.")
It's hard to imagine Riewerts casting The Best Christmas Pageant better than she has, and not just in regard to the children - Karen Stephan, as the newly recruited pageant director, is so radiantly unforced that I left the production wondering why I hadn't seen this gifted actress on the Showboat stage before. Her centered, loving, and understandably harried Mrs. Bradley is marvelously real, yet Stephan also proves herself a topnotch comedienne - her timing when forcefully plopping the baby Jesus (doll) in his manger elicits a huge, only somewhat-guilty cackle - and she receives excellent support from Sandee Cunningham (a hoot as the pageant's loquacious former ringleader), Michelle Eissens, and Laura Renault. Even Cole Rauch, in the wordless role of Cunningham's hospital attendant, scores laughs for his quick spinning of his charge's wheelchair, as if centrifugal force might finally shut the woman up; this late-fall outing from Clinton's summer-stock venue seems populated entirely by performers who clearly adore being there.
Given the show's excess of wit and playfulness, who wouldn't? In just over an hour, it delivers comic highs that you're lucky to find in productions lasting twice that long: the thoroughly amusing, surprisingly pretty bell-choir rendition of "Joy to the World"; the terror in Strausser's expression as his toughie experiences a first brush with stage-fright; the kids, as kids do, going for decibel-busting loudness on their "Angels We Have Heard on High" chorus. ("GLO-O-O-O-O-O-RIA!!!") And when Imogene finally comprehends the import of playing the pageant's Mary, don't be surprised if your nearly constant laughter gets interrupted by a tear or two; from start to finish, The Best Christmas Pageant Ever is merry, moving, magical fun.
For tickets and information, call (563)242-6760 or visit ClintonShowboat.org.