I've not seen the Jimmy Stewart take on playwright Mary Chase's Harvey, so I cannot attest whether the movie's fans will appreciate the Playcrafters Barn Theatre's production. However, in the absence of any comparison, I can say that I liked this presentation and now want to see the film - though it'll have to successfully stand up against director James Fairchild's version, rather than the other way around.
Mike Kelly's eternally happy-go-lucky approach to the main character Elwood, the man who sees and interacts with a six-foot white rabbit, is perfectly suited for an Elwood who's both mad and lovable. He's so nice that he couldn't possibly be sane, which gets to the point of Chase's play: It's those living in the hustle and bustle of "polite society" who should be rejected, not this ever-optimistic loon.
Speaking of that society, I loved Patti Flaherty's turn as Elwood's sister Veta. In her role as a woman longing to be accepted into the best of the social circles, Flaherty almost overplays the part, but that's what's so enjoyable about her portrayal; Flaherty's Veta is a bit of a clown, and had me in stitches throughout Friday's performance. Whether employing a high-pitched giggle or shifting her vocal inflection mid-sentence from lilting to aggressive, I wanted more stage time from the performer than the script allows. (There's actually a described scene in which the woman is bathed in a sanatorium that I wished were acted out instead, just for the sheer pleasure of seeing Flaherty's comedic genius in it.) The characterization suits Chase's theme because while Veta is hilarious, her grand reactions are also a bit much to stomach - this "sane one" in the family is even crazier than Elwood.
That's exactly why I wish the rest of Fairchild's cast matched Flaherty's energy and borderline-overacting, because it would have emphasized Elwood's calmness in the midst of chaos, contrasting the insane "normal" world with his more welcome gentility. Here, though, only those playing Harvey's more minor characters pull that off, inclduing Pat Flaherty as the elderly Judge Omar, the man in control of Elwood's inherited estate. His aggressively astonished reactions had my partner and me in stitches so often that we frequently missed several lines that followed.
Similarly, playing well-to-do family friend Ethel Chauvenet, Susan Perrin-Sallak's over-enunciated, hoity-toity delivery of the line "I thought you were dead" is one I'm now (over-)using as much as possible in conversation. Aaron Lord is also memorable, although he has only one short scene as the impatient taxi driver E.J. (The effervescent Sarah Ade Wallace also appears here, but her housekeeper Miss Johnson barely says a word during her brief moments on stage.)
While I've seen all these actors in previous productions, Pamela Briggs is new to me, and, in this show, proves a bit of an acquired taste. After her entrance in which Briggs' Betty Chumley first meets Elwood at her husband's psychiatric hospital Chumley's Rest, I blanched at her seemingly overdone, aimless performance. However, it didn't take long to warm to Briggs' charm as a curious socialite who takes a shine to Elwood. Like Lord's and Perrin-Sallak's, Briggs' stage time is too short given the delight she brings.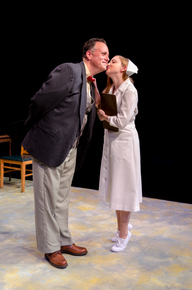 Chameleonic actor Brant Peitersen adds another color to his impressively shaded repertoire with his hysterically crass mental-institution orderly Duane Wilson. Peitersen's Duane is wholly different from his boisterous, show-stealing Herod in this summer's Jesus Christ Superstar for Countryside Community Theatre and his nuanced giant in the same company's Big Fish. Stephanie Moeller, meanwhile, returns to the comicality I frequently adore from her after her impressive dramatic performance as Gretchen in last year's Prenzie Players production of Doctor Faustus. Here, she's a somewhat underqualified Chumley's Rest nurse who's both enamored of and exasperated by Ethan Johnson's handsome young facility psychiatrist Lyman Sanderson.
But Johnson's bland performance would benefit, at the very least, by slower delivery, stronger diction, and greater (or any) projection. Mattie Gelaude is fine, though one-note, as Veta's almost-always angrily flustered daughter Myrtle. And while Bill Peiffer, at one point, pulls off an impressive drunken state for his Dr. Chumley, his impossibly fast sobering up returns him to an uneven characterization that waffles between acerbic and forgettable. But none of them derails Playcrafters' Harvey, which also looks great given Craig Cohoon's set design, and Tristan Tapscott's period costumes and lighting effects. I think Playcrafters is at its best when producing a well-known classic, and this one is no exception.
Harvey runs at the Playcrafters Barn Theatre (4950 35th Avenue, Moline) through September 20, and more information and tickets are available by calling (309)762-0330 or visiting Playcrafters.com.