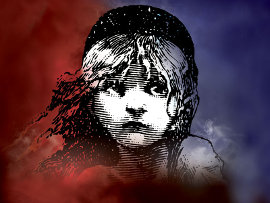 "You know, it's been interesting," says Christina Myatt, president of the board of directors for the Eldridge-based Countryside Community Theatre (CCT). "Because we wanted to do something big for our 30th anniversary, and this is definitely something big. But when people hear what we're actually doing, they either say, 'That's really great!' or they say, 'You people are insane.'"
Myatt laughs, but considering that Countryside's 30th-anniversary offering is Les Misérables - the hugely scaled, internationally adored musical currently ranked as the fourth-longest-running Broadway production in history - she's also quick to add, "I think the reality is that both things are true.
"We could have gone safe and done what we've always done. We didn't have to take the risk. But when you're having that kind of milestone and saying, 'We've been here for 30 years and we're trying to set ourselves up for another 30,' you have to do something big. And so that's kind of been our mantra with this. 'Go big or go home.'"
To be sure, stage musicals don't get much bigger, or more intimidating, than Les Misérables, the very title of which summons images of epic grandeur, violent street revolution, and dozens of disenfranchised souls united under the rallying cry of "one day more." And for the Quad Cities premiere of this cherished modern classic (running at the North Scott High School Fine Arts Auditorium July 5 through 21), Countryside is going very big indeed, delivering a production that features a two-story set, a 25-foot steel revolve installed specifically for the production, and a cast boasting no fewer than 55 performers.
It's consequently easy to understand why Myatt, who's also a Les Mis cast member, says, "I can't begin to tell you how exciting this is."
It's also easy to understand why the show's director, David Turley, laughs and says, "The night CCT told me I was gonna be doing the show, I was like, 'Yes! I'm directing Les Mis! That's awesome!' And the next morning I woke up and thought, 'Oh God. I'm directing Les Mis.' And it was horrifying. I mean, that's a lot of pressure."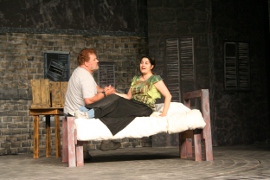 Building the Barricade
Given some of the stats for this adaptation of Victor Hugo's 1862 novel - eight 1987 Tony Awards, an original Broadway run of 6,680 performances, a continuing West End run of more than 10,000 performances - Les Misérables is a musical that, as Myatt says, "every theatre has had on their radar." But it wasn't until last December that licensing rights finally became available for North American professional and amateur productions of the show through Music Theatre International (MTI).
"Our original season was supposed to be Whistle Down the Wind and Joseph [& the Amazing Technicolor Dreamcoat]," says Myatt. "But then we got the notification from MTI saying that the rights [to Les Mis] were available, and that was a show Countryside always kind of talked about doing if we could. So on a whim, I filled out the form, thinking, 'You know, we're never gonna get it ... .' Because, you know, everybody wanted it. And we got the rights the next day."
With Countryside consequently, as Myatt says, "in a position where we could choose," the board of directors opted to delay Whistle Down the Wind and Joseph until the company's 2014 season, and go full-steam-ahead with a production of Les Misérables despite - and partly because of - the scope of the undertaking.
"We said, 'Well, if we're gonna do it, and be the first ones in town to do it, the only way is to put everything we've got into it,'" says Myatt. "Because you can't scrimp with this show. You just can't. It has to be big, and bold, and you've got to put money behind it. All the money behind it." (Without revealing specific Les Mis numbers, Myatt merely says, "The budget is huge.")
Although the organization's summer seasons typically feature two-weekend runs of two different musicals - "something that's a little newer and something that's a little older," says Myatt - the decision was made to make Les Misérables Countryside's sole 2013 offering, and to have the show run for three weekends.
"We just knew we had to put all our resources into it," Myatt says. "We had to do what was right for the show. Because you can have lots of fabulous singers, but if people come in and it doesn't have the grandeur that everyone expects, it's gonna flop. You know, somewhere down the line, once lots of people have done it and someone wants to try a more experimental Les Mis, super. But for its first time out of the bag, you've just got to go big. It's the only way to do it."
Understanding that "you also need the right people with the right kinds of credentials" to fashion a suitably grand Les Misérables, Myatt states that Countryside subsequently secured a team of highly trained and respected professionals for the show's artistic staff.
"The costumes are coming from Ibsens Costumes, a professional company in Nebraska, and the man who runs that is also an adjunct professor at the University of Iowa. Our lighting designer, who's from Virginia, has an MFA in lighting and is an adjunct professor at another college. ... And the orchestra is being directed by Kevin Price Brenner, who's the orchestra director at Central High School and leads the St. Ambrose Community Band, and also works with the Quad City Youth Symphony."
The job of music director, meanwhile, was awarded to Tyson Danner, who also served in that position for Countryside's Gypsy and has directed such area musicals as john & jen and Songs for a New World. And David Turley, who previously helmed Gypsy and The King & I for Countryside - along with musicals such as Chicago, Jesus Christ Superstar, and Sunday in the Park with George for Rock Island's District Theatre - was excited (and, as previously mentioned, briefly horrified) to take on the challenge of Les Mis' stage direction.
"There are some shows," he says, "where you're like, 'Oh my gosh, if that one ever comes around, I want to do something with it,' and that was this show. When I interviewed, I told CCT, 'In the end, I don't care if you don't employ me as the director. I just want to be part of it in one way or another.' Whether it be tech crew, whether it be acting in it ... . I didn't care. I mean, it's Les Mis. You just have to be a part of it."
Though he is, like most musical-theatre lovers, a fan of the Tony-winning score by composer Claude-Michel Schönberg, Turley believes that Les Mes' universal appeal stems from it being "a beautiful story of faith and redemption. Jean Valjean spends his life trying to redeem himself and put his life to good use, and, in essence, I think that's what all of us want. We want our lives to mean something, and stand for something.
"And there are so many characters in the show that we all kind of relate to," he continues. "Like Éponine. We all know the feeling of loving someone who doesn't love us back. We've all had that in our lives. And just about every character in Les Mis makes you go, 'I can feel for this person because I can relate to them.'" (Referencing the musical's comically grotesque and hateful innkeepers, Turley laughs and adds, "Well, maybe not the Thénardiers.")
But like Myatt and her fellow Countryside board members, Turley also understood that an enormous part of the show's continued fascination - perhaps especially for those who haven't yet attended a stage version of Les Mis - lies in its grandeur.
"There are certain things that the audience just wants to see," he says. "They want to see the 10-foot-tall barricade. They want to see the revolve. They want to see the red flag waving. They want the grand scale that they've seen [in photos] on the cast recording. And that's been Countryside's philosophy from the very beginning. We can tweak the show so that it's ours, but there are certain iconic images that you just have to have, especially since the show hasn't come to the Quad Cities before."
"Throughout this whole process," says Myatt, "we've known that some things would be costing a little extra. But the payoff, hopefully, is that people will see it and tell their friends, 'Oh my goodness, you have to see this.'"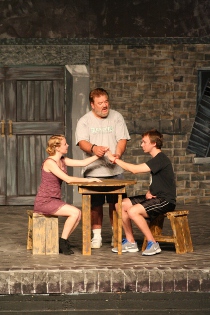 Do You Hear the People Sing?
Myatt says that once word got out about Countryside doing Les Misérables, it was a fair bet that the organization would get a more-than-decent turnout when it came time to cast the show. She admits, however, that no one anticipated just how more-than-decent that turnout would be.
"Usually," she says, "we're lucky to get about 100 people at auditions. But we had over 200 people that auditioned for this one."
"It was great," says Turley. "We had people driving down from Ames and Waterloo. We had people down from Bloomington-Normal, Illinois. I mean, they were coming from all over, and we packed almost every time slot we had. What a wonderful position to be in as a director."
Yet despite the large numbers in attendance, Turley says, "It actually wound up among the easiest casting that I ever did. What I've always liked about CCT is that whoever's the most talented is getting the part. It doesn't matter if they've put in 20 years' worth of stage work or this is their first time auditioning - if they get a role, it's because they came in prepared, and they worked for it in the audition. I've never understood companies who cast based on 'Well, we've worked with this person for 10 years, so let's give him something,' and don't take a chance on somebody they've never seen."
Consequently, says Turley, "90 percent of the cast has either never done CCT before, or hasn't done it in a really long time. I'd never seen the majority of them before auditions. But we wound up with a great cast. Our stage manager actually auditioned for Thénardier, and when he saw the guy who's playing the role, he was like, 'Thank God you didn't cast me, because that guy's brilliant.'"
(It should be noted that Myatt, who plays Les Mis' tragic factory-worker-turned-prostitute Fantine, was one of the auditioners that Turley had both seen and worked with before. But if you've witnessed her powerhouse performances in such area musicals as Gypsy and Chicago, you can rest assured that it was likely talent and not favoritism that secured Myatt the part.)
After the show was cast, Turley says that Les Mis' rehearsal process - which officially began at Davenport's Center Stage Performing Arts Academy on May 6 - did entail a great deal of multi-tasking, as one would expect of a three-hour musical featuring more than four-dozen performers.
"From night one," says Turley, "it was blocking in one room, music in another. We made that work for the first three weeks and divided everyone's time up equally, so that if Valjean needed to be in one room, we had Éponine and Marius working in another. And then, after those first three weeks, we combined everyone, and have been doing act runs ever since."
But interestingly, despite the show being a mammoth-sized endeavor, Turley says he hasn't employed a radically different method in terms of its rehearsal time.
"I have a day job," he says, "and most of the people doing theatre here have day jobs, and so I don't want us to be rehearsing four hours nightly five, six nights a week. I just ... . I can't do it. It burns me out. And so I've never had five-days-a-week rehearsals for any of the shows I've directed. It's always been Monday through Thursday, 7 o'clock to 9 o'clock, and that's what it's been for this show.
"But if you have a plan," Turley continues, "and really just focus on what needs to happen, you don't need four-hour rehearsals. The actors know, 'Okay, I only have this much time ... .' And so they work hard during that time. I expect a lot from the cast members with every show I've done, but the process is efficient. And I think it works. I won't waste their time, and, in return, they won't waste mine."
Despite its rehearsal process being similar to others, Turley does say that for Les Misérables, "We have two weeks of tech rehearsals, which is the most I've ever done on a show. And the nightly calls for the show are long, because we have a fight call, a gun call, a mic check, and physical warm-ups that start at 5:30 before the 7 o'clock curtain.
"And the show is three hours," he adds with a laugh. "So it's a much longer evening than most."
Myatt, for one, isn't complaining. "It is such a neat combination of people. Some have worked with Countryside before, some don't live anywhere near here, but when they walked in there for the first rehearsal, they came in on day one knowing all their music. I mean, each of the people that fills out the ensemble could have easily been one of the leads. It really is an amazing thing to be part of."
As for Turley, he says, "There's stress, of course, because it's ... . You know, it's Les Mis. But at the same time, I'll tell you, I'm not nearly as stressed as I've been with other shows. This has been the nicest cast I've ever worked with; there are no divas at all, and everyone is so enthusiastic to do the show. They come in and they're just excited to be here. They want to be in every scene."
Laughing, he adds, "I mean, the [actors playing the] Thénardiers and Javert were so disappointed that they couldn't be in the finale. And I was like, 'Well, we're making it very clear that the show ends in the afterlife in heaven ... and since you all would've gone to hell ... you know ... you wouldn't be there ... ."
Les Misérables runs at the North Scott High School Fine Arts Auditorium (200 South First Street, Eldridge) July 5 through 21, and more information and tickets are available by calling (563)285-6228 or visiting CCTOnStage.org.
View rehearsal photos and follow the show's progress at Twitter.com/CCT_OnStage.