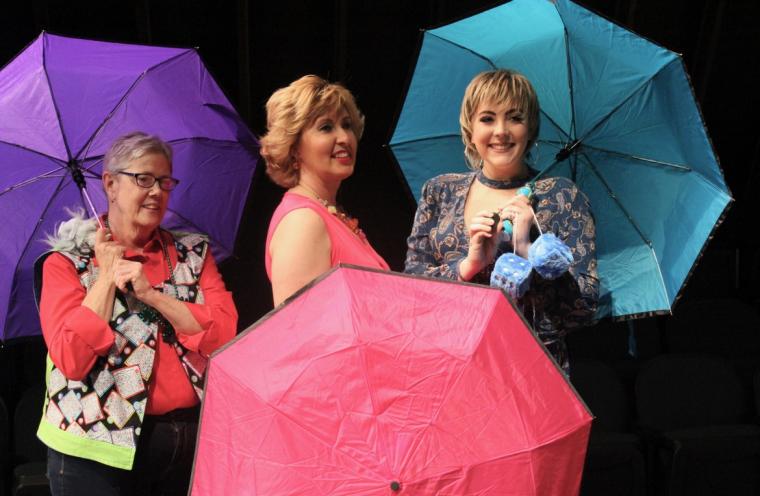 Who knew that something as benign as bingo could be a cutthroat, super-competitive soap opera, complete with callers enjoying something extra for announcing the right bingo balls, zany rituals performed over cards, rice-cereal-treat bribes, and WWE-style heels and heroes? It just goes to show that the competitiveness of the human experience filters even into the most unlikely and folksy slices of Americana, as demonstrated in Bingo! The Winning Musical, the kooky musical offering at Moline's Playcrafters Barn Theatre.
With its book by Michael Heitzman and Ilene Reid, and music and lyrics by Ilene Reid and David Holcenberg, Bingo! introduces three die-hard players – Vern (Cindy Ramos), Patsy (Sara Laufer), and Honey (Sondra Karben) – who travel through a dangerous thunderstorm for their regular bingo game. As the evening begins, the storm knocks out the power, reminding them of a fateful night years earlier when their friendships were rocked by a falling-out between Vern and her BFF Bernice (Sara Meyer). And as the show travels back to the present, a young visitor named Alison (Madison Duling) arrives and throws the current game into turmoil, just like in the past.
B-4 going any further, I should mention that Playcrafters is not known for taking on too many musicals. The venue has produced a few over the course of its nearly 90-year existence, but its forte has always been straight plays – so immediate hats off to director Nicholas Waldbusser for pushing the realm of the group's comfort zone and tackling a piece out of the norm.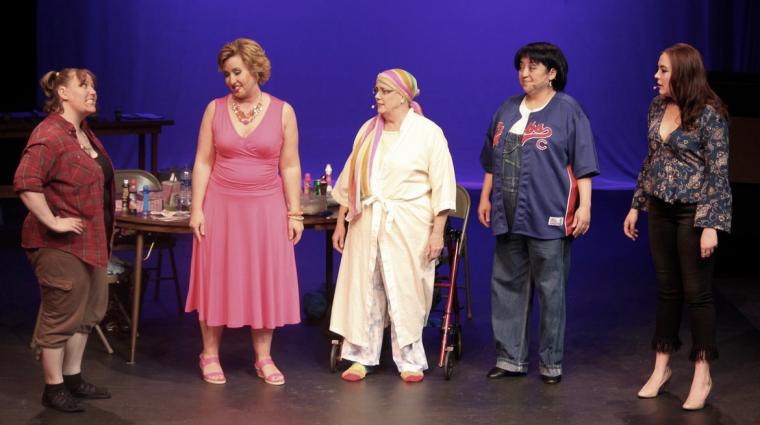 Waldbusser and company have created a nostalgic atmosphere, transforming the theatre into something reminiscent of an American Legion or VFW hall complete with automated bingo machine and flash board. Plus, each theatre-goer is handed a program and bingo card upon entering and gets to participate in real rounds of bingo throughout the show. (Several patrons at the May 10 preview won and were awarded gift certificates to local eateries, and also had Polaroid photos taken of them – right in the middle of the show – to be displayed on a winner's board in the lobby.)
As for the performers, Ramos, Laufer, and Karben are clearly enjoying themselves, each having created a distinct character and keeping the pace moving quite briskly throughout the production. If Bingo! has an antagonist, Vern is the pot-stirrer of the bunch, and Ramos plays her die-hard bingo junkie with great energy and intimidation. (As part of the audience-participation format of the show, Ramos got right into this reviewer's face at one point, demanding I get out of her seat and return a prize. Trust me: I'm pretty sure she would have kicked my butt had I not acquiesced!) For her part, Laufer may have created, in Patsy, the show's most authentic character; with her superstitious yet warm and bubbly personality, Laufer brings just the right amount of frenetic energy and dippiness to help this silly show work. And as Honey, Karben spells ditz with a capital "D" – but don't let that fool you. During the performance I saw, the prerecorded accompaniment failed to play for her big solo during Act I. But after only a brief pause, she sang the entire song a cappella, and then brought the house down with an ad-libbed line while dancing, shouting, "This would all be much better with music!"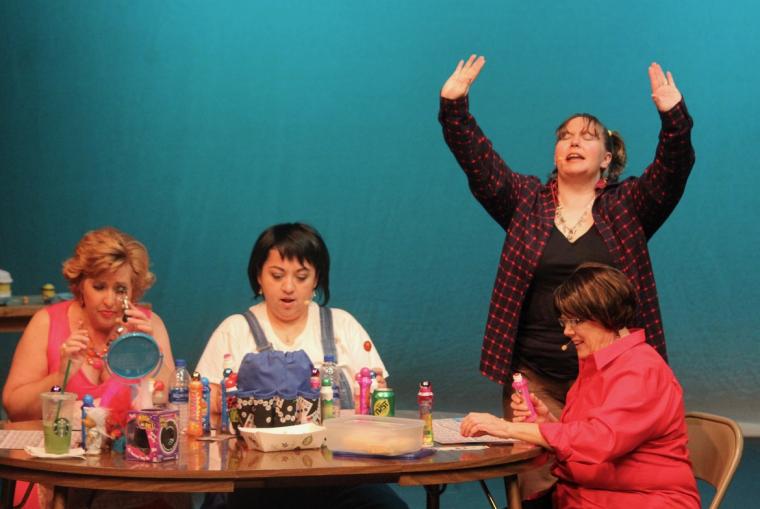 Duling's Alison brings a nice youthful touch to the cast, and kills it when reliving her off-Broadway debut as Nurse Ratched's understudy in a (fake) musical version of One Flew Over the Cuckoo's Nest. As the bingo hall's caller Sam, Bill Peiffer appears to be having more fun than I've seen him have before; he's relaxed and clearly enjoys his more intimate scenes with Karben. Finally, in her dual roles as Bernice and Minnie the hall manager, Meyer was genuine on Thursday night, but also tentative, and it often appeared as though she were unsure of her lines or what was coming next in the show. In an endearing way, though, this sort of worked for the character, and may have just been performance jitters that have since been resolved.
Playcrafters' Bingo! The Winning Musical – at least based on its preview the night before officially opening – isn't the most polished of performances; the script and music are forgettable, and speaking candidly, it doesn't boast great vocals or choreography. But what it does have going for it is an animated cast and crew who are clearly passionate about making sure the audience leaves having had a really good time, and to be sure, it's something completely different, making for a frivolously worthwhile night of fun theatre. Plus, who knows? Maybe you'll be one of the lucky ones who gets to joyfully shout "BINGO!!!"
Bingo! The Winning Musical runs at the Playcrafters Barn Theatre (4950 35th Avenue, Moline) through May 20, and more information and tickets are available by calling (309)762-0330 or visiting Playcrafters.com.